Investors have been gorging on shares of many casual dining companies like starving men released into a buffet. Even before last week's market surge Restaurants were Value Line's top performing group over the six weeks ended June 21st (out of 98 designated industries). Click to enlarge: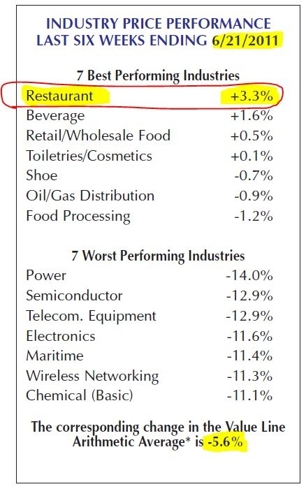 Click to enlarge
These momentum stocks have taken off even more since the market woke up again with my four headline stocks all registering new all-time highs. At current valuations this quartet of eateries should be sold by those lucky enough to own them and avoided by anyone but the bravest short-term traders.
Which overpriced issues am I referring to? Peet's Coffee & Tea (NASDAQ:PEET), BJ's Restaurants (NASDAQ:BJRI), Chipotle Mexican Grill (NYSE:CMG) and Panera Bread Company (NASDAQ:PNRA).
click to enlarge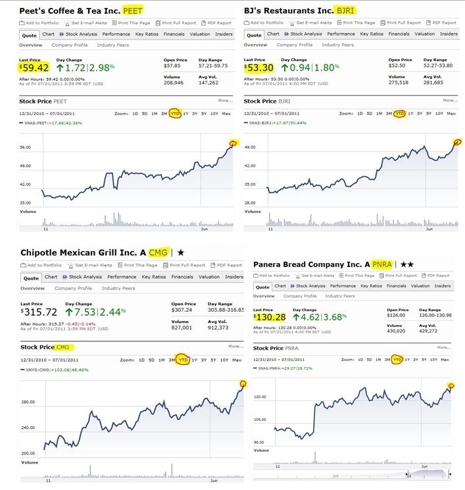 Click to enlarge
None of these companies pay dividends and all have valuations that are well above what you could have bought these shares for over the past few years. It's easiest to illustrate this with a chart:
| | | | |
| --- | --- | --- | --- |
| Company | 2008 – 2010 Average P/E | P/E (consensus estimate for 2011) | Premium to Normalized Multiple |
| PEET | 27.8x | 59.4x | 113.6% |
| BJRI | 29.3x | 50.3x | 71.7% |
| CMG | 27.1x | 46.4x | 71.1% |
| PNRA | 20.9x | 28.6x | 36.5% |
These were not cheap to begin with and now they're at nosebleed levels. The over-valuations apply to other metrics such as price/book value and price/cash flow as well.
Company

2008 – 2010 Average P/BV

Today's

P/BV

Premium to Normalized P/BV

PEET

2.48x

4.00x

152%

BJRI

1.87x

4.59x

145%

CMG

5.23x

10.6x

103%

PNRA

3.43x

5.3x

56%

Company

2008 – 2010 Average P/CF

Today's

P/CF

Premium to Normalized P/CF

PEET

12.8x

20.8x

62%

BJRI

11.7x

22.2x

90%

CMG

27.9x

33.8x

21%

PNRA

12.3x

18.6x

51%
With sky-high metrics, all these fine companies could give shareholders a bad case of indigestion on either an overall market pullback or any hint of company specific bad news. Even a good, but less than expected quarterly report could torpedo these.
Intrepid option players should consider buying puts or selling naked calls to profit from the inevitable declines that are sure to come before too long.
Disclosure: I am short CMG options