HP (HPQ) has struggled in months; it was downgraded by 11 firms in May and failed to meet Wall Street expectations in Q1. HP would have really needed a positive reception for its new tablet, the TouchPad, to turn things around. But, in a recent review by Engadget.com, the tablet "fails to live up to one's expectations" for a number of reasons: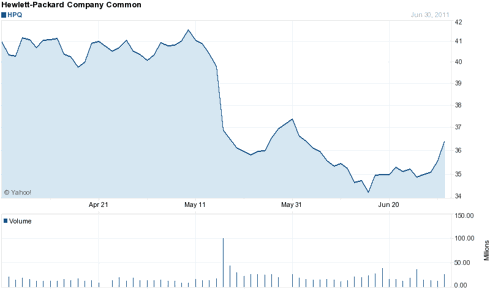 Source: Yahoo Finance

1. It's Bulky
HP's TouchPad is one of the heaviest tablets around, weighing in at 1.65 pounds. Compare this to Apple's (AAPL) iPad 2 which weighs a modest 1.3 pounds, or the Asus Eee Pad Transformer which weighs 1.5 pounds. Not only that, but the TouchPad is much thicker, with a 13.7 mm thickness compared to the iPad 2's 8.8mm thickness. Putting the iPad 2 and the TouchPad side by side, as Stevens of Engadget writes:
leaves you wondering why you'd ever be compelled to buy the HP when you could have the thinner, lighter alternative for the same money.
2. It lacks apps
Apple has a well established App Store with over 100,000 apps for its iPad. HP has a new "App Catalog" with fewer than 300 apps optimized for the TouchPad. It's almost a no contest—the serious shortage of apps makes the TouchPad the clear loser in this category.
3. The performance is disappointing

While HP's TouchPad beats Apple's IPad 2 on the spec sheet, featuring a 1.2 GHz Snapdragon dual-core processor and one gigabyte of RAM, its actual performance is not up to par. For the most part, the TouchPad is quite responsive, but there are some programs and websites the TouchPad has trouble loading.
4. The software is nothing special
The TouchPad is not using an Android operating system as one might expect. Instead, it uses HP's very own WebOS 3.0, a predecessor of the Palm Smartphone operating system. One of the unique features with the OS is the patented card view, which makes each window appear as a card, and if there are multiple programs running the cards stack to organize themselves. It's a neat little feature, but there isn't anything particularly original with WebOS 3.0 that sets it apart from either Apple's iOS or Google's Android.
Bottom-Line
The HP TouchPad simply cannot compete with Apple's iPad 2. The rule of thumb is don't compete with an established product like the iPad, unless your device is significantly better. The HP TouchPad is in no respect a better device.
Disclosure: I have no positions in any stocks mentioned, and no plans to initiate any positions within the next 72 hours.