Since early February, the S&P 500 has been relatively range bound, which may concern investors looking for yield and price appreciation in their portfolios. However, with the markets at the bottom of a recent range, many companies are trading relatively cheaply compared to their sector. The S&P 500 P/E ratio, on a weekly basis, is around 15. This is historically low, dating back to 2001. In fact, the average P/E ratio for 2011 is the lowest since 2001.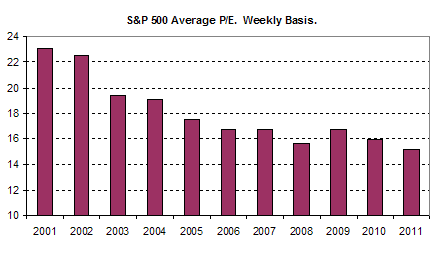 As an investor, diversification and growth prospects are two key indicators I look for when constructing the optimal portfolio. In this commentary, I hope to highlight companies that pay out respectable dividends, have enticing growth opportunities and are trading relatively cheaply compared to their peers. To break down the S&P 500, I will present a list of companies that pay a stronger dividend than the average of the S&P 500, and I will break it down further by sorting those companies trading at a lower P/E compared to their respective sector average by market cap.

I will begin with the global energy giant Chevron (NYSE:
CVX
), which produces and transports crude oil. The company also has chemical operations and mining fields, making it a unique and diverse business. Beginning with the income statement, its revenue has been rising quite noticeably since Q1 2009. Additionally EPS was $3.09 in Q1 2011, the highest since Q3 2008. More than half of its revenue comes from international operations, allowing investors to gain exposure to markets across the globe. Recently, the company has increased its leverage position but it's nowhere near 2008 levels. To ease concern regarding this ratio, we look at the EBIT/Coverage ratio, which is extremely strong, at 115x interest payments. Free cash flow for the Q1 2011 was $5.1 billion, up sharply from Q4. Overall,
Chevron
has produced strong cash flows across the board.
CVX has been increasing its dividend since the early 1980s, showing a strong commitment to shareholders and its business model. We expect a declaration of $0.78 in July for Q2, unchanged from the first quarter. The company currently yields 3.04% on its dividends, almost 50 basis points higher than the average of the S&P 500.
General Electric (NYSE:
GE
) is currently trading at a P/E ratio of 15.09, below the sector average of 22.09 and basically in line with the average of the S&P 500. GE has been increasing is dividend since March of 2009, after cutting it during the financial crisis. GE has produced strong cash flows over the past few quarters. The company has also improved liquidity positions as result of increasing its cash position. With a strong customer base, including the likes of Exxon, BP, and Boeing, investors expect sales from GE to remain strong. With a 2.9% dividend yield and a strong corporate outlook, picking up shares of GE is a strong way to solidify your portfolio.
Not included in the first list was Verizon (NYSE:
VZ
) due to its smaller market cap. The company provided strong guidance in their most recent earnings release, including solid results from their
FIOS
segment. They also broke above their 50- and 100-day moving averages this week, a sign the stock could be ready to test recent highs set back in March. They also pay a juice 5% dividend, almost double the average of the S&P 500.
Looking at companies at the smaller end of the spectrum, we have Supervalu Inc (NYSE:
SVU
) and Federated Investors (NYSE:
FII
). Federated Investors was
recently downgraded
and has been drifting lower for some time. Supervalu reported poor results for their 4th quarter including reduced sales and cash flows. They have strong guidance for their fiscal 2012. This more or less depends on the consumer, in my opinion. Should confidence and labour market conditions improve, I expect their sales to move higher and take the stock price with it. However, should this temporary soft patch stick around for a few more months, there is certainly downside risk to the stock price.

To summarize, the recent decline in stock prices is proving to be quite the buying opportunity. With P/E ratios historically low and dividend yields trending higher, the companies highlighted would make a strong addition to any investor's portfolio.
Disclosure:
I have no positions in any stocks mentioned, but may initiate a long position in
VZ
,
GE
over the next 72 hours.