Brown-Forman (NYSE:BF.B), Coca-Cola (NYSE:KO) and PepsiCo (NYSE:PEP), three quality beverage companies, are all Dividend Aristocrats (companies that have raised dividends annually for a minimum of 25 consecutive years) with excellent growth records. Brown-Forman, one of the largest alcoholic beverage company in the world, has been growing for 14 decades. Coca-Cola just celebrated its 125th birthday with one of the most widely recognized brand names in the world and PepsiCo, also founded in the 19th century, combines non-alcoholic beverages with popular snack products.
For 140 years, Brown-Forman has built popular beverage alcohol brands, including Jack Daniel's, Southern Comfort and Canadian Mist, sold in over 135 countries. BF.B just reported excellent results for fiscal 2011. Sales grew 6% to $3.4 billion and diluted EPS was a record $3.90. International sales rose from 21% of total sales in FY2001 to 55% in FY2011. To expand its international business, on Friday BF.B acquired Maximus Vodka to serve as exclusive distributor of Maximus in Poland.
BF.B expects a deterioration of the global economic and consumer environment next year. It's guiding EPS of $3.45-$3.85 in EPS for fiscal 2012 (ahead of comparable EPS of $3.41 in fiscal 2011), and underlying operating income should grow at least 5%.
The company has strong finances, only $0.5 billion of debt versus $2.1 billion in equity, which allows it to have purchased 9+ million Treasury shares (and just approved another $250 million investment). In Q4 2010, the annual dividend was increased 7% to $1.28 (along with a special dividend of $1.00 paid in December), the 65th consecutive year of quarterly dividends and the 27th consecutive year of increases.
The compounded annual growth rate for EPS was an impressive 13% over the last 35 years and 9% in the last 5 years (a difficult period for many companies). This growth stock is $74, yielding 1.7%.
click to enlarge images
Brown-Forman --- 10 years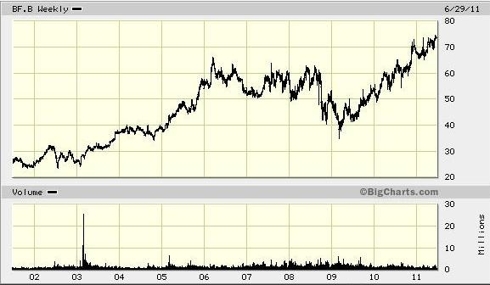 In May, Coca-Cola celebrated its 125th anniversary and next year will extend its streak of higher annual dividends to half a century. KO is the world's largest beverage company, with more than 500 sparkling and still brands. Non-alcoholic beverages are divided into carbonated drinks (Coca Cola and related colas) and still beverages (Minute Maid, vitamin water, Dasani, etc.). Led by Coca-Cola, the world's most valuable brand, its portfolio features 15 billion dollar brands including Diet Coke, Sprite, Coca-Cola Zero and Minute Maid Pulpy. 1.7 billion servings of KO beverages are consumed daily in more countries than are in the UN.
From its earliest years, KO has had a global presence. Over 100 years ago, it expanded in North American countries and by 1926 the Coca-Cola Foreign Department was formed to supply overseas bottlers. KO began its association with the Olympics in 1928. Average annual per capita consumption of Coca-Cola products in developed countries is typically about 100-300 servings. Other countries, with the bulk of the world's population, have much lower comparable figures, many around 10-20. KO continues to grow worldwide volume in non-alcoholic ready-to-drink beverages in both sparkling and still beverages.
Last year, KO acquired the North American business of Coca-Cola Enterprises (NYSE:CCE) for $12 billion to integrate its 5 business components into a 21st-century bottling service operation in the US and Canada. Annual savings are expected to be least $350 million over the next 4 years. One measure of strong finances is the treasury share position with a market value of $83 billion.
The company does not provide guidance. Analysts are forecasting EPS of $3.86 (10% growth from $3.49 in 2010) and $4.28 next year. This year, KO increased the annual dividend 7% to $1.92. The $67 stock yields 2.80%.
Coca-Cola --- 10 years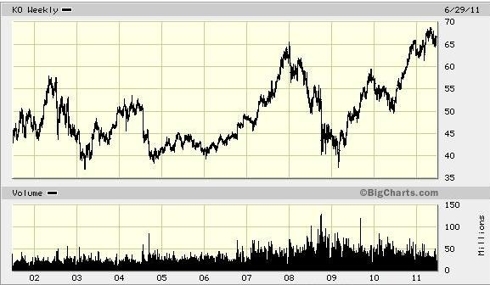 PepsiCo offers the world's largest portfolio of billion-dollar food and beverage brands, including 19 products, each with more than $1 billion in annual retail sales. Its $60 billion businesses are divided into 5 divisions: Pepsi, Quaker, Tropicana, Gatorade and Frito. PEP recently acquired Wimm-Bill-Dann Foods, Russia's leading branded food-and-beverage company, for $3.8 billion, making PEP the largest food-and-beverage business in Russia to strengthen its position in Eastern European and Central Asian markets. The acquisition also raises PEP annual global food revenues from $10 billion to nearly $13 billion, bringing it closer to a strategic goal of building a $30 billion nutrition business by 2020.
For 2011, the company is targeting EPS growth of 7-8% (on core constant currency basis) over $4.13 in 2010. The outlook for 2011 anticipates high global commodity cost inflation and difficult macroeconomic conditions in developed markets. PEP expects to benefit from synergies from the bottling acquisitions and the acquisition of Wimm-Bill-Dann. $2.5 billion is budgeted to purchase treasury shares in 2011. Beyond 2011, PEP expects high-single-digit core constant currency EPS growth. Analysts are forecasting EPS of $4.40 this year and $4.91 next year.
PEP just increased the annual dividend 7% to $2.06, the 39th consecutive annual increase. The $70 stock yields 3.0%.
PepsiCo --- 10 years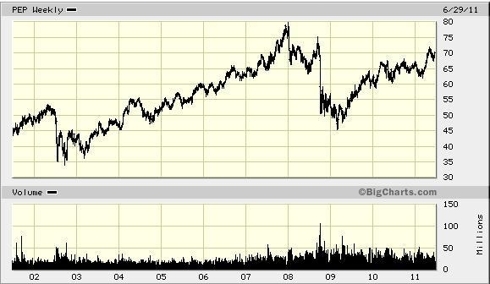 All three companies have common business characteristics. They
Have been in business for more than a century;
Are Dividend Aristocrats;
Have excellent growth records;
Are global businesses with substantial international expansion plans;
Purchased millions of treasury shares; and
Have corporate growth targets though 2020.
The companies have comparable stock prices, P/Es, dividends and yields. However, BF.B has a lower dividend and yield but also started at a lower price 10 years ago for greater capital appreciation. The future for all three is bright - you can drink to it!
Disclosure: I am long KO.