The market staged its greatest weekly rally in two years this week on a combination of window dressing, better than expected ISM numbers, another successful round of "kicking the can" down the road on Greece and some massive short covering. I took some profits Friday on some of the slightly-out-of-the-money puts I sold on Visa (NYSE:V) and Apple (NASDAQ:AAPL) a few weeks ago. I will wait for next week's probable pullback to redeploy some of that money. One stocks that intrigues me, based on valuation, is Dell.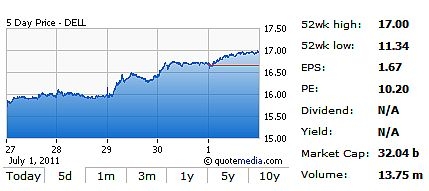 Dell Inc. (NASDAQ:DELL) provides integrated technology solutions in the information technology (IT) industry worldwide. The company designs, develops, manufactures, markets, sells, and supports mobility products, including laptops, netbooks, tablets, and smartphones; desktops PCs; and servers and networking products. It also offers storage solutions comprising storage area networks, network-attached storage, direct-attached storage, disk and tape backup systems, and removable disk backup. In addition, the company provides third-party software products consisting of operating systems, business and office applications, anti-virus and related security software, and entertainment software; and peripherals, such as printers, televisions, notebook accessories, mice, keyboards, networking and wireless products, and digital cameras.
Here are eight reasons Dell is just too cheap to ignore:
Dell is at the bottom of its five year valuation range based on a variety of measures: P/B, P/E, P/CF and P/S.

Dell is selling at under 9 times this year's projected earnings and is still projected to grow revenues in the five percent range for both 2011 and 2012.

Insiders have bought a net 17mm shares in the last six months, primarily Michael Dell. It is always good to see a founder buying shares rather than selling them by the boatload (See Salesforce.com (NYSE:CRM)).
The stock looks good from a technical basis as Dell is selling at over its 20, 50, 100 and 200 day moving averages.

Dell is a cash flow machine. It has doubled Operating Cash Flow from FY2009 to FY2011 and is selling at less than eight times current operating cash flow.

Dell is targeting the storage space, which is growing faster than the PC market. It looks like it is successfully gaining market share in this space as well.

The market consistently underestimates Dell's earning power. The company has crushed earnings estimates each of the last three quarters and consensus estimates have risen approximately 10% for both 2011 and 2012 in the last three months.
Strategy: I think the overall market will pull back a bit to start this week. Dell is currently trading at $16.98. I think it will pull back into the $16.50 to $16.70 range, at which time the November 16 Put should go for $1. Given that Dell is selling at less than 7 times earnings if you strip out net cash, it seems there is little downside at these levels and selling a Put would be a good play to pick up yield or pick up Dell at an extremely low valuation.

Disclosure: I have no positions in any stocks mentioned, but may initiate a long position in DELL over the next 72 hours.