Fifteen stocks and ETFs make up this revised portfolio. This revision of the original "Holy Grail" portfolio places more emphasis on international and commodity ETFs. Thirty-five percent of the portfolio is allocated to international REITs (NYSEARCA:RWX), emerging markets (NYSEARCA:VWO), and developed international markets (NYSEARCA:VEA). In keeping with Martin Hutchinson's article, "Playing the Coming Bond Market Crash," only a small percentage is allocated to TIP and TLT. Instead, the asset allocation is shifted toward commodities with 19% allocated to a combination of Power Shares Commidity Index (NYSEARCA:DBC), gold (NYSEARCA:GLD), and silver (NYSEARCA:SLV).

Assumptions: In the following analysis, the S&P 500 is projected to grow 7.0% annually over the next six to 12 months. This assumption impacts the individual projection values. The historical data spans 7/26/2007 through 6/30/2011. VEA was launched on July 26 of 2007, so that is the beginning date for this analysis. The desire was to include the period that spanned the last bear market.

This combination of stocks and ETFs are projected to return an annualized 9.4% over the next few months. The standard deviation is a few percentage points higher than desired. We like to keep that percentage under 15%, but that is difficult to accomplish in the current market.

Scroll down the page so the Diversification Metric is visible. Here the desired minimum goal is 40%. This particular portfolio meets that diversification goal.
Click to enlarge: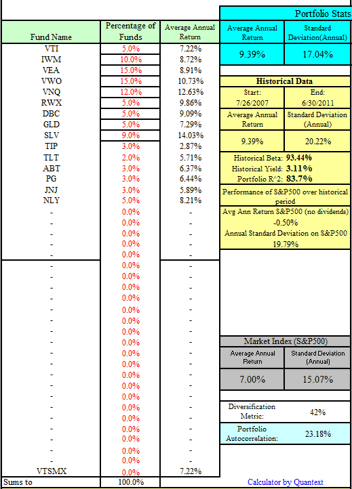 Examining the "Delta Factor" for each of the above holdings, all show a "Hold" position. All this means is that under current market conditions, stay invested with these stocks and ETFs. To learn more about this analysis tool, click on "Delta Factor" to see how a basic portfolio of ETFs tilt during different market conditions.

The following table is a correlation matrix of the "Holy Grail" investments. Pay particular attention to the Portfolio column to see how the different holdings are correlated with each other based on the weights or allocation percentages.
Click to enlarge:





This portfolio is built with the expectation that inflation will rise in the U.S. and the better place to invest is in commodities and international markets.

Disclosure: I am long VTI, IWM, VWO, VNQ, RWX, DBC, SLV, TIP, TLT, ABT, PG, NLY.