by John Nyaradi
This week's rout in the U.S. Treasury Bond market could signal trouble ahead for rising interest rates and U.S. economic growth.
Bonds were crushed this week as the Federal Reserve's "QE2″ program came to an end.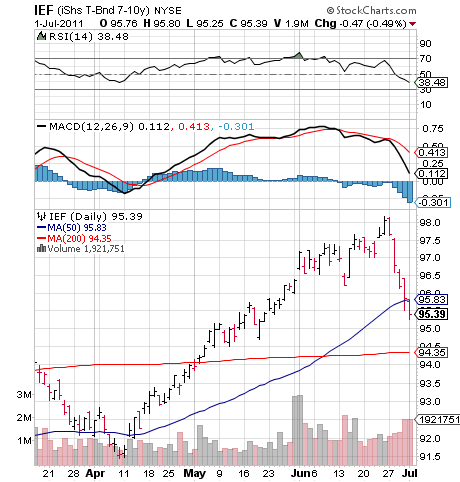 chart courtesy of stockcharts.com
In the chart of the iShares 7-10 Year Treasury Bond ETF (NYSEARCA:IEF), above (click to enlarge), we can see how the 7-10 Year ETF was pummeled as interest rates rose this past week.
The 10 Year hit its highest yield since May and fell for five straight days to log their largest weekly loss in nearly two years.
U.S. bond auctions experienced poor demand this week, forcing yields to rise more than .3% on the week, the highest since August, 2009.
With the end of "QE2," everyone is wondering who is going to buy all of the U.S. debt that will be coming due in weeks and months ahead.
Some of the loudest queries have come from bond giant, PIMCO, executives.
In an article on PIMCO's website, Anthony J. Crescenzi, says, "The Biggest Buyer Leaves the Store But the Trucks Keep Coming," and describes how Treasuries will keep coming to market but the Fed won't be buying the as much as 70% of the supply and how that will likely eventually reduce the attractiveness of "risk" assets.
Furthermore, PIMCO's Bill Gross was busy on Twitter where he tweeted, "D Day for QE:2 Who Will Buy Them Now?"

And not to be left out of the discussion, Mohamed El-Erian, the CEO of PIMCO talked on CNN about how they couldn't see any buyer on the horizon as big as the Fed. CNN
So as we all learned in ECON 101, if supply outstrips demand for an asset, prices are likely to fall, and in the case of the bond market, interest rates would have to rise to attract a sufficient number of buyers.
Of course any hike in interest rates could be bad news for a country with $14 Trillion in debt (the United States) and, as we all know, higher interest rates typically aren't good for equity prices, either.
Disclaimer: Wall Street Sector Selector actively trades a wide range of ETFs and positions can change at any time.