Gold is having its annual July sales event.
For the past decade, gold has been in a steadily rising bull market, ever since the U.S. government adopted a weak dollar policy back in 2002. The outlook for the gold rally continuing into the future remains bright, as long as the U.S. dollar remains weak and global central banks remain intent on bailouts and flooding markets with fiat currencies. Getting good entry points to add or build positions in gold has been generally elusive, as pullbacks in gold have been sporadic and typically short-lived along the way. As a result, it is worthwhile to capture these opportunities when they present themselves. And such an opportunity appears to be quickly approaching in the coming days of July.
Since the beginning of its bull market run in 2002 through today, gold has enjoyed consistently strong technical support at its 150-day moving average. While usually trading well above this level for much of the time, in most years gold has tested this 150-day MA support once or perhaps twice a year, at most. But in each of the last nine years, the one time that gold was consistently testing support at the 150-day moving average was during the month of July. And in seven of these last nine years, gold has rallied strongly from this July support level, posting gains of +22% on average through the remainder of the year.
Click to enlarge: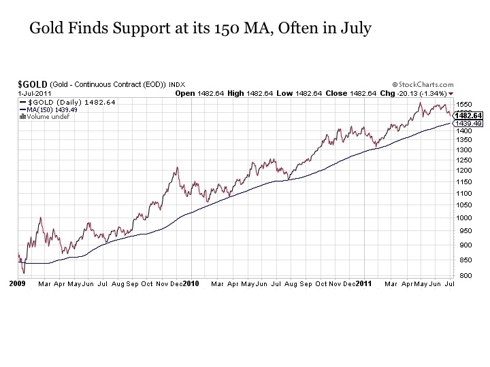 Click to enlarge
It appears that we are seeing the same July retest setting up for gold in 2011. After rising above its 50-day moving average for most of the year, gold recently made a decisive break lower over the last five trading days. Focusing on the SPDR Gold Trust Shares (NYSEARCA:GLD), a further -3% pullback would have the price once again back at the 150-day moving average. Seeing such a move occur in the coming week, if not early the following week, would not be a surprise given the manner in which gold has retested this support level in the past.
Click to enlarge: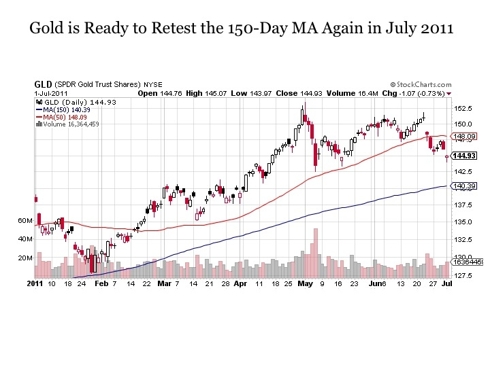 Click to enlarge
In most years over the past decade, the pullback toward the 150-day moving average has been fleeting. This has been particularly true in recent years following the financial crisis. As a result, it is important to keep a close eye on the gold price in the coming days as we move through July. For once it touches its support at its 150-day moving average, which is currently $140.39 on the GLD, it could be off to the races for the rest of the year. This would be particularly true if the threat of geopolitical uncertainty or a new round of sovereign debt worries bubbled to the surface, either of which seem all too likely at this stage.
So, enjoy your Fourth of July holiday and the nice weather if you're on vacation this upcoming week. But if you're interested in buying some gold for your portfolio, it may be worthwhile to keep a terminal close by to try and get what soon might be some of the best prices for the rest of the year.
Disclosure: I am long GLD.
Disclaimer: This post is for information purposes only. There are risks involved with investing including loss of principal. Gerring Wealth Management (GWM) makes no explicit or implicit guarantee with respect to performance or the outcome of any investment or projections made by GWM. There is no guarantee that the goals of the strategies discussed by GWM will be met.