On Thursday, I completed a valuation on Biogen Idec Inc. (Nasdaq: BIIB), suggesting that the stock is overbought, and should be considered a short play at this point. Biogen produces therapeutics for neurology, immunology, hemophilia, and oncology, and 75% of its sales stem from 2 main products: Avonex and Tysabri, which are treatments for multiple sclerosis. The vast majority of the remainder of revenue comes from Rituxan, used to treat certain types of non-Hodgkin's lymphoma.

Looking over a variety of factors, I adjusted consensus numbers to reflect what I believe to be a more realistic view of how future events are likely to play out. I brought down the growth rate since we're looking at a reduced product pipeline with only 10 products achieving phase two or higher.

Based on that outlook and other factors I mentioned in the valuation article, I arrived at a valuation of $82.31 to $89.83 per share, well below the consensus price target of $112/share.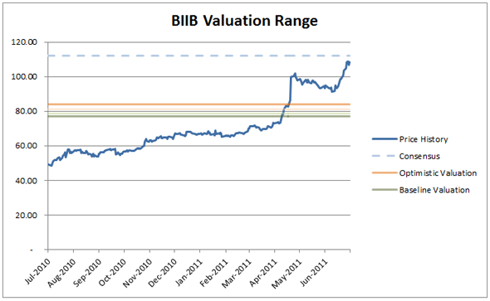 How do we capitalize on this opinion without a risky outright short on the stock? By using options, of course. I believe that you can almost always achieve a better return with less risk by employing options.

The first thing we can do is to bet against the continuing trend. The market has had an explosive week, fueling Biogen buying, and is due for a breather anyway. We can sell an August credit call spread at $120-125, which would net us a $60 premium on $500 of capital if the stock closes below $120 on August 19th -- a 12% return in 7 weeks.

That $120 strike puts us one standard deviation out of harm's way, which-- in a random world-- is an 84.1% chance of full profit and 85.5% chance of breakeven or higher. Calculating the total expected return including 100% loss at $125 or higher, we get 1.6%, or an annualized 12.5%. This means that over the long run, we expect transactions like this to yield a positive return (even though we're sure to see some failures along the way). That's a great place to start the consideration process for adding this option play to your portfolio.

If you'd like to be on the buying side of the options transaction since the volatility index (VIX) is extremely low and options are relatively cheap right now, go with a 6-month debit put spread, which will allow us to capture the majority of our target movement with the smallest at-risk capital possible. Look to the 105/95 put spread for a cost of $3.75, opening you up to a potential $6.25 profit (166%) if Biogen corrects south of $95 by January 2012.

The contrast to these two options plays is shorting the Biogen stock, a $10,800 investment for the same exposure as a single spread contract as the plays listed above. If Biogen drops to $90 by January, you're looking at a paltry 16.7% return for being right and more exposure if you're wrong. Consider using options to both limit your losses and increase your leverage on this Biogen play.

Disclosure: I have no positions in any stocks mentioned, and no plans to initiate any positions within the next 72 hours.