Sometimes we make investing tougher than it needs to be. While we've all seen the disclaimers that "Past performance is no guarantee of future performance" we've also heard TV's Dr. Phil say that, "The best predictor of future behavior is past behavior."
I'm definitely on board with the latter statement when it comes to stock prices. Many shares have well-defined ranges that repeat year after year barring any major changes in the underlying company's fundamentals.
Imagine you find a stock that trades near the bottom of a recurring support range yet sports both trailing and forward fundamentals that are about the best in its history. Pretend this issue has been at least 18.7% to 26.5% higher during each calendar year since 1998. Many times this fantasy stock has jumped by 50% - 80% above today's quote.
Suppose the company had a nice balance sheet and a small yield to boot. Would you be interested? If you would, take a look at Black Box Corporation (NASDAQ:BBOX). This real stock meets every criterion I just described. Click to enlarge: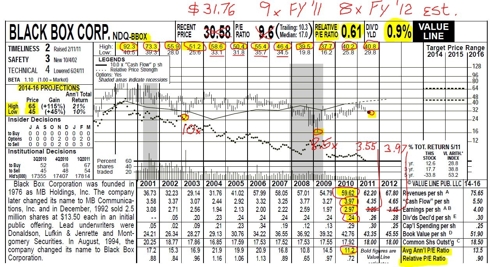 The worst annual high of the past dozen years came in 2009 when BBOX topped out at 18.7% above last week's close. During the eleven remaining years the shares peaked at much higher levels.
This is not a troubled company. FY 2010 ended with the second best EPS of that whole period and the consensus estimates for FY 2011 and FY 2012 are for all-time highs both this year and next. FYs end March 31 of the following year.
BBOX is now offered at just 9 times current year's estimates. That's the cheapest valuation of its entire history excepting the exact nadir in March 2009 when it briefly printed at 8.5x FY 2008's recession-depressed $1.97 in EPS. Smart buyers at that time saw their investment surge from $16.20 to $37.70 in less than four months.
Management just raised the well-covered dividend by 16.7% with plenty of room for further growth. The payout ratio is a very low 8% of expected earnings.
I could bore you with plenty of reasons for owning Black Box and my justifications for a $40 - $50 price target. I could show you that S&P rates them higher than 93% of all the companies they follow for 'investability quotient'.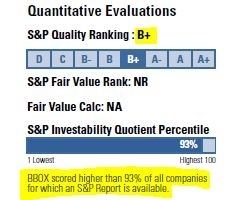 Instead, I'm going to keep this simple and just refer you back to the chart above. Everything looks better than it has for years so I'm going to assume BBOX will get back to at least where it's traded in each of the past dozen years.
Buy now, wait for the inevitable rise, then sell for a nice gain. It's as easy as lather, rinse repeat.
Disclosure: Long BBOX shares and short BBOX options