After suffering a severe beat-down earlier in the year and sideways action through spring and early summer, Power-One Inc. (PWER) looks like a solar sector play with potential for rapid price appreciation and sustainable long-term growth prospects.

The company is the second-largest designer and manufacturer of photovoltaic inverters in the world. It operates two units:
The solar-oriented Renewable Energy Solutions division provides products which convert, regulate, purify, store and manage renewable electrical power. Energy inverters harvest solar or wind energy and convert the DC power from solar panels or variable AC from wind turbines into conditioned AC energy for transportation through transmission lines. According to S&P analysts, renewable energy is outpacing the rest of the power industry, with a mean estimate of 20% CAGR through 2014.

The Power Solutions division provides AC/DC and DC/DC converters and network power systems for data center applications including data storage, servers and optical networking. While consumers and large companies look to move to the cloud and data centers expand, this market (which includes networking, telecom and computer/office equipment) is expected to see continued growth at a pace of 5-7% CAGR, according to IMS Research.
Long-term, the U.S. Department of Energy believes that global power needs are set to double by 2025, and a significant amount of this additional power capacity is likely to come from renewable sources. Power-One appears poised to capitalize both from the expanding need in renewable energy management well as continued growth from enterprise-level initiatives in power management, conservation and efficiency.
This information was sourced from an S&P Compustat company report, and Power-One Inc. FY2011Q1 results.
Fundamentals:
Power-One is trading at 7.3x P/E TTM, in the low end of its historical P/E range of 5.8 to 11.6x. Forward P/E looks even better around 7.1x.

PEG sits at an impressive 0.43 vs. an industry average of 2.68. The company is in the top quintile of the industry for growth prospects, since it looks ready to capitalize on strategic opportunities in renewable energy and enterprise power efficiency.

P/FCF TTM [trailing twelve month] sits at a solid 5.9, below sector and industry averages.

P/Sales TTM sits at 1, in line with sector and industry averages.
Power-One has about $240M in cash and $36M in debt, which works to a $3.16 book value per share. It has a large short interest ratio of 11.60%, a 90% rate of institutional ownership and does not pay a dividend.

This information was sourced from the S&P Compustat company report, Fidelity Investments, and Yahoo! Finance.

Technicals: PWER is trading around $8.20, significantly below the 200-day SMA of $9.22 but in the neighborhood of 50-day SMA of $8.20. The 52-week range is $6.54 - $13.04. The company announced potential issues with inventory build-up in the channel at the end of FY2010 in early February and was punished with a severe sell-off. On worries of weakness in the Italian and German solar markets, the equity has zig-zagged in a well-defined range, between $7.50 and $9.
Click to enlarge: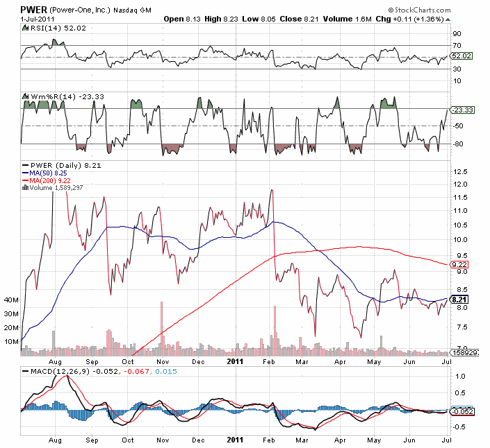 Click to enlarge

MACD confirms the flattening, leveling off after dipping severely after the February sag. It currently sits at -0.05 with a negligible 0.01 positive divergence from the EMA line. RSI confirms the equity to be channel-bound, without major signs of being overbought or sold. Volume has been light for the last two months.

Sentiment: Analysts are bullish on the stock, with Piper Jaffray, Thomas White International and EVA Dimensions all recently upgrading PWER shares to buy. The 12-month mean estimate among the 12 analysts actively covering is $11.40, indicating a significant upside potential of about 40%.

Two facts of particular interest:
There is a relatively high percent of institutional ownership for a midcap, 90%. This may lead to upward price pressure in the near-term, since it's unlikely for these large players to unload shares in significant volume.

The 11.6 short interest, combined with high insitutional ownership, may lead to a significant squeeze, adding to positive momentum.
This information is sourced from Fidelity Investments.

Power-One had a tough year so far. Most of the weakness was prompted by concerns around dwindling subsidies to solar industries in Italy and Germany and oversupply in the channel, leading to a large drop in demand. Both of these major challenges appear to have been largely set to rest by the company's first quarter performance, a $.20 EPS vs. a mean analyst estimate of $.21. Traders were expecting a large miss and downward revisions to yearly targets, but neither took place.

In a February interview with Jim Cramer's TheStreet.com, Power-One's CEO refused to provide margin guidance for the year but did specify that the company's valuation appears out of whack considering its recent track record.
I believe we are undervalued, and I remain surprised at that, with our great performance and how well we managed the growth. I recognize that we are newly profitable and the company has been a restructuring story for years, but in a few short years we invested in the right product line and took costs to the right level and carefully adjusted operating expenses and are building out our business, so I feel confident in the team here. To some extent, the marketplace we have to survive in is dictated to us, and we believe we can do better than the competition

Nine dollars a share doesn't make a lot of sense to me. I understand investors were disappointed and we are the first to publish earnings in the sector, but look at how we trade relative to EBITDA. We are consistently profitable and just don't deserve this low multiple. On the other hand, I understand what investors are looking for, and we have to prove that we can be successful in North America, and at the time, there is stiffer competition and big cap companies coming into the inverter space, almost on a weekly basis, so we will see where it all leads.
It's fair to call this assessment sober, and the fear baked into Power-One as of now does not appear warranted. John Rosenberg wrote a compelling SA article earlier in the year, describing a tadrastic short squeeze in the making. He has been proven right, with the equity finding a solid floor around the $7.50 mark. With the upcoming August 5th earnings release and momentum building in broader indexes, Power-One looks ready to pop.

For those interested in going long, here are a couple of option plays worth considering:

Purchasing August 20th $8 calls for a $.67 premium per share implies a break-even price of $8.87, an 8% upswing from current price levels. That appears to be an entirely realistic target price post quarterly results.

Selling August 20th $9 puts for a $1.26 premium per share implies a break-even price of $7.74, returning an annualized rate of 112% (for comparison purposes only.) Even if the puts are exercised, purchasing a growing company at the bottom of its recent price channel does not appear to be a losing proposition.

Disclosure: I am long PWER.