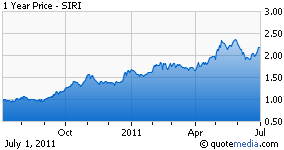 I know how pay TV companies market their products. Not a week goes by where I am not inundated with glossy flyers in my mail box touting the triple plays from Comcast (NASDAQ:CMCSA) and Verizon (NYSE:VZ) for $89-$99/month or the $24.95/month offer from Dish Network (NASDAQ:DISH) that includes three free months of HBO, Starz and Showtime or the DirecTV (DTV) offer at $29.95/month with too many throw-ins to list. Then there are ads splashed across my TV screen for all of these that are touting Free HD for life or some other attribute meant to grab my attention. But where's the evidence of Sirius (NASDAQ:SIRI) marketing - that glossy piece of direct mail or the TV ad?

The 2010 10k states : "Sales and Marketing includes costs for advertising, media and production, including promotional events and sponsorships; cooperative marketing; customer retention and personnel. Cooperative marketing costs include fixed and variable payments to reimburse retailers and automakers for the cost of advertising and other product awareness activities performed on our behalf." The 10k also shows that Sirius spent more than $200 million on these efforts. It seems like a lot of money and represented about 8% of last year's $2.8 billion in revenue.

I suppose I am like many consumers and tend to equate marketing with advertisements I can see or hear. In that respect, I still see an ad in the Best Buy (NYSE:BBY) circular in my Sunday paper and suspect that this may be part of the "...payments to reimburse retailers..." I also hear an occasional spot on WBBR-AM proclaiming they can be heard on channel 113 on SiriusXM radio. But I've never seen a piece of direct mail and don't recall seeing an ad on TV, and even if I did, how would one judge the effectiveness?

It is well known that Sirius is focused on the OEM market. Late last month I had the opportunity to experience first hand the effectiveness of Sirius's marketing efforts in this space. It has been six years since I last shopped for a new car and I had no idea if the Sirius product is considered a big deal by car dealers and salesmen or if it is considered a luxury item or a standard feature. My daughter was in the market for her first new car and had a price range of $15-$19 thousand and some car styles in mind. The list included Toyota Corolla, Honda Civic, Volkswagen Jetta, Mazda 3, Ford Focus and Chevy Cruze, so we are not discussing a high end sale.

Several things were immediately apparent. More and more features that were previously considered to be accessories are now standard on most cars. Safety features, gas mileage and warranties are much improved. Zero percent or very low cost financing was available at many dealerships. Almost all the car salesmen we encountered are remarkably uninformed about the products they sell. The base models of most of the cars we were looking at did not include satellite radio, but most of the versions we actually test drove had packages that included a Sirius or XM 3-6 month free trial. And, surprisingly, the Sirius product and free trial were always mentioned.

The Honda dealerships had large posters and displays showing the radios and the unique content of satellite radio. All the sales reps played around with the radios and spent more time talking about them than the handling, the ride, the safety ratings or the warranty as she test drove the cars. I don't know if this was because it was part of the sales training or because my daughter was driving and they knew she was the customer. Maybe they saw a woman and thought Sirius would be an important selling point. Maybe they saw someone who looked like she was in her early 20's (she's not) and thought the large selection of music was a selling point. Maybe it was because it was one of the few things the salesperson was competent to talk about. As an investor, I don't particularly care about the motivation, but it was certainly reassuring to hear the sales people pushing the Sirius product and the free trial and I now feel that at least a portion of the $200 million in marketing appears to be well spent.

I don't immediately think of the Paul McCartney concert celebrating 20 million subscribers or customer retention as part of sales and marketing, but they are. Would I still prefer to see some brand awareness spots on TV or receive a piece of direct mail? Sure. But the way the sales people were promoting Sirius could be a much more cost effective way to spend a limited budget. As investors, we should perhaps be a bit less critical about the lack of advertising and a bit more appreciative the auto dealer sales reps' promotion of the Sirius product. After my recent experience, I know I am more comfortable with my long position in Sirius.

Disclosure: I am long SIRI, VZ, CMCSA.

Additional disclosure: I have covered call positions written against most of my SIRI shares, mostly at a $3 strike for January 2012. I may open new call positions and/or close my current ones at any time. I have no positions in any of the other companies mentioned in this article and no plans to buy them in the next 72 hours.