In October, I first shared my very bullish views for 2011, projecting the S&P 500 would attain 1500 by the end of the year, up from 1146 at the time. While the call got off to a fantastic start and was even ahead of trend substantially at the end of April, the recent pullback in the market with the subsequent rally leaves my forecast appearing to be roughly on track:
click to enlarge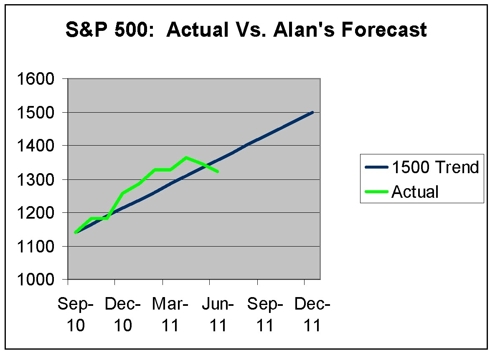 Click to enlarge
While I didn't raise my forecast when we got ahead of the trend earlier this year, I am tempted to do so now, despite being slightly behind trend now. Why?
When I formulated my outlook for the coming year last October, I made a simple prediction: Earnings would rise moderately, while PE multiples would expand. The synopsis I included in the article and then supported was as follows:
My call is a valuation call, but it is supported by strong technicals and weak sentiment in my view. The conclusion is predicated upon the following:

The economy could just muddle along - it doesn't have to boom
PE ratios will rise, but not to lofty levels

If you want to skip the argument and get to the basis for my call, it is simply this: The market will move to a PE of 15 on a forward-looking basis, and the S&P 500 is capable of earning $100 in 2012. Quite simply, 15*100 is 1500.
Halfway through the year, it appears that I have underestimated the earnings potential for the S&P 500. The Standard & Poor's website, which requires registration to access the data, indicates that 2012 earnings (as of 6/21) are expected to now be almost $112, an increase of 14% from the nearly $98 projected this year.
When I was estimating $100 for 2012, the consensus forecast had been $94 for 2011, but it has increased, contrary to my expectation that it might be revised downward, as it typically the case. I don't take the current $112 projection as likely to be achieved, but, if so, then a PE of 13.4, rather than 15, gets us to my target.
What looked like a ballsy call 9 months ago is looking like a conservative one today. Then, I was looking for PEs to expand to 15 from 12.5. Today, they remain near 12.5 (12.8 actually), and we need just modest expansion over the balance of the year to hit my target.
I still don't rule out a PE of 15, which would get the market to 1675 if it were to happen in the next six months (not my prediction, but just sayin...). In the original article, I shared a graphic showing how cheap stocks are relative to bonds. The earnings yield, on a forward basis, is roughly 8% for stocks still, while corporate bonds continue to offer roughly 5.5%. While this is up from the 5% area, it remains quite low. The positive spread of 2.5% is still extreme compared to the last 20 years.
So, I remain quite confident that higher stock prices are ahead. Sentiment remains muted, bonds remain friendly, and the economy continues to progress, albeit muddling along for now. The technicals are much better today than they were a couple of months ago, when we were quite extended. In the remainder of the year, I expect a couple of trends to develop that may boost sentiment. First, we should see some growth in jobs - it's about time. Second, look for housing to finally show signs of life. Of course, my thesis isn't predicated on either of these things actually occurring (something few expect), but they could be the drivers beyond my 1500 target.
The world doesn't stop on 12/31, though I haven't publicly shared my forecast beyond that date yet. My initial expectation is that 2012, an election year, will be one in which we test the all-time high on the S&P 500 (1576) and probably move into the 1600s. I plan to refine my prediction after Labor Day. Until then, I am focused on identifying more growth stocks, having recently added a couple to my Top 20 model portfolio as well as several new names to my watchlist.
Disclosure: I have no positions in any stocks mentioned, and no plans to initiate any positions within the next 72 hours.