Microsoft (NASDAQ:MSFT) has been the subject of a debate among value investors as to whether at its current valuation it represents an excellent value investment or is the definition of a value trap. Microsoft bears point to the ten year stock chart that shows that the stock has been flat since the end of the internet bubble of the late 90s and early 2000s.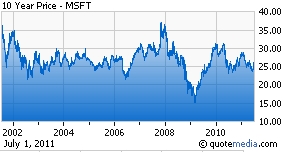 MSFT increased by 7% last week. Put in context, the Dow Jones Industrial Average, of which Microsoft is a part, increased 5.4%, and the S&P 500 index increased 5.6%. Year-to-date, MSFT is still down 6.8% and since the end of April, MSFT is essentially flat.
Now, perhaps investors will look back at this week as the turning point of Microsoft's fortunes (and stock price). Perhaps in several years Skype will be contributing meaningful cash flow to MSFT and the acquisition will appear to have been reasonably priced. Perhaps Nokia (NYSE:NOK) smartphones running Microsoft software will garner material market share in several years. Perhaps creating a cloud-based offering for Office in the form of Office 365 will be lauded as Steve Ballmer's greatest achievement and maintain Microsoft's position as a leading software company in the cloud generation.
Perhaps Microsoft will win the auction for Hulu and turn it into a service that rivals Netflix (NASDAQ:NFLX). Perhaps Microsoft acquires TiVo (NASDAQ:TIVO) for $20/share and becomes the leading provider of cable/internet smart set-top boxes integrated with Xbox and Skype. Perhaps the cloud computing ETF being launched next week under the ticker SKYY will someday have Microsoft's as its largest holding. But let's not get ahead of ourselves.
On May 25 David Einhorn, founder of Greenlight Capital, called for the removal of Steve Ballmer as MSFT's CEO. Subsequent to Mr. Einhorn's public statement, the case for and against Mr. Ballmer stepping down has been a frequent topic among investors. While Mr. Ballmer appears to have the support of the Microsoft board, the board will support the CEO right up until they decided that he needs to be replaced. Hopefully this will serve as a wake-up call to Microsoft, both to Mr. Ballmer and the board. The board's patience cannot last forever and this may light a fire under Mr. Ballmer to aggressively move to change the perception of Microsoft as an old lumbering bureaucracy that has been living decidedly behind the curve.
Trading at 6x trailing EBITDA, 10x FY2011 earnings, and 9x FY2012 earnings, MSFT appears inexpensive. The company has the cash to invest aggressively in areas in which it sees future growth potential. Hopefully they get it right and investors are rewarded. And even if the company does not hit any home runs, it may still get enough right to justify its current valuation.