Below we take a look at the strongest performing stocks based on 52 week performance.
As shown, Flotek Industries, Inc. (NYSE:FTK) is up the most over a 52 week period with a gain of 637.07%. FTK is a leading provider of a portfolio of innovative oilfield technologies including specialty chemicals, drilling products and artificial lift services. These are in continuing great demand based on the recent innovations in drilling that have opened the North American unconventional shale plays to exploitation by major Oil & Gas companies. Travelzoo Inc. (NASDAQ:TZOO) ranks second with a gain of 448.74%, followed by Zagg Inc. (NASDAQ:ZAGG), VirnetX Holding Corporation (NYSEMKT:VHC), IPG Photonics Corporation (NASDAQ:IPGP), Intersections Inc. (NASDAQ:INTX), and Broadsoft Inc. (NASDAQ:BSFT).
The tech sector represents a full third of the companies on the list with five companies represented. Computer services industry represents the majority of the tech companies with VirnetX Holding Corporation - Engages in developing and commercializing software and technology solutions for securing real-time communications over the Internet. The company recently announced it has submitted a Statement of Patent Holder with the Alliance for Telecommunications Industry Standards (ATIS), and European Telecommunications Standards Institute, supplementing its prior statement of December 1, 2009, identifying patents and patent applications that may be relevant to the following specifications in the 3GPP LTE, SAE project.
The 3GPP LTE project is responsible for setting standards for the next Generation 4G networks. VirnetX contends its patents may be requisite for some of the 4G LTE security specifications. Its assertion of foundational IP could result in a windfall of profits regarding licensing fees for the foreseeable future. Having the tech sector leading the way is a good sign the recent bull market rally may be sustainable. It is a well-known fact that many times the tech sector spearheads the stock market into a bullish trend.
The Healthcare Sector is second with three companies making the list. All the healthcare companies hale from the Biotechnology and Drugs industry with Pharmasset Inc. (VRUS) leading the way with an increase of 335.29%.
I continuously monitor the list of best performing stocks to identify potential momentum plays. It's easy to feel like you have missed out when you see a stock up over 300% in a 52 period, but rest assured you will find many of the names on the list below on the list of best performers at the end of the next 52 week cycle as well. Please use this list as a starting point for your own due diligence.
15 Strongest Performing Stocks by 52 Week Price Performance
click to enlarge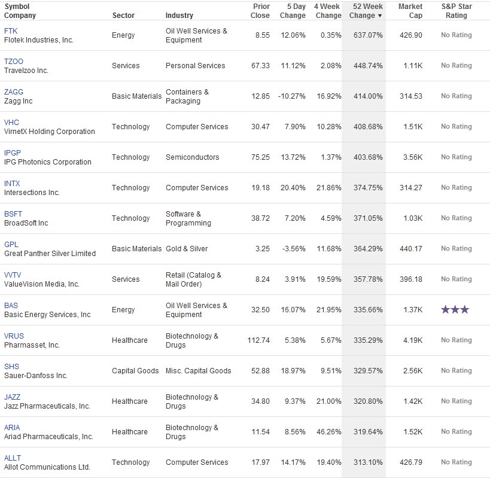 Conclusion

These 15 stocks are the overall strongest performing stocks based on 52 week price performance. Each of these stocks is up more than 300% over the last 52 weeks. Furthermore, they are all well positioned to benefit from each of their respective sector's burgeoning demands spurred by numerous positive catalysts. I will continue monitoring these stocks further to determine the precise timing to create a position. Scaling in to the position over a period of time will reduce risk.
Additionally, I would suggest buying a basket of these high fliers rather than just one, based on the speculative natural of investing in stocks with such recent significant moves. Typically, if a stock has recently doubled, it lowers the odds of the stocks doubling again in the near term considerably.
Nonetheless, we have all seen the performance of stocks the likes of Priceline (NASDAQ:PCLN), Apple (NASDAQ:AAPL) and Amazon (NASDAQ:AMZN), which have shot up more than 10 fold in recent years. One of the greatest stock returns of all time was Warren Buffett's purchase of a stake in the Washington Post Company (WPO). This one investment subsequently provided Buffett with more than a hundred fold return.
Information was gathered from CNBC, Yahoo Finance, and respective company websites.
Disclosure: I have no positions in any stocks mentioned, but may initiate a long position in FTK, TZOO, ZA, VHC, IPGP, INT, BSFT, GPL, VVTV, BAS, VRUS, SHS, JAZ, ARIA, ALLT over the next 72 hours.