The stock markets went through a correction over the last several weeks, after reaching multiyear highs earlier this year. The correction was triggered by weak sentiments in the global markets and some concerns regarding domestic inflation and the sustainability of the current economic growth rate. Analysts believe the correction is a good time for investors to accumulate fundamentally strong growth stocks with relative price strength that are favorably placed in the current economic conditions.
Growth stocks are defined as stocks of a company which is growing earnings and/or revenue faster than its industry or the overall market. Such companies usually pay little or no dividends, preferring to use the income instead to finance further expansion. Shares in a company whose earnings are expected to grow at an above-average rate relative to the market. Most technology companies are growth stocks. Note that a growth company's stock is not always classified as growth stock. In fact, a growth company's stock is often overvalued. William J. O'Neil famously coined an axiom describing the greatest paradox of the stock market by stating, "What seems too high in price and risky to the majority usually goes higher, and what seems low and cheap usually goes lower."
Relative strength refers to how strong a stock is relative to something else. This could be either how strong it is compared to the overall market or the stock's industry group. If it is stronger than the field it has relative strength. If it is weaker, it is considered relatively weak.
Nonetheless, this is only the first step in finding winners for your portfolio. Now that we have cut the wheat from the chaff, let's take a closer look to distinguish the driving factors behind these remarkable statistics and ensure the stories are intact. Please use the following information as a starting point for your own due diligence.
Below is a table of strong relative strength growth stocks with detailed statistics regarding each company's current earning per share and sales information followed by a brief summary of each company and a chart of the company's key statistics and current performance.
Company Sales and Earnings Review
(click to enlarge)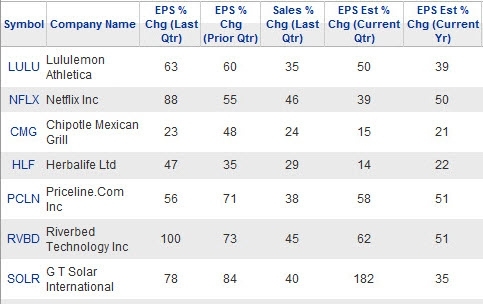 Company Profiles
Lululemon Athletica Inc. (LULU), together with its subsidiaries engages in the design, manufacture, and distribution of athletic apparel and accessories for women, men, and female youth primarily in Canada, the United States, and Australia.
Lululemon recently announced that its Board of Directors has established July 8, 2011 as the record date for the previously announced two-for-one stock split of the Company's Common Stock. The Company's Common Stock is expected to commence trading on a post-split basis on the Toronto Stock Exchange on July 6, 2011, and on a post-split basis on the Nasdaq Stock Market on July 12, 2011. Following the effectiveness of the stock split, the Company will have approximately 108 million shares of Common Stock issued and outstanding.
The company is trading above analysts' estimates. LULU has a median price target of $100 by 12 brokers and a high target of $110. The last up /downgrade activity was on Apr 12, 2011, when Barclays Capital initiated coverage on the company with an Underweight rating.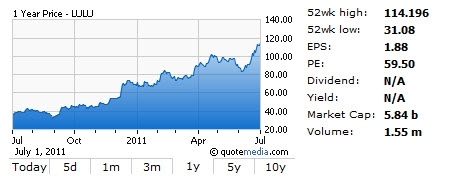 Netflix, Inc. (NFLX) provides online movie rental subscription services in the United States. The company offers its subscribers access to a library of movie, television, and other filmed entertainment titles on digital versatile disc (DVD) and streaming.
In Q1, NLFX completed several important streaming content deals, bringing in additional first-time partners, extending and expanding relationships with other providers and pioneering some new approaches that will help Netflix continue to differentiate itself. The result is that Netflix subscribers can instantly enjoy a wider and better selection of TV shows and movies than ever before.
2011 Q1 Highlights:
Reported another strong quarter of growth in subscribers, now at 23.6 million globally.

Added 3.3 million domestic subscribers in Q1, nearly double the number added in Q1 of 2010.

Consolidated net income of $60.2 million and diluted EPS of $1.11 were at the high end of guidance range due to the earnings outperformance in the U.S
The company is trading on par with analysts' estimates. NFLX has a median price target of $270 by 22 brokers and a high target of $316. The last up/downgrade activity was on Apr 26, 2011, when Maxim Group upgraded the company from Sell to Hold.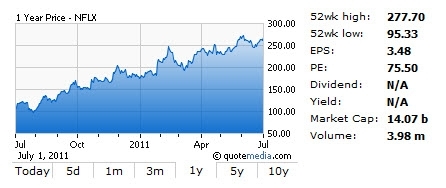 Chipotle Mexican Grill, Inc. (CMG) develops and operates fast-casual, fresh Mexican food restaurants in the United States. It also operates restaurants in Toronto, Canada and in London, the United Kingdom.
Chipotle recently reported financial results for its first quarter ended March 31, 2011.

Highlights for the first quarter of 2011 as compared to the first quarter of 2010 include:
Revenue increased 24.3% to $509.4 million
Comparable restaurant sales increased 12.4%
Restaurant level operating margin was 25.2%, a decrease of 90 basis points
Net income was $46.4 million, an increase of 22.6%
Diluted earnings per share was $1.46, an increase of 22.7%
Steve Ells, founder, chairman and co-CEO of Chipotle said,
"We are pleased to have begun 2011 with a strong quarter, and that we continue to drive great results while remaining true to our vision to change the way people think about and eat fast food. By focusing on finding the best ingredients we can get, preparing food using classic cooking techniques, and developing a people culture that is as unique as our food culture, we are building a very different kind of restaurant company and producing great results for our shareholders,"
Chipotle recently announced that it will host a conference call to discuss second quarter 2011 financial results on Tuesday, July 19, 2011 at 4:30 PM Eastern time.
The company is trading on par with analysts' estimates. CMG has a median price target of $280 by 18 brokers and a high target of $375. The last up/downgrade activity was on Mar 2, 2011, when Morgan Keegan upgraded the company from Underperform to Market Perform.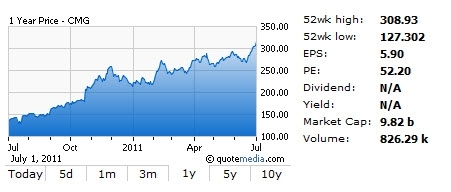 Herbalife Ltd. (HLF), a network marketing company, sells weight management, nutritional supplement, energy, sports and fitness, and personal care products worldwide.
Herbalife Ltd. Announces Record First Quarter 2011 Results and Raises FY'11 Guidance
First quarter net sales growth of 28.5 percent on volume growth of 21.5 percent.
First quarter adjusted1 EPS of $1.43 increased 45.9 percent compared to the $0.98 adjusted1 EPS from prior year period.
Raises FY'11 EPS guidance to a range of $5.54 to $5.78.
Shareholders approve 2 for 1 stock split with a record date May 10, 2011.
Board of directors approved a post stock-split quarterly dividend of $0.20 per share.
Michael O. Johnson, the company's chairman and CEO stated,
"Our ongoing efforts to globalize daily consumption-based distributor methods of operation (DMOs) continued to provide strong growth to both the top and bottom line growth in the first quarter,"
The company is trading on par with analysts' estimates. HLF has a median price target of $58 by 7 brokers and a high target of $68. The last up/downgrade activity was on Jun 30, 2009, when Argus upgraded the company from Hold to Buy.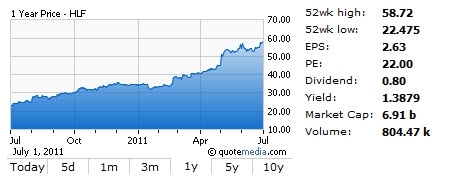 Priceline.com Incorporated (PCLN) operates as an online travel company principally in the United States, Europe, and Asia. It provides various travel services, including airline tickets, hotel rooms, car rentals, vacation packages, cruises, and reservation services.
Priceline recently released its annual survey of the 50 most-popular destinations for the upcoming Independence Day weekend. Chicago's North Michigan Avenue/River North Area is the #1 destination for July 4th travelers. This is the second year in a row that a Chicago neighborhood has captured the top spot on priceline.com's annual list.
The company is trading significantly below analysts' estimates. PCLN has a median price target of $626.50 by 16 brokers and a high target of $700. The last up/downgrade activity was on Jan 5, 2011, when Canaccord Genuity initiated coverage on the company with a Buy rating.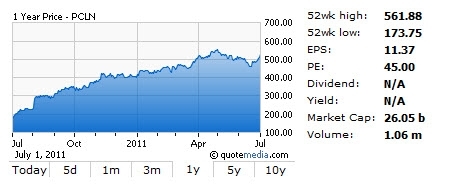 Riverbed Technology, Inc. (RVBD) provides solutions to the fundamental problems associated with information technology (IT) performance across wide area networks (WANs) in the United States and internationally.
Riverbed recently announced that the company has been named by Microsoft (MSFT) as an application acceleration hardware partner in the worldwide network of Microsoft Technology Centers (MTCs). This partnership enables joint customers to interact with solutions experts and test joint Riverbed®-Microsoft solutions in a high-performance environment. Riverbed and Microsoft have partnered on several key product areas, allowing enterprises to drastically improve collaboration by leveraging Microsoft enterprise software solutions over the wide area network (WAN) and in the cloud.
The company is trading below analysts' estimates. RVBD has a median price target of $42 by 29 brokers and a high target of $50. The last up/downgrade activity was on Apr 27, 2011, when Morgan Keegan initiated coverage on the company with an Outperform rating.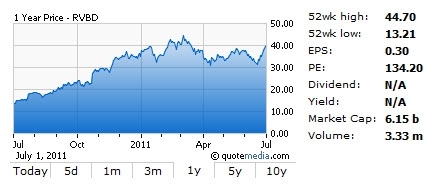 GT Solar International, Inc. (SOLR) provides polysilicon production technology and multicrystalline ingot growth systems, and related photovoltaic (PV) manufacturing services for the solar industry worldwide.
GT Solar recently celebrated the grand opening of its new state-of-the-art sapphire production facility located in Salem, Massachusetts. The opening of the newly expanded plant concludes a project that began in the fall of 2010 that triples the sapphire production capacity in its Salem facility. GT invested $27 million to create a high volume production facility to provide sapphire material for the fast-growing LED market and other industrial material industries.
The company is trading below analysts' estimates. SOLR has a median price target of $17 by 13 brokers and a high target of $24. The last up/downgrade activity was on Mar 8, 2011, when Brean Murray initiated coverage on the company with a Buy rating.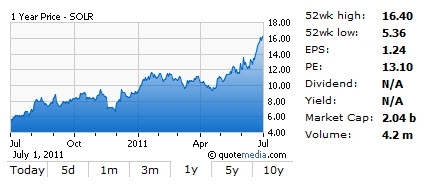 Information was gathered from CNBC, Yahoo Finance and respective company websites. Based on the current market conditions I would suggest scaling in to any position to reduce risk. I believe these stocks have substantial upside potential and provide a significant opportunity for long term investors. Please use this as a starting point for your own due diligence.


Disclosure: I have no positions in any stocks mentioned, and no plans to initiate any positions within the next 72 hours.