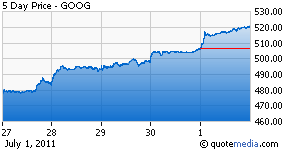 Google (NASDAQ:GOOG) should report 2Q11 earnings sometime next week. Consensus is calling for revenues of $6.534 billion, up 19% y/y, adjusted EBITDA of $3.560 billion, up 9%vy/y, and pro forma EPS of $7.87, up 22% y/y. Adjusted EBITDA margins of 54.5% is down 500 basis points due to stepped up hiring and investments.
We think EPS should come in slightly above consensus, which would be a positive given the uncertain economic environment as job growth has slowed, the Japan supply chain disruption continues, the end of quantitative easing, debt limit uncertainty, and the possibility that the high yield market could see spreads widen, leading to another credit crisis. Add to that headline risks and distractions from legal disputes, and government investigations.
There is talk in the industry that searches slowed from mid-to-end of June, mostly on travel terms, a trend that could slip into the third quarter, and cause us to be a bit cautious.
However, online marketing consulting firm IgnitionOne is seeing a 12% y/y growth in online search spend in 2Q11, and an 18% growth in Google's searches, suggesting that Google is taking meaningful share in search spend from competitors, which is mainly MicroHoo at this time. Their data, we believe, is mostly domestic and is encouraging for Google's investors, given the strong correlation from this company's data with Google's actual reported numbers over the past several quarters.
In fact, we believe that all of Google's main businesses are doing quite well given the uncertainty. Our conversations with online ad agencies point to Google's strong share in display advertising. YouTube is doing well, we believe. The Heineken multimillion euro advertising contract with YouTube, the first major brand to strike a global deal with YouTube, is an enormous win for Google. We were surprised the Sell-side was not all over the positive implication of this contract. These deals could ultimately drive YouTube to profitability, if the website is not there already.
The mobile business led by Android device sales, as we all know, is growing like weeds.
So all in, Google is a great franchise company that should be in any model portfolio focused on the long-term. Near-term, we are somewhat cautious given the numerous macro and company specific risks.
We do see a grossly undervalued stock. Our model shows the company delivering $45 in EPS in 2012. Applying a 15x multiple, we get a value of $675, up 30% from current levels. Applying an 18x multiple, we see an $810 stock, up 55%. Applying a 20x multiple, we see a $900 stock, up 75%. The proper multiple is somewhere in between. Good luck investing.
Disclosure: I am long GOOG.