Apple's (AAPL) third quarter numbers are coming out in 2 weeks. What will they be?
Professional analyst consensus is $5.63 EPS. Once again, estimates are too low. I've been using trend lines to forecast earnings. I focus on two metrics:
1. The number of devices Apple sells, that is, iPads, iPhones, iPods, and computers. This number is easily obtained from the data section of Apple's earnings reports (.pdf).
2. The average operating income each device earns. This number, the OPD, is derived by dividing total operating income by number of devices sold.
In order for analyst consensus to be correct, Apple's long term trend lines would need to break down.
First, let's look at Q2 and Q3 for the last 7 years.
You'll notice that Q2 and Q3 have been nearly identical. They almost perfectly match each other for both metrics. That makes sense: no back to school or Xmas to differentiate the quarters. For Apple, Q2 and Q3 are relatively quiet quarters when compared to the supercharged Q4 and Q1.
Here's are the graphs.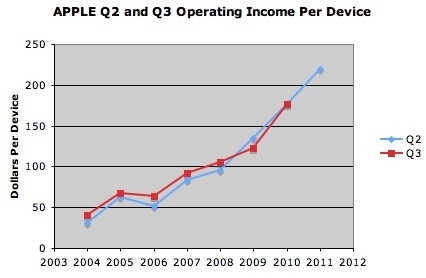 <a:>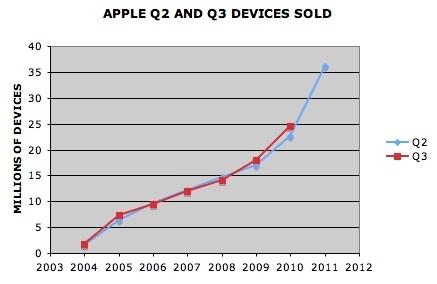 Unless something very strange happens, this Q3 should follow the pattern of Q2 very closely.
Moreover, the number of units Apple sells each quarter has been dramatically increasing (see chart below). Apple's most recent quarters (Q1 and Q2 of 2011 and Q4 of 2010) have experienced tremendous acceleration in devices sold. From Q4 2009 to Q4 2010, Apple sold 51% more units.
From Q1 2010 to Q1 2011, it sold 42% more, and from Q2 2010 to Q2 2011 it sold 60% more. This growth in unit sales is much higher than the last 4 years and it is occurring as the less profitable iPods play a much smaller role. I expect Apple to sell 39 million devices this Q3. The quarter will match Q2 and its robust sales.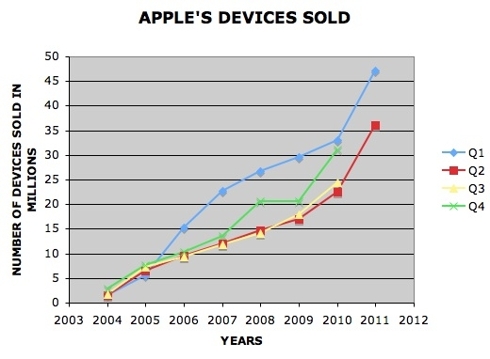 I'm modeling $224 for average operating income per device. Q3 should again mirror Q2's run-up in OPD. We're not going to see the drop in OPD normally seen in Q1 when Apple sells less profitable iPods and discounts for the holiday season.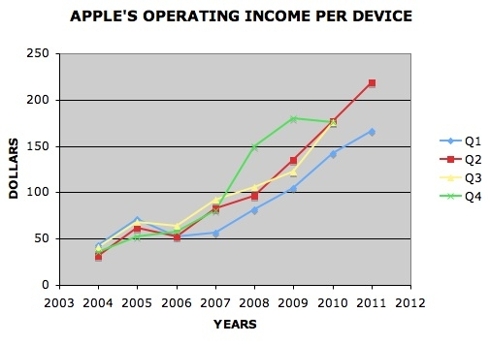 Therefore, this quarter should show $224 for average operating income per device with 39 million units sold. Operating income should come in at $8.7 billion. Assuming 25% tax and 936 million shares, Apple's third quarter should come in at $7.00 a share, well above analyst expectations.