As a Dad who has seen too many dollars enter the mall never to return, I crave pay back. Instead of propping up a retailer bottom lines, I demand a piece of the action. I've done the leg work following the wife and troop into stores. It's time to reap my just rewards.
The teen retail bunch is a very volatile sector: one day you're hot, the next you're just burnt toast. I don't want a stock that's going to crater because some teenager changes her mind about what's in.
I'm a conservative Dad. I like conservative stocks, ones that consistently do well and return their earnings to me. Therefore, I like The Buckle (NYSE:BKE).
The Buckle isn't your one year fad. Consistent earnings - check. Revenues - check. Dividends - check plus.
Let's see how BKE stacks up to the competition.
The Buckle has dramatically increased its earnings per square foot of retail space over the last 5 years, something its competitors -- Aeropostale (NYSE:ARO), American Eagle (NYSE:AEO), Abercrombie & Fitch (NYSE:ANF), the Gap (NYSE:GPS), and Zumiez (NASDAQ:ZUMZ) -- can't claim. In fact, The Buckle's more than doubled the amount of money the company earns in each bit of store space. BKE's earning per square foot went from $45 to $95 in 4 years. None of its competitors even come close. For instance, ANF and AEO dropped its operating income per square foot 75% and 60% respectively.
The Buckle consistently delivers earnings without the volatile ups and often downs of its competitors. Look at the 3 and 5 Year average growth change in net income. The Buckle steady and getting stronger.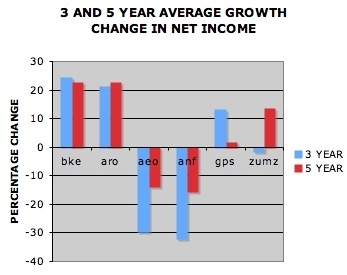 Now, I wouldn't care one way or the other about any of the above if it weren't for the Buckle's dividends. Aeropostale, American Eagle, Abercrombie, Gap, Zumiez, give me my money back. It's The Buckle only that really shows me the money with its bountiful dividends.
The Buckle has returned $8.61 to shareholders in the form of dividends and special dividends since the start of 2008. Shares were selling at $20 back then. Long term investors saw a 43% return in dividends in less than 4 years as well as a 110% increase in share price.
Is The Buckle done?
BKE is about to generate an incredible amount of free cash this year, especially because the company is decreasing its capex to 30-35 million.
The company already has $161 million in cash and $65 million in long term investments, way beyond what it needs (only one quarter after its $2.50 special dividend). That cash position was before the company gave special dividends of $1.80 in 2009 and $2.50 in 2010. The Buckle's operating cash flow has been rising -- last year it came in at $180 million. This year BKE will make significantly more. With less capex needed, BKE could put another $100 million into its current cash positions. The company hasn't increased its regular dividends since October 2008. I think that's in part because they are gearing up for another generous special dividend. By the end of this year, we could see the mother-of-all-special-dividends reminiscent of 2008 when the company gave out $3 ($2 split adjusted).
The Buckle represents a conservative way to play retail: you get to go to the mall and come away with cash in your pocket.

Disclaimer: The opinions in this document are for informational and educational purposes only and should not be construed as a recommendation to buy or sell the stocks mentioned. Past performance of the companies discussed may not continue and the companies may not achieve the earnings growth as predicted. The information in this document is believed to be accurate, but under no circumstances should a person act upon the information contained within. We do not recommend that anyone act upon any investment information without first consulting an investment advisor as to the suitability of such investments for his specific situation.

Disclosure: I am long BKE.