By Russell Glaser
The Riksbank increased the repo rate by 25 bps earlier today while raising both its growth and inflation forecasts. Immediately following the announcement the Swedish krona (SEK) surged versus the euro to a Fibonacci retracement level.
Citing strong economic growth and increased inflation expectations, the Riksbank hiked interest rates to 2.0% from 1.75%. In the accompanying rate statement the Swedish central bank said it expects the economy to grow this year by 4.6% in contrast to its previous forecast of 4.4%. Next year the Riksbank forecasts increased growth of 2.3% from 2.2% expected growth. CPI expectations were also increased to 3.2% from 3.1% in 2011 and next year inflationary forces should moderate to 2.8%.
Given the higher expectations for GDP and CPI, the SEK could make further inroads against the euro on expectations of higher Swedish rates. Comparing the eurozone's growth prospects with the background of the peripheral debt crisis, and the Swedish krona looks to be much better growth play.
Turning to the charts the EUR/SEK appears to have made a top in its rebound and the move has retraced to 9.0530, near the 38% Fibonacci level from the March to June move. A close below this level would go a long way in shifting momentum to the downside back in line with the long term trend. The next target would be the 61.8% Fib at 8.9170, followed by the June 1st low at 8.8770. Should the pair bounce higher from its current support, the EUR/SEK would encounter resistance at 9.1250 and the June high at 9.2725.
click to enlarge image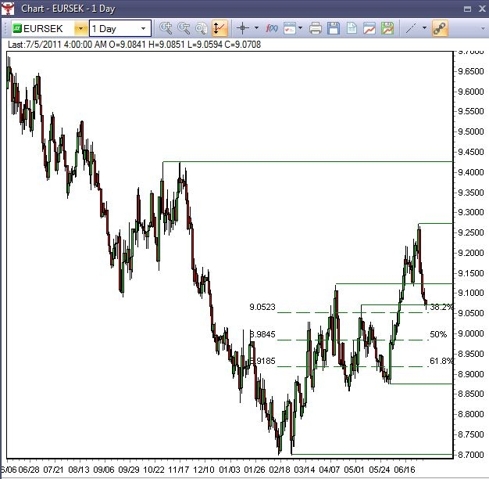 Disclosure: I have no positions in any stocks mentioned, and no plans to initiate any positions within the next 72 hours.