Hewlett-Packard (NYSE:HPQ) makes a lot more sense if you temporarily tune out the market, the analysts and the commentators and consider the phenomenon of mean reversion. Mean reversion isn't infallible, but over any substantial period of time it's a force to be reckoned with. In HPQ's case, the probability of mean reversion is enhanced because management has correctly identified the company's issues and is in the process of resolving them.
Mean Reversion - The Numbers
Projected 5 year average EPS, using 4 years actual plus revised GAAP guidance of 4.17 for 2011, works out to 3.79, after adjusting for the fact that share counts have been decreasing at 4% per year. Over the past five years, which include the financial crisis, HPQ has traded at an average PE5 of 19.8, very close to the 20 that is typical for high quality. At recent prices in the 37 area, the company is trading at a multiple of 9.8 on that metric.
As a point of reference, Benjamin Graham recommended that conservative investors should not pay more than 15 X some long term average EPS, either 5 or 7 years. I've had good results working with this rule of thumb, typically buying at or below 15X and selling around 20X. For cyclical or lower quality companies 12 X is more appropriate.
Applying a multiple of 15 to projected 5 year average EPS, I arrive at a mean reversion target of 15 X 3.79 = 57, by the end of 2012. From a price in the 37 area, that implies an annual return of 33%, to which could be added a 1.3% dividend.
Issues and Opportunities
Hewlett-Packard has issues (most value candidates have issues), however the company also has opportunities. The analytical task is to determine whether management has identified the issues and opportunities, developed a plan to address them, and marshaled the resources to implement the plan.
CEO Léo Apotheker's prescription for Hewlett-Packard has been evolving as he becomes more familiar with its operations. His initial approach, as reflected in the letter to shareholders (with the 2010 annual report) was "steady as she goes." By the time of the HP Summit presentation on 3/14/2011, he was presenting a common-sense, broad-brush approach, and focused on the opportunities:
Optimize traditional environments

Build and manage cloud-based architectures

Enable seamless transition to hybrid models

Define and deliver the connected world from the consumer to the enterprise
The FQ2 2011 earnings conference call, preceded as it was by a leaked email to senior management, highlighted two problems:
Some members of senior management were not on board for the planned strategy (the reason for the leak).
Revenues, margins and earnings are not developing as expected.
There has since been a management shakeup, and individuals reporting directly to Apotheker can be expected to stay on the same page.
On the more complex issue of revenues, margins and earnings, discussion can be interpreted to indicate that necessary investments (to include personnel) in the Services segment were not made. Hewlett-Packard needs to have additional resources in place to provide what customers are asking for. This is entirely consistent with the big picture evidence provided by examining the EDS acquisition and its aftermath.
Briefly, EDS was a sinking ship when acquired; revenues were declining and the company operated at a loss. Revenues for the last full year were 22 billion, but when added to HPQ's 2008 revenue of 104 billion, the result was 2010 revenue of 114 billion. HPQ was profitable during this period, which included the financial crisis.
The EDS business was predominantly services. It is easy to envision a meat-cleaver approach to cost-cutting and restructuring the struggling acquisition. It is possible that muscle and bone were cut, in addition to the fat. The discussion of "investment" simply highlights the obvious, that resources must be available to meet customer demand.
Investment Defined
"Investment" ordinarily refers to the expenditure of money to acquire assets, preferably tangible, along the lines of capex. From a bookkeeping point of view, you credit (decrease) cash and debit (increase) assets.
However, entrepreneurial management will sometimes use the word in a different sense, where the investment takes the form of expenditures on hiring, sales salaries, research and development, etc. The bookkeeping is, you credit (decrease) cash and debit (increase) expenses. This has the effect of reducing reported earnings. It's not really all that popular on Wall Street.
The conference call includes many instances using the word in its second, less acceptable sense:
We continue to make investments in the business with new innovations and incremental R&D spending.

Second, we will accelerate portfolio investments in higher value-add services. We will deepen industry content and form a Business Solutions Group to create more strategic value for our customers. We will enhance our Services offerings in emerging areas, such as cloud services and consulting, application modernization, business analytics and mobility.

Total operating expenses were $4.2 billion, up 10% year-over-year, with increases in R&D and field selling costs, both of which are expected to enable revenue growth in coming quarters. As we have said before, we actively monitor and evaluate all investments against key milestones as we work to achieve our objectives and deliver results for shareholders.

In Q3 of fiscal '11, we expect Services margins to be 13.5% to 14% as a result of lower revenue growth in local currency, unfavorable mix and investments we are making to further enable higher-margin business.
Industry Growth Rate Favorable
Research firm Gartner, a respected source of industry information and estimates, has increased their 2011 estimate for tech spending, from 5.6% to 7.1%. Hewlett-Packard is an important force in the industry and can be expected to participate.
Conclusion
Apotheker is correct in his diagnosis: Investment is required. Margins will be reduced, hopefully on a temporary basis, until revenue ramps to cover expenses. Hewlett-Packard has the financial resources to implement this corrective action. Internal impediments to constructive solutions have been addressed. When the appropriate human and technological resources are in place HPQ will participate favorably in expected industry growth and regain lost stature.
Obviously this conclusion must be verified by future performance. The investor can monitor presentations and conference calls on a regular basis, looking for evidence that the appropriate actions are being taken. Earnings, for the short term, are secondary. Remember, these investments will be booked as expenses.
An analyst meeting is planned for September, at which point management can be expected to have some visibility into FY 2012.
Strategy for Investors
With a 1.3% dividend, strong balance sheet, steady reduction of share count, and corrective action in process of implementation; the stock is suitable for patient value investors, based on a mean reversion strategy. As discussed earlier in the article, corrective action needs to be monitored for implementation and efficacy.
The stock is optionable, to include LEAPS. Implied volatility is low at 21.91%. Beta checks in at 1.02. Options trade on relatively narrow bid/ask spreads with sufficient open interest at strikes and expirations relevant to the strategy proposed. It's easier to be patient with value situations if the amount of capital deployed into the position can be minimized. That way, if the situation proves to be dead money, the opportunity cost is reduced.
Thinking along those lines, LEAPS as a substitute for share ownership make sense to me. Here's a diagonal call spread with three possible outcomes:
click to enlarge image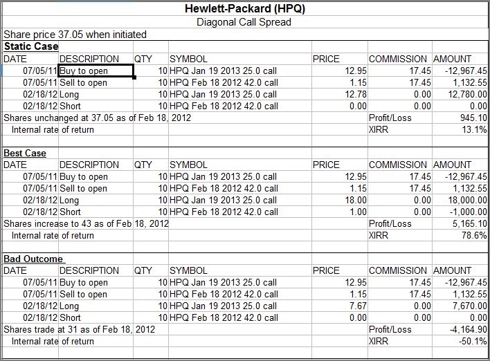 Click to enlarge
Based on Friday's close, the prices shown are mid bid/ask rounded against the investor. The time value on the Jan 2013 25.0 call is .90, which is more than offset by the 1.15 collected by the sale of the Feb 2012 42.0 call. The prices shown for the 25 call as of Feb 2012 include time value: They were prepared with an options calculator and are subject to variation depending on assumptions about implied volatility. XIRR is the spreadsheet function for computing the internal rate of return on an irregular series of cash flows.
The 13.1% IRR for the static case is an attraction: This situation may not develop rapidly and the investor is being paid to leave his money on the table. The time remaining until the 2013 expiration leaves ample room for the stock to recover if initial results are unfavorable. Finally, if the stock does make an upward move, the leverage involved provides a very attractive rate of return.
Disclosure: I am long HPQ Jan 2012 32.0 calls, short HPQ Aug 2011 41.0 puts and HPQ Nov 2011 35.0 puts