Apple (NASDAQ:AAPL) is a unique company due its size ($315B), earnings growth rate (95%), and volatility (1.4β). I have recommended option strategies on Apple since 2010 with tremendous results. For reference, please view the first and other articles in the series to fully understand the strategy and its strong potential returns.
[Click all to enlarge]

Click to enlarge
A brief recap of recent Apple news:
iPhone 5 Reportedly Beginning Production in August (June 26 Apple Insider)
Analysts Opinions Mixed Regarding iPad 3 Release Date (June 27 Apple Insider)
Mossberg: Touchpad "Simply No Match for the iPad" (June 29 Wall Street Journal)
Apple Ruled Infringing on S3 Graphics Patents (July 1 CNet)

ITC Backpedals on Kodak (EK) Patent Victory Against Apple (July 1 Wall Street Journal)

iOS Lags Android But Growing Faster (July 2 BizJournal)
Apple surged nearly $16 last week following a $9 rise, yet Apple still lagged the market's best week in two years. Apple historically appreciates leading up to its quarterly earnings; however, with the dramatic rise recently I would not be surprised if that pattern fails and Apple stalls in a tight trading range.
Here is an opportunity to take advantage of the short trading week to generate additional income. When the market digests the Nortel patent ramifications, I expect the positive implications to at least offset any profit-taking. This was another strong week with only minimal negative news, but Apple has hardly been trading based on its fundamentals in 2011. Remember that Apple will likely refresh the MacBook Air line, release the iPhone 4S/5, and announce new iPods in the upcoming few months. Stay long but continue to sell those calls and puts as appropriate – that is how you can "beat" the market.
Below I present three possible scenarios and the potential returns for the July 8 weekly options (source: TD Ameritrade). The first scenario represents a negative outlook for Apple, while the final two scenarios are more realistic. As a general rule, selling calls with higher strike prices has greater potential return but additional risk of loss due to the lower (or lack of) downside protection.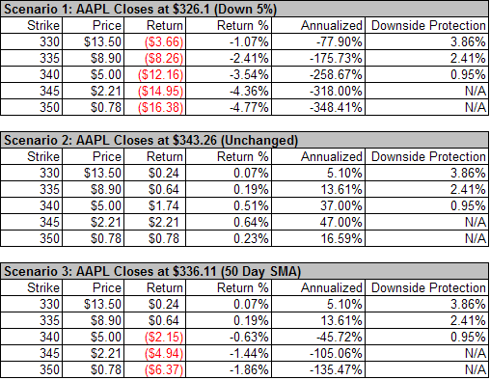 Click to enlarge
Additionally, if you would like even more information, I have prepared a sensitivity analysis for absolute return and percent returns, respectively. After studying the information above, these two charts make it easy to pick a strike price based on where you believe Apple will close on Friday.

Click to enlarge
With this information, executing a buy-write on AAPL July 8 (Weekly) 345s is the optimal risk-return strategy. If you are uncomfortable with this approach, I suggest utilizing the 340s. Conversely, to increase potential returns, the 330s may be more appropriate. An alternative approach is to sell out-of-the-money 320 puts and collect the premium without having to purchase the stock outright. Note that if the stock declines to the strike price, you are obligated to buy the stock (or close out the position). As I have detailed in the past, a 345 short straddle can yield gains, but I would be cautious after Apple's $25 gain the past two weeks.
Disclosure: I am long AAPL.

Additional disclosure: I hold a long position in AAPL; short AAPL July 16 350 Calls and plan to write July 8 345s.