Given Imaging Ltd., (GIVN), incorporated in January 1998, develops, manufactures and markets diagnostic products for the visualization and detection of disorders of the gastrointestinal tract. The Company's principal product, the Given System, is a wireless imaging system that uses the Company's disposable video capsules, PillCam capsules. The PillCam capsules can be ingested by patients and move naturally through the gastrointestinal tract, while wirelessly transmitting to a portable recorder, enabling the gastroenterologist to view video, images and data on a computer workstation, utilizing the Company's RAPID software. On April 1, 2010, Given completed the acquisition of Sierra Scientific Instruments. As a result of the acquisition, Sierra Scientific Instruments became a wholly owned subsidiary of the Company.
This is not the type of company we ordinarily write about but it is of interest because it is on the leading edge of new technology. In an article published by Globes on June 6, 2011, Given announced that it has initiated its first trial of PillCam Colon 2. The capsule will be tested in a large, multi-center pivotal study, ahead of an application to the US Food and Drug Administration (FDA). Eight hundred patients, aged 50-75 years, who are at average risk for colonic polyps and comprise the normal screening population, will be recruited by Given Imaging at 17 locations. This will be a blind trial in 17 clinical centers and medical institutes around the world that specialize in the large intestine, with 800 patients who will be examined using the camera-in-a-pill and also by the invasive method. The trial will last about a year, so that FDA approval, assuming that the trial has a successful outcome, can be expected at the end of 2012 at the earliest.
The PillCam capsules are miniaturized disposable color video cameras encased in a plastic shell, which incorporate one or more specially developed imaging devices based on metal oxide semiconductor (CMOS), technology. Other components include optics; white-light emitting diodes for illumination, an application-specific integrated circuit device for control and image transmission, silver oxide batteries, an antenna and other electronic components. The Company sells PillCam capsules, including PillCam SB, PillCam ESO, PillCam COLON, and the Agile Patency System. Its initial capsule for the Given System was PillCam SB video capsule for visualization and detection of abnormalities of the small bowel in patients ages two years and older. The PillCam SB capsule measures 11millimeter by 26 millimeter and transmits images at a rate of two images per second for approximately eight hours or more, resulting in approximately 50,000 images, at which time the operation is stopped and recording ceases. The PillCam ESO capsule is similar in size to the PillCam SB capsule and contains an imaging device and light source at both ends of the capsule. The patient ingests the PillCam ESO capsule in the physician's office. PillCam COLON capsule measures 11 millimeter by 31 millimeter (approximately 0.43 by 1.29 inches). It contains an imaging device and light source at both ends of the capsule. The platform for PillCam COLON includes elements, such as a sensor array and data recorder. The PillCam COLON capsule procedure includes a colon cleansing and preparation procedure, as well as cleansing agents.
International sales and the acquisition of Sierra Scientific Instruments Inc. a year ago boosted the revenue of the company in the first quarter, despite weakness in the US market, where the company's business has not yet recovered. Worldwide revenue rose 25% to $40 million in the first quarter from $32.1 million for the corresponding quarter, but 11% down from the preceding quarter. Revenue includes $5.5 million in sales by Sierra.
In another article published in Globes, reporter Shiri Habib-Valdhorn dated May 5, 2011, Given Imaging reiterated its full-year guidance of non-GAAP earnings per share of $0.65 - $0.70 on $165-173 million revenue. Sales in the Americas rose to $24.1 million in the first quarter from $20.5 million for the corresponding quarter; Europe, Middle East, and Africa sales rose to $11.2 million from $8.5 million; and Asia-Pacific sales rose to $4.7 million from to $3.1 million. Worldwide PillCam SB (small bowel) endoscopic capsule sales rose to 54,200 the first quarter from 50,900 in the corresponding quarter. While US sales were stagnant, EMEA sales rose 18% and Asia-Pacific sales rose 26%. The capsule recently obtained US Food and Drug Administration (FDA) approval for diagnosis of Crohn's disease.
We begin our analysis with the Income Statement and a comparison with Given's peer group. Given is a microcap with a market capitalization of about $600 million and sales for the trailing twelve months of $165.7 million. We identified a peer group of about 22 other medical device companies with sales ranging from $100 million to $200 million and an average market capitalization of about $477 million.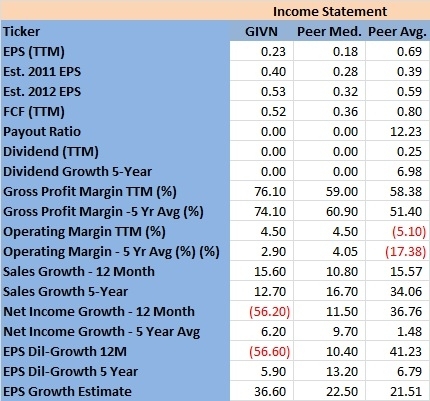 Given is a profitable company generating EPS of $0.23 for the TTM ending 03/31/11. Earnings estimates from Reuters Thompson indicate consensus earnings for FY11 of $0.40 on consensus sales of $169.99 million. Earnings estimates for FY11 range from $0.37 to $0.41 on sales estimates of $165 million to $175.21 million. Looking ahead to FY12, sales estimates range from $170.5 million to $197.15 million; the consensus sales estimate for FY12 is $184.61 million. EPS projections for FY12 are in the range of $0.40 to $0.60 and average $0.53. The 3-5 year EPS growth rate is 36.6%.
At 76.10%, gross profit margins for the company are above the five-year average of 74.1% and significantly better than the peer group median or average. The company's operating margin has improved in the TTM to 4.5% as compared with the five-year average of 2.9%. Again, operating margins are above the peer group average.
Given sales growth in the most recent twelve month period is comparable to industry peers and reflects the aforementioned weakness in the U.S. Growth rates for both net income and EPS took a nose dive in the past twelve months but are expected to start recovering in 2H11 and into 2012. Should the trial for PillCam Colon 2 prove successful and FDA approval obtained, future sales growth will be higher than presently projected.

Sales and earnings are one thing but a strong balance sheet is required for any company to succeed. Given provides a decent but not great cash return on invested capital. It is less than industry peer returns. Looking at return on equity, Given provides a low return but one that surpasses its peers. The company reports cash and cash equivalents of $68.8 million and long term debt of just $0.2 million. Total liabilities are just $44.7 million. All this indicates that Given has a strong base on which to build.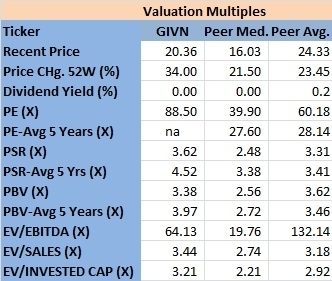 Over the past twelve months, Given price has run up about 34%, outpacing that of its peers. At its recent price, it is down about 11% from its 52 week high. The current PE looks very high compared with its industry peers or the market. The P/E Estimated EPS for FY11 is about 51X and 38X estimated FY12 EPS. The PEG ratio, if we use the projected FY12 PE, is about 1X.
Valuing Given on a price/sales ratio basis, the company also looks overvalued though the current PSR is below the company's five year average.
Is Given Imaging a good investment today considering the current market price, earnings and growth rates? If this were a more mature company, the answer for me clearly would be no. However, Given is pioneering a new technology that may offer a vast improvement over current methods of diagnosing a myriad of gastrointestinal diseases. If that potential is realized in the foreseeable future, then Given may be vastly undervalued. Given is a speculative play on an emerging technology.
Disclosure: I have no positions in any stocks mentioned, and no plans to initiate any positions within the next 72 hours.