Investor psychology is an amazing thing to watch. When cars, clothing, food and other items go up dramatically in price, people buy less of them. With stocks, it's the opposite. Momentum investors love to throw money at shares hitting new 52-week and even multi-year highs as they frantically chase high relative strength. These same short-term thinkers would never consider looking at a stock making a new low or just marking time.
It's the curse that comes with seeking immediate gratification. If you want to buy a stock today that you can sell higher tomorrow or next week, then it had better be moving in the right direction when you're getting in. Conversely, shares that are making new yearly lows represent the classic falling knife that nobody dares to catch. CNBC and most media outlets contribute to this attitude as they blast anyone with the nerve to recommend a stock with a "bad looking chart." When you're interviewed on TV, you appear smarter justifying why a beaten-up issue has already come down than by sticking your neck out and touting a stock that's been headed lower for a period of months.
Staples (NASDAQ:SPLS) is well-known as America's #1 office supply retailer. What's not generally perceived is that it's also the country's #2 internet retailer behind Amazon (NASDAQ:AMZN) when measured by total sales. Its target market is very large in the small business, home and student markets.
[Click all to enlarge]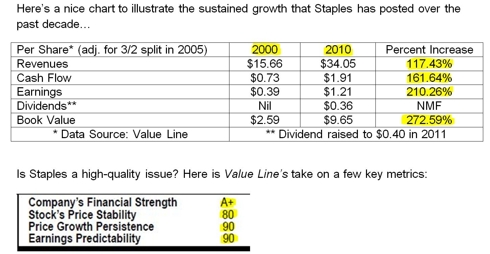 Click to enlarge
You'd expect growth like that to command a healthy P/E. SPLS has a 10-year median multiple of 20x. Its trailing five-year average multiple was just over 18x and included the worst stock market environment (late 2008-March 2009) that most of us have ever lived through.
At Friday's closing price of $15.92, Staples now trades for just 11.5x the FY 2011 estimate of $1.38 (FYs end on the Saturday closest to January 31 of the following year). Consensus views for FY 2012 are tightly bunched at about $1.58, putting its longer-term multiple at an even lower 10.1x.
This Value Line chart clearly illustrates how remarkably cheap SPLS is right now.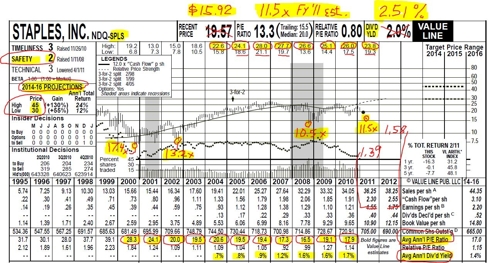 Click to enlarge
At three other great buying opportunities in the past, SPLS bounced from P/Es of 17.4x (in 2000), 13.2x (in 2002) and 10.5x at the depths of the 2008 melt-down. Today's valuation is almost equal to that late 2008 level despite recovery prospects that look much better now than they did back then. Smart buyers at that recessionary low watched their shares surge from $13.60 to $25.10 in just over a year.
If you were lucky enough to have caught the exact low in 2008, you locked in a current yield of 2.42%. After a recent dividend boost to $0.10 quarterly, buyers now get an even higher 2.51% yield. Staple's price/book value and price/cash flow are also pretty much equal to their historical all-time lows.
What is Staples really worth? Value Line uses a conservative 17x multiple in calculating its 2014-16 price target range of $30-50. Even 16x the already reduced estimate for this year would bring SPLS back up to $22.08/share. That's 38.7% above last week's close. Is that achievable? Sure. A quick glance at the Value Line chart shows it's traded above that price during every calendar year since 2004, including 2011 YTD. If anything, my target may be too low. Morningstar and S & P assign SPLS 4-Star and 5-Star ratings respectively (with 5 being best). S&P carries a 12-month goal of $21 while Morningstar sees fair value as $25.
Risk appears minimal. $15.92 is below the absolute lowest trades hit in five of the previous seven years. Every similar sell-off in these shares over the past dozen years has resulted in major gains for those intrepid investors willing to buy the dips and extend their time horizons.
Buy SPLS shares at anywhere near last week's close. Option-savvy investors could also consider buying in-the-money LEAP calls for January 2013 or selling January 2013 $17.50 or $20 puts.
Disclosure: I am long SPLS.
Additional disclosure: I am short SPLS options