mREIT investors know the risks between agency-MBS and MBS with non-agency paper. Agency paper has inherent benefits due to the guarantee of government-sponsored entities. Companies must have experienced and successful teams to develop shareholder value for the short-term and the long-term. Armour (NYSE:ARR) appears to have an increasing book value per mREIT share, but the management team is less experienced and successful than its agency-mREIT peers.
Armour Residential REIT
ARR, per its home page, is managed by ARMOUR Residential Management LLC. Armour Residential Management LLC is managed by Scott Ulm and Jeffrey Zimmer. ARR's choice of external mREIT operations clearly benefits Ulm and Zimmer; the more assets under management, the more financial gain to them.
ARR's 10-K, page 5, lists the increasing fees ARR pays to Armour Residential Management LLC as assets under management continues to grow.
[Click all to enlarge]



Secondary Offerings
ARR has issued a series of secondary offerings which should be accretive to ARR book value per share, per ARR SEC 424(b)(5) filings and ARR 10-Q filings. The February 8, April 13, and June 6 secondary offerings should all be accretive to ARR's June 30 book value per share. The ARR second quarter 10-Q will be announced to the public in July 2011.



The rapid succession of secondary ARR offerings indicates the external management team is earning additional fees. Since the secondary offerings all were above prior 10-Q book values, the external management team should be able to show strong book value results for the quarter ending June 30.
Armour Residential Management LLC should show solid ARR book value, as of June 30, to reflect its fees. Zimmer previously ran Bimini Capital Management (OTCQB:BMNM), which is currently a penny stock. Bimini made the choice to enter into non-agency paper. This action devastated Bimini's stock price, as the company had been an exclusive agency-mREIT. I am questioning why Mark Gruber is the head of portfolio management at Armour Residential Management LLC. Gruber's experience includes three years at Bimini Capital Management. Prior experience at Bimini appears, at first blush and with due diligence, to be a detriment versus a cause for gainful employment in the same industry.
As the second quarter SEC 10-Q filings indicate, ARR investors can gain a clear perspective to the effectiveness of Zimmer and Gruber's involvement as ARR's external MBS portfolio managers.
Management
The role of who is monitoring the ARR agency-MBS portfolio is highly relevant. Bimini Capital Management failed as a mREIT. As BMNM is now a penny stock and has failed due to misguided management choices, some of the same personnel are operating at ARR or external managed operations looking out for the benefit of ARR shareholders. Failure at one agency-mREIT should be reason enough to not put the same failed personnel in an equal role at a new business with an identical business model. This issue is disconcerting to investors focused upon management competency.
American Capital Agency Corp. (NASDAQ:AGNC)
Management
Examining AGNC, an investor can identify Peter J. Federico as AGNC's senior vice president and chief risk officer. Federico was executive VP and treasurer of Freddie Mac. This governmental sponsored entity (GSE) experience provides AGNC insights and contacts to the agency-MBS playing field.
Christopher J. Kuehl serves as AGNC's senior vice president, mortgage investments. Kuehl was Freddie Mac's vice president of mortgage investments. His roles included managing Freddie Mac's purchases, sales and structuring activities for all MBS products, including fixed-rate mortgages, ARMs and CMOs. This GSE experience is recognized by the market as having private-industry and public-industry MBS experience.
Hatteras Financial Corp (NYSE:HTS)
Management
HTS's agency-backed MBS are externally managed by Atlantic Capital Advisors LLC. Michael R. Hough is founder of the ACM Financial Trust. Hough is also CEO of AGNC. He has a distinguished track record of success going back to the early 1980s. Many of the ACM Financial Trust management team go back a decade in experience and success. These key attributes bring stability and a conservative approach in managing an agency-MBS portfolio.
Atlantic Capital Advisors LLC manages HTS and ACM Financial Trust, a privately-held mortgage REIT founded in 1998.
HTS and its external management team bring a clear, distinguished, experienced, and successful focus for HTS public shareholders: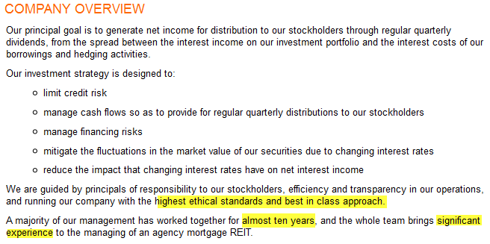 Disclosure: I am long AGNC, HTS.