Generally, disruptive innovations were technologically straightforward, consisting of off-the-shelf components put together in a product architecture that was often simpler than prior approaches. They offered less of what customers in established markets wanted and so could rarely be initially employed there. They offered a different package of attributes valued only in emerging markets remote from, and unimportant to, the mainstream.

– Clayton M. Christensen
HomeAway (NASDAQ: AWAY) is the world's largest online vacation rental site. It allows travelers to rent fully furnished, privately owned residential properties such as homes, condos, villas, and cabins, on a nightly, weekly or monthly basis. Travelers visit the site free of charge and search for vacation rentals that meet their needs. Property owners and managers, on the other hand, pay annual listing fees to provide detailed listings of their properties. The company has a market cap of $3 billion and is trading at 20x EV/Sales.
The Industry
According to Radius Global Market Research, there are over 6 million vacation properties in the US and Europe that generate over $85 billion in annual rental income in 2010. The industry is highly fragmented in that many properties are owned and managed by individuals or small business that lack the brand equity to market effectively to travelers around the world. The fragmentation creates lack of awareness among adults in the US. According to Ipsos Reid Public Affairs Inc., at the end of 2010, less than 30% of adults in the US were aware of vacation rentals as a lodging option.
Going forward, the demand for vacation rentals is likely to grow as the internet makes it easier for owners to market and manage vacation rentals, and as travelers become more aware of rental properties available to them as a lodging option.
HomeAway's Competitive Advantage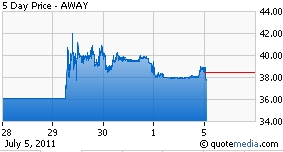 Largest Vacation Rental Site With Strong Network Effect. HomeAway operates 31 vacation rental websites in 11 languages. In 2010, the sites attracted over 220 million visits and averaged 9.5 million monthly users, according to comScore. As of 1Q11, the company has over 560,000 listings on properties located in over 145 countries, including US, UK, France, Germany, and Brazil.
Because the vacation rental industry is still highly fragmented, much of HomeAway's recent growth has been the acquiring of smaller players to gain network effect and to establish brand equity among online travelers. Since March 2005, HomeAway acquired 14 companies to expand its presence and become a leader in the industry.
Potential Disruptive Technology Within the Hotel Industry. The unique aspect behind HomeAway is its potential to be a disruptive technology in the hotel industry. According to Clayton Christensen, disruptive technology is a product or service designed for a new group of customers. Such products or services are often simpler in nature and have less to offer customers who are accustomed to the established product or service. As a result, their value is attractive to a new set of emerging customers who are different from the mainstream.
In the case of HomeAway, the company's value proposition is to provide travelers with a "home feel" away from their home and a more economical lodging option than traditional hotels in similar locations.
Compared to traditional hotels, rental properties on HomeAway do not have the traditional lodging amenities such as concierge service, room service, dining, dry cleaning, and receptions. Because the rentals are simpler and offer less of what traditional travelers in the current market are accustomed to, the price is also lower than comparable hotels in similar locations. For example, I looked up a property listing in downtown Toronto next to Lake Ontario and compared it with rooms of similar size in The Fairmount Royal York, which is located less than a 10 minute walk away. Below is the comparison:
| | | | |
| --- | --- | --- | --- |
| | Rental 385722 | Junior Suite | Executive Suite |
| Area (Sq.ft) | 970 | 670 | 1,390 |
| # of Bedroom | 2 | 1 | 2 |
| Price / Week ($CAD) | $1,200 - $1,650 + tax | $3,745 - $4,683 + tax | $5,768 + tax |
Tax rate in Toronto is approx. 13%
From the table above, a HomeAway rental within a similar location and having similar furnishings is at least 50% cheaper than comparable hotel rooms. One aspect about this particular rental property is that it is located on the 26th floor of the apartment building. The Fairmount Royal York has 28 floors total.
The product and service offered by HomeAway is more appealing to travelers who prefer well-furnished lodging in prime locations, do not require the extra amenities offered by traditional hotels and also do not want to pay extra for the traditional hotel rates. This new group of traveler is likely to grow as they become increasingly aware of the alternative lodging options available in addition to the traditional hotels. Similarly, owners and managers who are looking for an extra source of income are likely to furnish their properties and list them on HomeAway to attract travelers.
Looking at companies such as Youtube, Netflix (NASDAQ:NFLX), Amazon (NASDAQ:AMZN), and ZipCar (ZIP), which all have disruptive innovation, were all started by non-traditional companies within their respective industries. The well-established players, such as Warner Brothers, Barnes & Noble (NYSE:BKS), and Hertz (NYSE:HTZ), all believed that customers of these disruptive products and services did not exist, only to realize that they had missed a chance to capture an emerging and lucrative market.
HomeAway could prove to be disruptive to the hotel industry in that it created a new market for a group of emerging travelers previously thought to be irrelevant by traditional hotel chains, such as Wynn Resorts (NASDAQ: WYNN), Intercontinental Hotel Group (NYSE: IHG), and the Four Seasons. The key to HomeAway's future success will depend on its continued consolidation of smaller players to gain the critical mass necessary to become the leader in the industry. While I don't believe that HomeAway could completely shatter the traditional hotel industry, it could make those traditional hotel managers rethink whether their value proposition is still effective in an information age of well-informed travelers.
Financials
In 2010, HomeAway's revenue was $167.9 million (+40% y/y) with 84.7% GM (-50bps y/y). EPS was a loss of $0.48, a slight improvement from a loss of $0.70 a year earlier. The loss in 2010 was due to payment of preferred stock dividend of $35 million. Without a preferred dividend, HomeAway would have a net income of $16.9 million and EPS of $0.21.
On the balance sheet, the company has $96.8 million in cash and no debt. It is also has positive cash flow, generating $61.9 million in cash from operations in 2010, compare to $45 million in 2009.
Over the past three years, revenue has a CAGR of 46%.
Disclosure: I have no positions in any stocks mentioned, and no plans to initiate any positions within the next 72 hours.