While the headlines of the auto industry will be a mixed bag with a negative tone, the numbers reported are music to the ears of Sirius XM (NASDAQ:SIRI) investors. A key thing that SIRI investors need to understand is that the company has close ties to the auto industry and therefore will be sensitive to the news from that sector on any given month.
So why are negative aspects in the auto sector for June a good thing? Well, Sirius XM investors need only note one important number. Were auto sales above 1 million for the month? The answer to that question is a resounding YES. Not only were auto sales above 1 million in June, but the average for Q2 was 1.1 million per month. When auto sales are above 1 million per month, Sirius XM is typically able to report metrics across the board in their quarterly call. The negative headlines may present a wonderful buying opportunity on two fronts. 1) We know the company has a better than decent shot at reporting numbers that are all better than Q1; and 2) The company typically has a pre conference call run-up in the stock.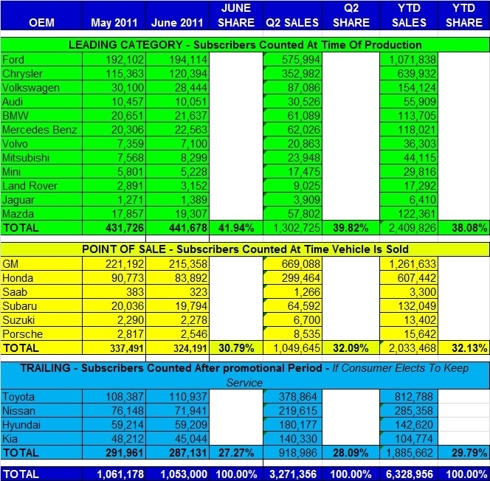 Click to enlarge
(Click to enlarge)
Savvy traders play Sirius XM like Charlie Daniels plays the fiddle. They have become adept at seeing the cycles that many other investors miss. Notice the short decline in Sirius XM as the Q2 conference call approaches. You will see it climb again after the call in early August. Notice the pricing activity around car sales. Each month savvy investors gauge these sales almost two weeks prior to announcements. Savvy investors understand that the overall news, even if it really is not negative to SIRI, will carry a short term impact followed by overall positives when the company reports.
There are a few key dynamics to look at when considering the auto channel in June as well as in Q2. I divide promotional subscribers into three distinct categories. Those categories are LEADING, POINT-OF-SALE, and TRAILING.
The LEADING (green) category is comprised of the manufacturers in green on the chart. These companies pay Sirius XM for a promotional subscription at the time a vehicle is produced. This means that the company is counting these subscribers in their paid-promotional and gross subscriber numbers in any given quarter. As you can see, the market share of this category in June sales was almost 42%. For Q2 the share was about 40%. For this category is is not sales that impact Sirius XM, but rather the production. However, the sales figures do give us an indication that these companies have to produce enough in the quarter to meet future demand. Because these paid-promotional subscriptions are counted at production, a heavy bias to this category will mean that gross subscribers will be bolstered. In Q1 Sirius XM reported good NET subscriber numbers at about 375,000. During that quarter the LEADING category had about 36% share. The 3.5 point boost will be reflected in the GROSS subscriber line.
The POINT-OF-SALE (yellow) category delivers paid-promotional subscribers when a consumer buys a car. This is a pretty straight forward method for subscriber counting. In Q2 this category essentially matched the performance of Q1 at a bit over 32% of the market share.
The TRAILING (Blue) category has seen a dramatic dip. The promotional subscribers in this category include companies like Toyota (NYSE:TM), Nissan (OTCPK:NSANF) and Hyundai (OTC:HYMLF). It also includes cars fro Certified Pre-Owned programs and used cars that come via Sirius XM's new deal with GM (NYSE:GM). The trailing category accounted for 31.62% of the market share in Q1 and only 28% in Q2. These promotional subscribers are not counted until after the promotion ends and only if the consumer becomes a self-paying subscriber. This category represents potential subscribers. At the end of Q1 the "pipeline" of these potential subscribers was about 1 million. That 1 million number may actually decrease a bit as, due to the disaster in Japan, it is not being filled as quickly. That impact will be felt in Q3 and Q4.
The bottom line here is that we know that June sales were over the magic 1 million mark, and the average for Q2 was 1.1 million per month. In Q1 on auto sales of just over 3 million Sirius XM had enough GROSS additions to bring in a NET number of 375,000. With Q2 sales being 250,000 over Q1, and with a 60% penetration rate, the GROSS subscriber number should be at least 150,000 units stronger from the OEM channel.
If we see a dip from the auto channel news this week, it will likely be followed by a pre-conference call run up beginning next week. Watch closely, especially if you trade actively.
Disclosure: I am long SIRI, F.