This morning on Barchart one of the growth stocks having projected double digit increases of sales and earnings that is having current price momentum is Fastenal (NASDAQ:FAST) with 14 new highs and a price increase of 16.37% in just the last month. The company is benefiting from increases in construction activity in both the new homes and remodeling of existing homes.
Click to enlarge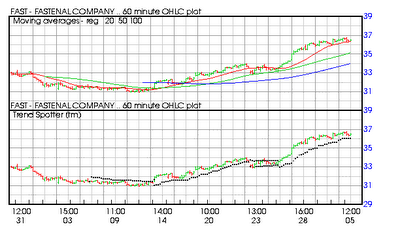 Fastenal sells industrial and construction supplies grouped into 11 product lines. The traditional Fastenal product line consists of threaded fasteners and other miscellaneous supplies. The company also sells, in its other 10 product lines, tools, metal cutting tool blades and blade resharpening services, fluid transfer components and accessories for hydraulic and pneumatic power, material handling and storage products, janitorial and paper products, electrical supplies, welding supplies, safety supplies and raw materials. The company should add 150 to 200 new locations this year. The stock pays a 1.50% dividend.
Factors to Consider
Barchart Technical Indicators
96% Barchart technical buy signal
Trend Spotter buy signal
Above its 20, 50 and 100 day moving averages
14 new highs and up 16.37% in just the last month
Relative strength Index 74.77% and climbing
Trades around 36.48 with a 50 day moving average of 33.11
Wall Street brokerage analysts are favorable on the stock's prospects with four strong buy, one buy and six hold reports released to clients.
Sales are forecast to increase by 19.20% this year and another 14.90% next year.
Earnings increases are estimated to be 30.00% this year, 20.50% next year and 16.37% annually for the next five years.
General Investor Sentiment
The 831 readers of Motley Fool that express an opinion vote 93% that the stock will beat the market.
The more experienced All Stars are more optimistic with a 97% vote for the same result.
Summary: There is some new construction and a lot of the houses that were foreclosed that need to be renovated before they will be able to be resold. Fastenal will benefit. Long term investors should see a total return over the next five years in the 7%-10% range. Always keep your portfolio full of stocks with double digit sales and earnings forecasts that are having current price momentum.
Disclosure: I have no positions in any stocks mentioned, and no plans to initiate any positions within the next 72 hours.