After developing several miniaturized, injectable drug delivery systems for the treatment of niche ocular diseases, pSivida (NASDAQ:PSDV) is now at the precipice of several blockbuster indications, including diabetic macular edema (DME), age-related macular degeneration (AMD) and glaucoma, with its next-generation Durasert device.
And in early development is a new generation Tethadur platform that relies on nano-structuring, with the potential for long-term delivery of proteins and antibodies using a highly porous, bio-erodible material to accommodate different molecule sizes to treat multiple diseases.
"We are already a good way along to becoming the world's leading provider of miniaturized drug delivery systems," CEO Paul Ashton says in an exclusive interview with BioTuesdays.com. "If we can make something small enough to be injected into the eye, it should be able to be injected into the joint for osteoarthritis, or into the brain, or subcutaneously under the skin."
There are currently three FDA-approved delivery systems to treat diseases at the back of the eye, and pSivida has developed two of them.
In 1996, marketing partner Chiron (CHIR) launched pSivida's Vitrasert implant for the treatment of AIDS-related cytomegalovirus retinitis, providing sustained released for six to nine months. In 2005, Bausch & Lomb (BOL) launched pSivida's Retisert implant for the treatment of posterior uveitis, providing sustained release for two and a half years.
"The big opportunity is not in these niche indications," Dr. Ashton contends. "In the eye space, the big opportunity is in diseases like DME, AMD and glaucoma."
Back-of-the-eye diseases affect more than 10 million Americans, of whom 4.4 million have diabetic retinopathy, two million have AMD, and 2.3 million have glaucoma, with an estimated two million more who remain undiagnosed. "So back-of-the-eye diseases represent big commercial opportunities," he adds.
[Click all to enlarge]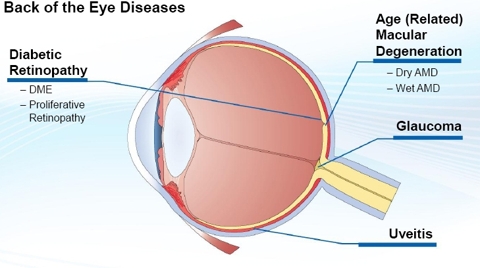 pSivida's lead development product is Iluvien, an injectable, non-erodible, intravitreal implant to treat patients with DME. It is designed to provide sustained release of fluocinolone acetonide directly into the back of the eye for up to three years after a single injection. Three-year safety and efficacy results from two Phase 3 clinical trials were submitted as part of a new drug application in May 2011, and a decision from the FDA is expected in the fourth quarter of this year.
Iluvien utilizes the company's third generation Medidur technology. The implant is so small that it can fit down the inside of a needle, Dr. Ashton says, adding that it is injected into the back of the eye with a 25-gauge needle, creating a self-sealing hole. The treatment is similar to intravitreal injections commonly given by retinal specialists.
DME affects almost one million people in the U.S. and is the leading cause of vision loss in people under the age of 65. There are no FDA-approved drug treatments for DME, and laser therapy, involving burning holes in the retina, has limited efficacy, benefitting about 30% of patients. Estimates of the market potential of Iluvien are somewhere between $1.5 billion and $4 billion, Dr. Ashton suggests.
pSivida has licensed Iluvien to Alimera Sciences (NASDAQ:ALIM), a company started by the management team of Novartis Ciba Vision, which earlier had launched QLT's Visudyne drug for the wet form of AMD. Under the accord, pSivida has received $30 million from Alimera since 2008 and Alimera has also covered all R&D costs of Iluvien. On FDA approval, pSivida would receive a further $25 million milestone from Alimera and 20% of the profits on sales of Iluvien.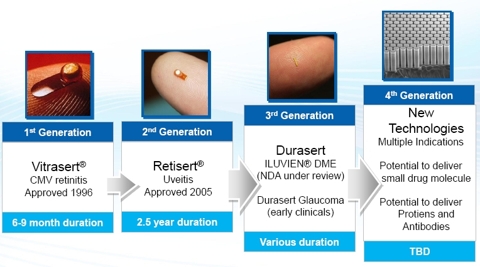 In the 956-patient Phase 3 studies, nearly 30% of patients experienced vision improvement after 24 months as measured by being able to see an additional three lines on an eye chart, which is the FDA's gold standard. A three-line improvement in vision corresponds to an almost legally blind patient with 20/100 vision, improving to 20/50, which would render him or her almost legally able to drive a car. "That's a big improvement in vision," Dr. Ashton says.
To meet a request from the FDA, pSivida showed that vision improvement also was stable after 36 months. The data were statistically significant through the 33rd month, but statistical significance was lost at 36 months.
pSivida also found that there was a greater improvement in vision in a subgroup of people with chronic DME. These patients, who have had the disease for more than three years, typically have the worst vision. Yet they did significantly better in clinical testing, with 36.4% of patients gaining three or more lines of vision after 30 months, and 34% after 36 months, compared with the laser standard of care group, which improved by 13.2%.
"This was very striking," Dr. Ashton points out. "And we had strong statistical significance at almost every time point in this subgroup."
Alimera also is sponsoring Phase 2 clinical trials with Iluvien in patients with wet and dry AMD and retinal vein occlusion.
Earlier this month, pSivida and Pfizer (NYSE:PFE) amended a 2007 research agreement to focus solely on the development of a long-term, sustained-release implant to deliver Pfizer's lotanaprost for patients with ocular hypertension and glaucoma, using the Durasert technology which is the basis of Iluvien. The bio-erodible implant is designed to be injected into the white of the eye just below the lower eyelid in a non-invasive, out-patient procedure.
"We're still in dose escalation Phase 1-2 trials, so when we know the dose, we'll know how long it can last," Dr. Ashton says. "But a six-month release device is the target here."
Annual sales of Pfizer's Xalatan eye drops, which contain the active ingredient lotanaprost, were approximately $1.5 billion when the compound came off patent in March of this year. Glaucoma affects about 2.5 million Americans and is generally well managed with daily eye drops, but patient compliance is one of the biggest problems.
Under the revised accord, pSivida, with technical assistance from Pfizer, will develop the glaucoma implant through Phase 2 clinical trials. At that point, Pfizer can exercise an option for an exclusive license to complete development and commercialize the implant in return for a $20 million payment, double-digit royalties on any sales and additional development, regulatory and sales performance milestone payments of up to $146.5 million.
If Pfizer, which owns almost 10% of pSivida, doesn't exercise its option, pSivida has the right to develop and commercialize the glaucoma implant on its own or with a partner. pSivida has already received $10 million in R&D support and a license fee from Pfizer.
In a glaucoma market dominated by eye drops, the big issue for an implant, Dr. Ashton contends, is that until the efficacy is established, it's difficult to know how many people will use it. He adds, "It could become the treatment of choice ahead of eye drops, or it could be restricted to only people who are not doing well on regular eye drops, which would make it a much smaller market."
pSivida's fourth generation Tethadur technology is a system designed to deliver small molecule proteins and antibodies. The highly porous material resembles an array of straws 10 microns in height. "We can control the diameter of the straws that make up the tubes with a very great precision, using nanotechnology," Dr. Ashton contends.
The company is in preclinical trials to adapt Tethadur to deliver Avastin and Lucentis for the treatment of AMD. "Avastin is the easiest one to work with because all of the antibodies in Avastin are about the same size," Dr. Ashton says, pointing out that each antibody would occupy one of the fully bio-erodible tubes. The goal is to have the treatment last for about six months and pSivida is hoping to begin human testing in 2012.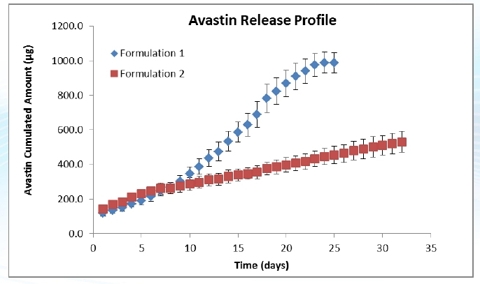 While the initial focus is ophthalmology, Dr. Ashton says Tethadur's applications potentially could be wide-ranging and could include almost any subcutaneously injected protein. "This is potentially a huge opportunity for us."
Disclosure: I have no positions in any stocks mentioned, and no plans to initiate any positions within the next 72 hours.