GM is a steal right now and I recently added to my position while it was under $30. Let's look at a new car which should aid sales, then some of the fundamentals of this undervalued company.
GM is set to release the Chevy Sonic in fall of this year. The Sonic is a very attractively priced (starting at $13,800) subcompact that replaces the Aveo and competes against the Ford (NYSE:F) Fiesta, Honda (NYSE:HMC) Fit and Toyota (NYSE:TM) Yaris. The initial estimates have it getting about 40 mpg highway, higher than its competitors and it is cheaper than both the Fiesta and Fit.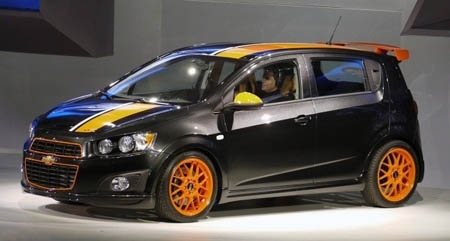 It gets excellent gas mileage, but unlike so many other subcompacts, this car is getting attention for its drivability. Apparently, it is fairly zippy when upgraded as well as fun to drive. Here's a Sonic pre-review in Car and Driver.
Now it's not overly hard to make a car that's cheap and gets high gas mileage (anyone remember the GEO Metro?), but making one that's actually a quality vehicle is another matter indeed. It seems that Chevy may have accomplished this, and that could add up to one successful vehicle.
Importantly, it competes in the subcompact space that will be crucial going forward as oil and gas prices rise with the economic recovery. The Aveo, which was not very well received, was ripe for replacement and any better car should help GM in this arena and improve sales.
Moving out to the sector of automobile manufacturers in general, an anomaly has created a buying opportunity; the Tsunami that struck Northern Japan. The Tsunami caused many production shutdowns of auto parts coming from Japan, auto parts which all cars use. This bottleneck has created a supply shortage of cars and caused sales to stagnate. Toyota for instance went from 111,000 vehicles sold in February, to just 31,000 in May. These disappointing sales numbers have helped cause a pullback in auto stocks, bringing GM down a few weeks ago to its lowest post IPO level of around $28.
Click to enlarge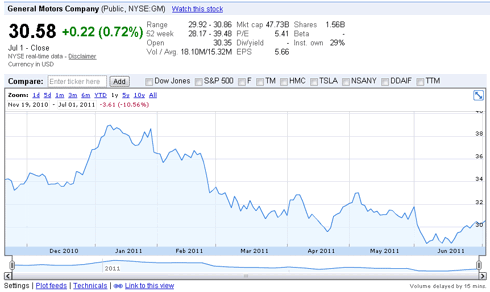 However, the U.S. and world economies continue to improve, U.S. employment is making headway and credit continues to loosen, creating a lot of potential auto sales. Additionally, auto sales have lagged greatly for several years now, and this is fueling a lot of pent up demand, as eventually cars must be replaced.
When you look at GM itself, you may be shocked. Despite its greatly enhanced financial position post bankruptcy, it is trading below peers (less than Ford and nearly half of Honda) and far below normal stock valuations at a mere 6X earnings.
Speaking of the bankruptcy, it removed most debt and greatly improved labor costs, whereas before GM needed 15 million sales a year to break even, now they can break even at less than 11 million. GM is also a very good emerging markets play. Its vehicles are very popular in China where sales topped 2 million for the first time last year, rising 29% (according to WSJ). India rose 59% to 110,000 vehicles and Brazil sales are expected to increase 68% by 2014.
Now I personally prefer to invest in emerging markets through companies based in developed markets as you get more stability, financial transparency and mature market sales, and GM fits the mold perfectly here.
As for the overhang of ownership by the always unpredictable Treasury Department and U.S. government, just remember, they won't be in this forever. The government has clearly demonstrated its desire to get out of this investment quickly, even at the expense of the tax payer. Eventually (probably sooner over later), it will be completely out of GM.
Finally, GM may have received a break from the tsunami. Toyota, GM's biggest North American competitor, is having real supply issues, which may make some customers that were interested in Toyotas to give GM a look. If GM can execute with quality vehicles and availability, it may be able to grab some lost market share.
Here is an interesting video about GM by award winning Morningstar analyst David Whiston. He'll give you more details about GM's costs and structure.
Despite the overhang of government ownership and non bond debt obligations, GM is a screaming deal hiding in plain site. Extremely low valuation, improving economic conditions and pent up auto demand combine with strong post bankruptcy financial position, better cost structure and unquestionably better management in the new GM to make this an investment to consider strongly.
Disclosure: I am long GM.