ETF Spotlight on iShares MSCI Thailand (NYSEArca: THD), part of an ongoing series.
Assets: $583.8 million.
Objective: The ETF tries to reflect the performance of the MSCI Thailand Investable Market Index.
Holdings: Top holdings include: PTT 11.73%, Kasikornbank (OTC:KPCKF) 8.03%, PTT Explor & Prod (OTCPK:PEXNY) 8.00%, Bangkok Bank Public (OTC:BGKKF) 7.48% and Siam Commercial Bank (OTCPK:SMCBF) 6.81%.
What You Should Know
THD has an expense ratio of 0.62%.
The fund has 87 holdings.
Sector allocations include: Financials 32.68%, Energy 31.76%, Consumer Staples 9.38%, Materials 8.08%, Consumer Discretionary 6.70%, Telecom Services 4.65%, Industrials 2.89%, Utilities 1.61%, Info Tech 1.28%, S-T Securities 0.68% and other 0.27%.
"This fund provides exposure to an emerging market with sufficient infrastructure, a relatively skilled work force, and a government that supports trade and investment," according to Morningstar analysts.
"Stimulus spending for infrastructure projects and recovering demand from neighboring trading partners should support improving economic growth in the near term," added the analysts. "A rise in agricultural commodity prices would drive an increase in rural incomes — about 42% of the workforce are employed by the agriculture sector, and about 70% live in non-urban areas."
The Latest News
The ETF gained about 5% on Tuesday after elections.
Yingluck Shinawatra, sister of exiled former Prime Minister Thaksin Sinawatra, has won a landslide victory after offering a range of new benefits and promises to help the country's rural base, report Leigh Murray and Patrick Barta for The Wall Street Journal.
"Even if they only deliver a fraction of what they promise [on wages], the impact will be significant," stated Santitarn Sathirathai, an economist with Credit Suisse, according to the report. Mr. Sathirathai has increased his average inflation forecast for 2012 to 3.7% from 3.5% on news of the new minimum wage promises.
Puea Thai's rural-based "red shirts," who were involved in the uprisings in Bangkok in 2010, perceive the recent election result as a gateway for the former prime minister to enter back into Thailand and to improve the lives of the rural poor, reports Martin Petty for Reuters. However, Thaksin would be arrested and jailed if he returns to Thailand without a general amnesty since he is still convicted on graft charges in 2008. The urban middle-class and conservative elites view Thaksin as a corrupt capitalist, according to the report.
iShares MSCI Thailand - (click chart to enlarge)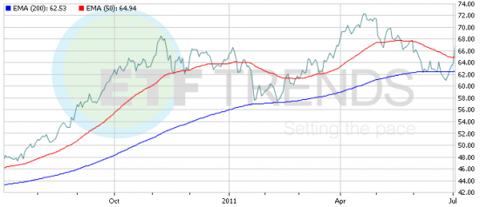 Max Chen contributed to this article.