There are times that I follow the changing waves of the analyst sentiment in a momentum-like attempt to capture price drift, and there are other times that I view their change of view as a contrarian-like opportunity to jump in. Darling International (NYSE:DAR) had a small tumble of late that some link to falling corn prices and Stephens cut its rating to equal-weight with the argument that volume will drop off in the coming year due to production cuts in poultry and a tight supply of cattle.
This sure had an effect on prices as the shares dropped to $16.19 on heavy volume. Share prices have now risen above the $17 support level. What do I see fundamentally that I like? The price-to-earnings ratio is close to industry average, but the forward P/E for next year is roughly half that. Even if earnings are a bit on the high side, this gives a margin of safety, in my opinion. Quarterly earnings and revenue are through the roof. The long-term growth rate needs to be seriously revised upward past 3% - especially when you see annual and quarterly growth rates around 200%. Once that happens, this stock might appear on a few more PEG scans.
I think this stock is a good buy on this pullback, but I would like to see prices stay above $17 for the next few trading days as a sign of confidence. It's likely that there could be a few more high volatility swings yet, but if you don't mind a couple pops and drops along the way this could be a good speculative buy following a minor downgrade.
Click to enlarge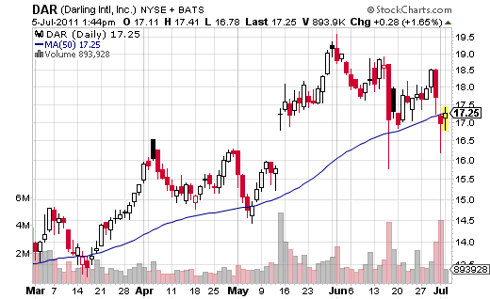 The second stock that I like as an attractive buy is Alkermes (NASDAQ:ALKS). Europe just approved the use of its diabetes drug that reduces the amount of pills you need to take from daily to weekly. While it was rejected last year in the U.S., this recent approval gives new hope as the company reapplies again for the U.S. stamp of approval.
Alkermes merger with Elan Corporation (NYSE:ELN) should help the company achieve profitability sooner than previously thought. ELN has recently turned profitable. The merged company with operations in Ireland will put them in line for a 12.5% tax rate. All of these positive developments should quicken the pace for ALKS being a sustainably profitable business.
While the actual proof of sustainable profitability is still a little ways off, there are more than a few promising improvements to ALKS of late that make it a good buy to hold for the next couple of years.
Click to enlarge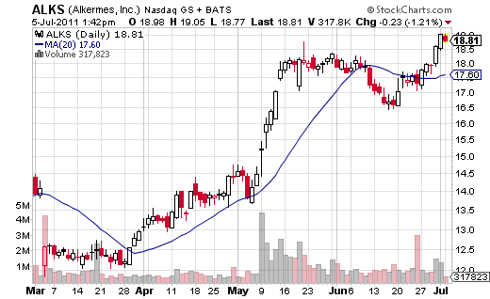 Disclosure: I have no positions in any stocks mentioned, and no plans to initiate any positions within the next 72 hours.