Asset management firms are rushing to form new mortgage real estate investment trusts (REITs) that would help provide home loans if government-sponsored enterprises (GSEs) Fannie Mae and Freddie Mac curtail financing. These GSEs, own or guarantee more than half of all U.S. home loans.
According to the CBO, since the financial crisis, approximately 90% of all new residential mortgage originations in the U.S. are originated or guaranteed by the U.S. government. The proverbial gold rush is creating a rash of mortgage REITs issuance, forcing new comers to make concessions to attract capital from investors. Mortgage REITs have raised approximately $6.5 billion of capital between December 2010 and March 2011.
New Entrants
The fundraising environment for new entrants is becoming more difficult. New entrants into the mortgage REIT market, including PIMCO and Angelo, Gordon & Co., are having a difficult time raising new funds. PIMCO made concessions regarding the management fee it charges investors while Angelo, Gordon & Co. recently cut back the offering size of its recent IPO. We think investors are correct to be leery and seek greater concessions from new entrants.
The mortgage REIT landscape is riddled with failed entities that could not operate a levered balance sheet during changing interest rate and credit environments. Notable blow-ups include: New Century Financial Corporation and Thornburg Mortgage.
Stick with the Veterans
Individual investors interested in mortgage REITs should stick with managers that have significant experience operating highly levered balance sheets in different interest rate and prepayment cycles. The table below (click to enlarge) highlights the seven largest mortgage REITs (including year of incorporation).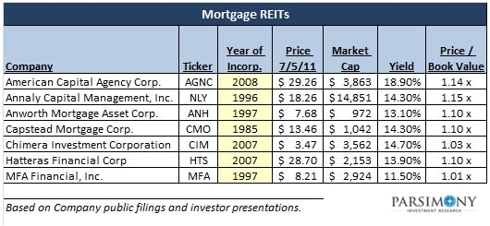 Our largest holdings include Annaly Capital Management (NYSE:NLY) and MFA Financial (NYSE:MFA). Both of which have over a decade of experience managing their balance sheets. Note: NLY is agency-focused and MFA is non-agency focused.
Despite being cautious on the current price of NLY (see recent article), we believe investors should stay the course with longstanding mortgage REIT players with great track records.
It should be noted, however, that a long tenure doesn't necessarily translate into a great track record (as highlighted in our recent article on Anworth Mortgage Asset Corp. (NYSE:ANH)). So investors should definitely do their homework on the management teams.