Investors continue to search for new high-yield dividend stocks. As Treasury bills and Treasury bonds offer historically low rates, mREITs continue to be a sector with tempting yields.
The following three mREIT have remained below the radar while providing high yields.
Chimera Investment Corporation (NYSE:CIM)
Chimera Investment Corporation is managed by Fixed Income Discount Advisory Company (FIDAC), which is a 100% owned subsidiary of Annaly Capital Management (NYSE:NLY). Page 3 of the CIM 10k highlights this relationship. FIDAC does invest in both agency Mortgage Backed Securities (MBS) and non-agency MBS. The goal is to exploit the favorable agency mREIT yields and cherry-pick non-agency mortgage securities.
click on images to enlarge

NLY's FIDAC is an external manager to both CIM and Crexus Investment Corp. (NYSE:CXS). Michael A. J. Farrell is Annaly's Chairman, CEO and President. Mr. Farrell founded NLY in 1997. He is recognized as a national expert on agency MBS and non-agency mortgage debt instruments. NLY has a $14.8-billion market capitalization. Mr. Farrell has a vested interest in NLY, and impacted CIM. He owns 2,330,367 NLY shares as of March 30, 2011.
CIM has a $3.45-book value per share per the March 31st, 2011 10-Q. CIM common stock is trading at $3.47-per share. The explicit risk is the non-agency MBS decreasing in value. This would cause CIM's book value per share to decrease. Owning CIM at current prices requires confidence in Annaly's FIDAC's management team. I believe this is a fair risk, based upon NLY's history. The stock offer a 14.70% annual interest yield based upon a recent 13 cent per quarter share dividend.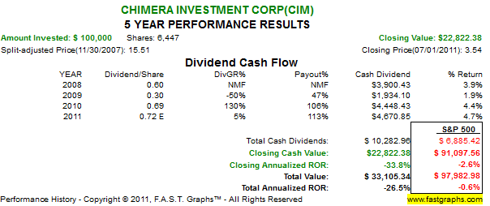 Cypress Sharpridge Investments (NYSE:CYS)
Cypress Sharpridge Investments is a 3-year old mREIT. The company invests in agency-mortgage backed securities guaranteed by Government Sponsored Entities (GSE). The entities include Fannie Mae, Freddie Mac, and Ginnie Mae.
Cypress Sharpridge Investments recently completed its secondary offering, per the SEC filing 424(b)(5). CYS has specified that its strategy is to own only agency-backed paper. This risk of balance sheet asset write-downs, displayed on 10-Q and 10-K filings, would be identified on the CYS balance sheet's asset section. The assets are currently listed as Level 2 non-agency MBS on the SEC 10-Q.
CYS has a strong leadership team led by Kevin E. Grant, CFA. Mr. Grant is Cypress' CEO. Mr. Grant began his bond career with Aetna Bond Investors in 1985. He then moved on to become the head of Mortgage Strategy for Morgan Stanley. In 1993, Mr. Grant moved to Fidelity Investments. His roles included managing the Mortgage Securities Fund, Investment Grade Bond Fund, Total Bond Fund, and specific Fidelity fixed income assets.
The company's March 31st book value per share was $11.74. The company offers a $2.40-annual dividend, which equates to a present 18.50% annual yield based upon a $12.97 per share stock price.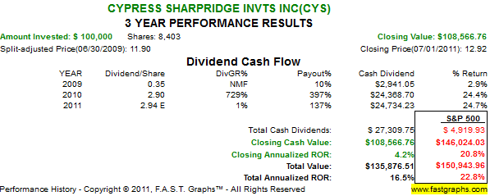 Two Harbors Investment Corp. (NYSE:TWO)
Two Harbors Investment Corp. manages both agency MBS and non-agency MBS. The non-agency ownership is the area of concern, as these 10-Q Level 2 assets can be partially or fully written off on the balance sheet. This would impair TWO's book value per share.
TWO's book value was $9.90 on March 31st, 2011. The December 31st, 2010 book value per share was $9.44. This is positive momentum heading into the 3rd quarter.
TWO currently pays a 40-cent a quarter dividend. This equates to a 14.5% annual dividend yield based upon an $11.00 stock price. As the below chart shows, TWO has a 3-year trading record.
TWO was a Special Purpose Acquisition Company ((SPAC)) that decided to enter the mREIT industry. SPAC's typically have a defined term to find a business model, and thus are known as 'blank check' companies. If a business can not be located, then the original money is provided back to investors. Typically warrants are included with the deal to enrich the early SPAC investors.
TWO is externally managed and advised by PRCM Advisers, LLC. PRCM Advisers is a wholly-owned subsidiary of Pine River Capital Management L.P. PRCM Advisers appears to have a strong, deep, balanced management team in place.
Steve Kuhn is the Head of Fixed Income Trading for Pine River Capital Management L.P. Mr. Kuhn is the lead Portfolio Manager for the Pine River Fixed Income Fund and the Pine River Liquid Mortgage Fund. His prior experience, during 2002 to 2007, includes positions as a Vice President and Portfolio Manager at Goldman Sachs. He was part of a group that managed $40 billion in mortgage backed securities. Additional experience includes a role as a convertible bond trader at Citadel Investment Group.

Disclosure: I am long CYS.