The silver market has reflected the same moves in the gold market recently, with a much greater degree of volatility. This is surprising given the cheer in equities last week, as increased confidence in an economic recovery should accompany bullishness on industrial metals like silver. This is just another symptom of the schizophrenia afflicting the market recently.
The following chart shows the price of silver in gray and managed money net longs in green.
[Click all to enlarge]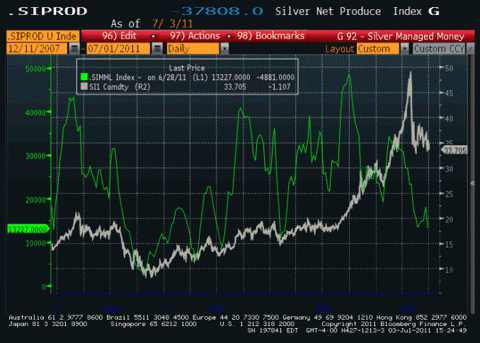 Silver managed money net longs are at their lowest level since February 2010, when silver was trading below $15/ounce. The current bearishness of managed money is evident. Although silver prices could fall from here, we view the bullish fundamentals surrounding the metal as support along with the eventual renewed interest from managed money.
The following chart shows aggregate open interest on silver futures.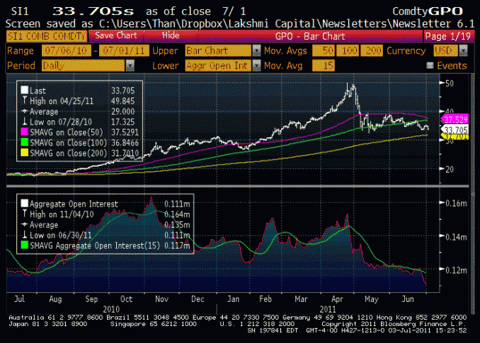 Aggregate open interest on silver futures is at the lowest level in the past two years. Interest in silver seems to be reaching a low.
With the bullish fundamentals for precious metals still in place (highly uncertain currency situations, sovereign debt crises, flagging economic growth leading to currency debasement), we view precious metals as a great buy at these levels.
We recommend purchasing silver futures at $33.5 or better. With the volatility surrounding precious metals, this is definitely a high risk trade, but as long as investors have a long enough time horizon (one to two years), we view current prices as a great opportunity to establish long positions or add to existing positions.
Silver Wheaton (NYSE:SLW) also remains fairly undervalued, trading around a 15x forward P/E -- the same as the overall market -- while SLW's earnings potential is certainly better than the average S&P 500 company. Analyst projections have not priced in a long-term silver price above $35, which we believe will be the case over the next few years. A solid trade here would be to sell the January $30 put for $3.4. Even if selling these puts cash covered, this trade would yield 11.3% on cash sequestered (3.4/30), and the trader would collect this amount as long as SLW does not fall 7.75% between now and January 2012.
Disclosure: I am long SLW.
Additional disclosure: Long silver futures