The first half of 2011 was quite tumultuous both for the stock market and for America and the world at large. Among the earth shattering events was the earthquake in Japan, tornados ripping apart Joplin, Missouri and Springfield, Massachusetts and record snow fall in the biggest city in the world, which was unwilling to shovel it. The country has also hit highs in abuse of unemployment benefits and our national attention has been glued to political Twitter scandals and a Florida homicide case rather than important issues like our stagnant economy, public pension debates, medical marijuana/gay marriage legislation and the end of American online poker.
However, there has been some good news. First, the world didn't end on May 21, as predicted by some radio pundit in California. Secondly, the price of oil dropped below $100, which could help summer travel here in America. Third, Osama bin Laden was declared dead on May 1 and President Obama (now officially an American citizen) has declared that he plans to pull 33,000 troops. Next, the stock market has calmed down a bit after a crazy couple months fueled by European worries. As seen below the in this 6 month graph of the VZZ which follows the VIX, a measure of market volatility, there was a recent plunge which could signal a return to stability.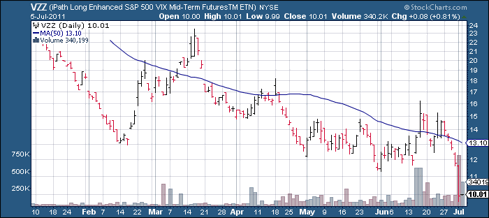 Click to enlarge
(Click to enlarge)
Finally, there are several other factors that could be used to show that things cannot get much worse than they already are. The first graph is new car sales per month since the recession. As you well know, the figure saw its deepest lows in 2009 and has improved since. But you can all see that there has been a sharp decline since the beginning of 2011. This could certainly be at least partly attributed to the Japanese earthquake and the freezing of Japanese automakers. The biggest plays to be had here would be Honda Motors (NYSE:HMC), who's price has begun its slow ascent back to normalcy and Toyota Motor (NYSE:TM), which has not rebounded as quickly.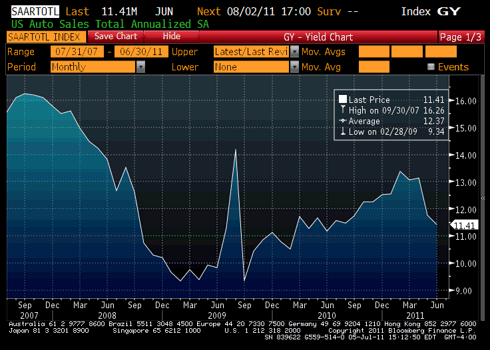 Click to enlarge
(Click to enlarge)
Another company that stands to improve as a result of high auto sales is Sirius/XM Radio (NASDAQ:SIRI), since many of their subscribers begin with free trials in new cars. As stated above, unemployment abuse has been high recently, but luckily for the economy, many of the unemployed will be falling off of their 99 weeks soon. This means they will have to find a job, even if it is below what they believe themselves to be worth and once they do, there is the chance that they will have more money than while unemployed and then buy cars and Sirius units, among other things. I realize this is not exactly rational, but we need to be optimistic here people; I really don't think that double digit unemployment is an option.
One of the most frightening figures, which was of course the single biggest cause of the recession, is new home sales. The story has been told time and time again so there is no need to repeat it here, but four years ago most of America thought that they were much wealthier than they actually were. The graph shows the steady drop and the data's refusal to bounce off a bottom. But the point is there has clearly been a bottom. There has been basically no growth over the last year and it could take a whole lot to refuel the industry but it will happen at some point.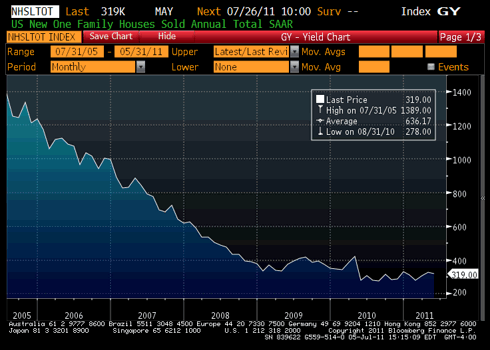 Click to enlarge
(Click to enlarge)
And just because the industry itself shows poor growth doesn't mean that companies within have not performed. One of the country's best lumber companies, Weyerhaeuser (NYSE:WY) has done okay during this period, even while paying a 2.7% dividend. Homebuilder, Toll Brothers (NYSE:TOL) has also performed admirably over the last year, as have rail stocks like Union Pacific (NYSE:UNP) and Canadian National (NYSE:CNI).
Other industries will certainly benefit from better economic conditions as well. Industrial conglomerates such as Dover Corp (NYSE:DOV) and GE (NYSE:GE) could grow as manufacturing and financing picks up, which of course would help Caterpillar (NYSE:CAT), too. With that being said, stocks are certainly the way to play the next six months. Safety plays like gold (NYSEARCA:GLD) have seen recent drops, as have commodities like corn (NYSEARCA:CORN) and bonds will not offer the lucrative growth that stocks offer. The task, as it always has been, is just to find the right stocks for one's own portfolio.
Disclosure: I am long DOV, SIRI.