Maintaining broad exposure across market capitalizations and rebalancing over a market cycle are key tenets of sound portfolio construction. Holdings in individual asset classes, however, shouldn't be overlooked. Large-cap stocks frequently have the greatest effect on a portfolio's return but are too often left on autopilot. At this point in the market cycle, investors may want to consider redeploying some of the profits they've earned over the past two years to reallocate their stock holdings into large caps because:
Large caps play an important role in portfolios.
Large-cap valuations have been historically attractive compared to asset classes that have outperformed in recent years.
Large-cap fundamentals have been historically strong.
Leadership changes, and large caps deserve further consideration at this point in the market cycle.
The importance of large caps to your portfolio
In portfolio construction, stock allocations are often rooted in large-cap stocks, but most investors don't realize how much of their portfolios are dedicated to large-cap companies or how much big businesses contribute to overall portfolio performance - especially considering the attention other asset classes have received for big gains.
During any selected time frame, an asset class will either outperform or underperform other asset classes in your portfolio. In 2010, real estate and mid- and small-cap stocks were top performers, while large-cap stocks underperformed other asset classes (see Large Caps Contribute the Most to Portfolio Return chart below). Might large-cap stocks be poised for a comeback?
[Click all images to enlarge]

Data as of May 2011, unless otherwise stated
[1] Source: Domestic stocks represented by Russell 3000 Index. Foreign stocks represented by MSCI AC World ex USA Index.
[2] S&P 500 Index 3 Ibbotson U.S. Small Stock Index
Weight trumps performance: 2010 experience
Investors may focus on the return benefits of asset classes that performed better than large-cap stocks in 2010, but no asset class contributed more toward total portfolio returns as represented by a hypothetical balanced portfolio of 60% equities and 40% fixed income.

While the diagram above shows large-cap stocks contributed heavily toward total portfolio returns, the diagram below shows the effects are even more pronounced when we examine just the stock portion of the portfolio. Other assets may provide higher absolute returns at times, but large caps' overall portfolio contributions make them an asset class that shouldn't be overlooked.

[1] Sources: Invesco. The hypothetical example is based on a traditional balanced 60% equity/40% fixed income portfolio structure and is for illustrative purposes only; it does not depict any actual investor's portfolio and is not a recommendation. The performance used in the hypothetical portfolio does not assume the deduction of taxes, sales loads and other fees. If taxes, sales loads and other fees had been deducted the performance illustrated would have been lower. Past performance is no guarantee of future results.
[2] Stock weights based on market cap breakdown of Russell 3000 Index as per Lipper market cap definition April 2011. Performance is based on Russell Top 200 Index for large caps, Russell Midcap Index for Midcaps and Russell 2000 Index for small caps.
[3] Bond weights based on market cap breakdown of Barclays Capital U.S. Universal Index. Performance based on Barclays Capital U.S. Aggregate Index for investment grade and Barclays Capital U.S. Corporate High Yield 2% Issuer Cap Index for non-investment grade.
[4] The data in the charts may not equal 100% due to rounding. Large companies are often better equipped to tolerate the market's movements since, compared to small and mid-cap companies, they tend to have more diversified business models, lower costs of capital and lower price fluctuations. Small- and mid-cap companies often have less predictable earnings, and more limited product lines, markets, distribution channels or financial resources. The market movements of stocks of small- and mid-cap companies may be more abrupt and volatile than the market movements of stocks of larger, more established companies or the stock market in general and small-cap companies, in particular are generally less liquid than stocks of larger companies. Equity investments are more volatile than bonds and bonds are subject to the effects of changing interest rates.
Large-cap valuations are attractive
Periodic rebalancing between asset classes is a tried-and-true tenet of investing - and for good reason. It often leads investors to redeploy profits out of the better-performing asset classes and into the laggards, which are generally more attractively valued. As we move into the third year of the bull market, investors may want to consider doing this, if they have not already done so. We think large-cap stocks are attractively valued versus their history and versus other asset classes.
For example, large-cap valuations are well below those of small caps and are at their lowest level in more than 30 years (see chart below).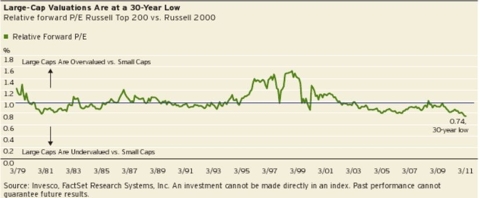 Additionally, free cash flow yields [1] can be used to assess the relative attractiveness of stocks versus bonds (see chart below). Currently, large-cap stocks look attractive because their dividend yields are 0.96 times (NYSE:X) Baa corporate bond yields versus a historical average of 0.50x. [2]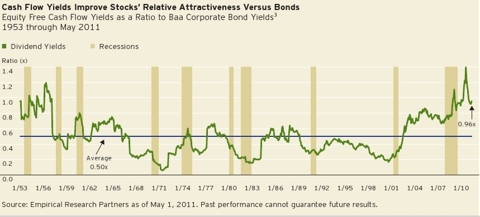 Sources
[1] Free cash flow yields is an overall return evaluation ratio of a stock, which standardizes the free cash flow per share a company is expected to earn against its market price per share. The ratio is calculated by taking the free cash flow per share divided by the share price.
[2] A Baa corporate bond is a medium grade, moderate risk bond, according to Moody's. A credit rating is an assessment provided by a nationally recognized statistical rating organization (NRSRO) of the creditworthiness of an issuer with respect to debt obligations, including specific securities, money market instruments or other debts.
[3] Large-capitalization stocks; capitalization-weighted data.
Large-cap fundamentals are strong
In addition to being attractively valued, we believe the economic fundamentals of large caps have been historically strong. Profitability as measured by pre-tax profit margins are at 40-year highs (see chart below). The strong profit recovery during this cycle has allowed many companies to deliver attractive earnings growth over the past few years with modest top-line growth. Free cash flow yields are also near historical highs because companies continue to generate high levels of cash that can be reinvested for growth and returned to shareholders via dividends and buybacks (see chart on previous page). Currently, the payout ratio on the S&P 500 is at an all-time low (28% versus 58% historical average), which stands in contrast to historically high corporate cash balances and free cash flow yields. [1] We believe this indicates that dividends may be positioned to grow significantly from here.

High margins + High cash balances + High free cash flow yields = The flexibility to reinvest for growth and return capital to shareholders via dividends and buybacks.
Large caps are attractive at this point in the market cycle
Leadership inevitably changes over a market cycle and what works well in the early stages is not necessarily what leads as the cycle matures. In 2009 and 2010, leadership generally included higher beta stocks, [2] smaller capitalization companies and more cyclical areas such as commodities and consumer discretionary.
As we enter the bull market's third year, we feel investors should make sure they are prudently rebalancing their profits from what has worked well into what looks more attractive as we enter the mid-to-late stages of the cycle.
We believe investors should give additional consideration to their large-cap exposure at this point in the cycle. This view is primarily based on the aforementioned strong fundamentals of valuation and financial strength. However, we also believe that leadership is changing. The profit cycle, driven by tremendous incremental margin leverage [3], has largely run its course. This does not necessarily mean that profits are at risk but rather that profit growth is slowing. We believe leadership will be driven more by the quality and stability of earnings from here. This generally favors large-caps who have attractive economies of scale and are generally well- diversified across businesses and geographies.
[1] Source: Ned Davis Research Inc. as of March 31, 2011
[2] Beta is a measure of a stock's volatility in relation to the market as a whole, and the high beta stocks are considered to have higher volatilities.
[3] A company becomes increasingly more profitable as sales increase.
Conclusion
Large-cap stocks often have the largest effect on a portfolio's returns over time due to their larger weighting in an investor's portfolio. Far too often, they account for a smaller portion of an investor's attention than trendier asset classes. We believe investors should take a closer look at their large-cap holdings because historical valuations have been attractive, large companies have focused on fundamentals like margins and cash flow, and their stocks deserve further consideration at this point in the market cycle.
Additional disclosure: The information provided is for educational purposes only and does not constitute a recommendation of the suitability of any investment strategy for a particular investor. The opinions expressed are those of the author(s), are based on current market conditions and are subject to change without notice. These opinions may differ from those of other Invesco investment professionals.