To our remark yesterday about the remarkable fact of ever increasing intra- and intermarket correlations, we want to point readers to the a page showing numerous correlation charts recently published by the Signal Financial Group. Clearly the 'all one market' phenomenon remains an important issue for traders and investors. We believe it is a reflection of the growing effect of 'macro intervention' by fiscal and monetary authorities in the markets and the economy, as well as a mirror of the fact that ever more trading decisions are no longer taken by humans, but by computer algorithms.
Meanwhile, Barton Biggs is apparently losing his mind, as he is now calling for a remake of FDR's 'WPA' (known by the public as 'we piddle around' at the time). Let's waste even more scarce resources on public works programs - that will surely do the trick!
Yesterday we were also wondering why the ECB wouldn't simply continue to accept defaulted Greek debt in bank funding operations, arguing that it really wouldn't make much difference compared with the arrangements currently in place. Apparently someone at the ECB heard us.
"The European Central Bank will continue to accept Greek debt as collateral for loans unless all the major credit rating agencies it uses declare it to be in default, said a senior finance official. The ECB would rely on the principle of using the best rating available from the agencies – Standard & Poor's, Moody's and Fitch – the official said. The comments came after S&P on Monday became the first agency to warn that a plan, pushed by France and endorsed by Germany, for banks to roll over their holdings of Greek debt into new bonds would constitute a "selective default."
Well, there you have it. Defaulted debt is indeed about to be accepted as collateral by the central bank. This certainly once again demonstrates the absurdity of our modern-day monetary system.
Meanwhile, the euro area's services PMI numbers were published yesterday and have once again declined. This further cements the view that the euro area economy as a whole is slowing down considerably. The details can be found at Finfacts.
(Click charts to enlarge)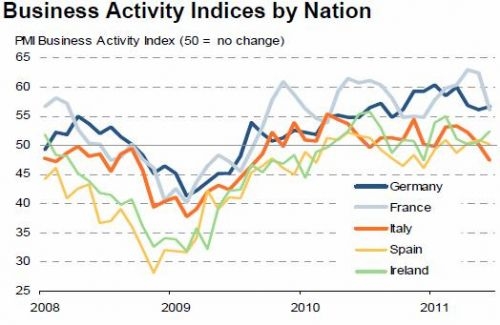 Euro area services PMI – details of 5 countries. Just as the manufacturing PMI published earlier in June, the services PMI's in various European nations are declining further as well.

Finally, here is an interesting comment on the precious metals market by Allen Sykora at Kitco. Mr. Sykora discusses the recent sharp decline in net speculative long positions in the precious metals futures markets, which should bode well for precious metals prices going forward.

The Charts
Below are the charts of our usual suspects, euro area government debt CDS spreads and bond yields as of yesterday's close (all prices in basis points and color coded). As can be seen, the recent pullback is already reversing rather sharply, action that was no doubt triggered by Moody's latest downgrade of Portugal's government debt.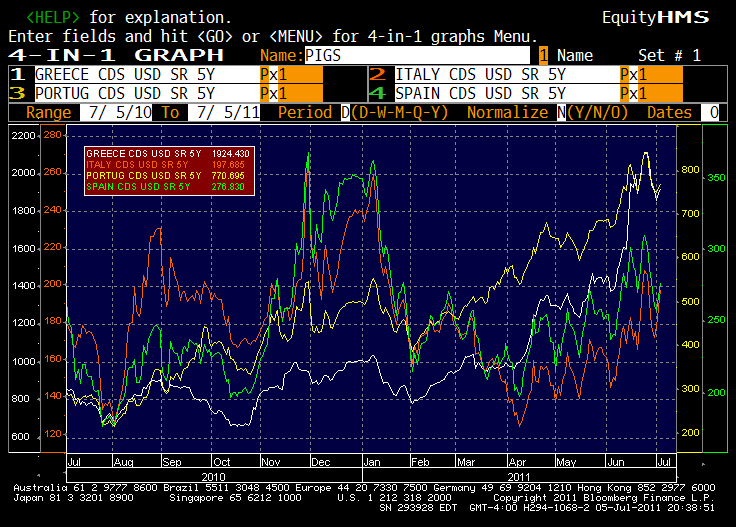 5 year CDS spreads on Portugal, Italy, Greece and Spain – the recent bounce continues.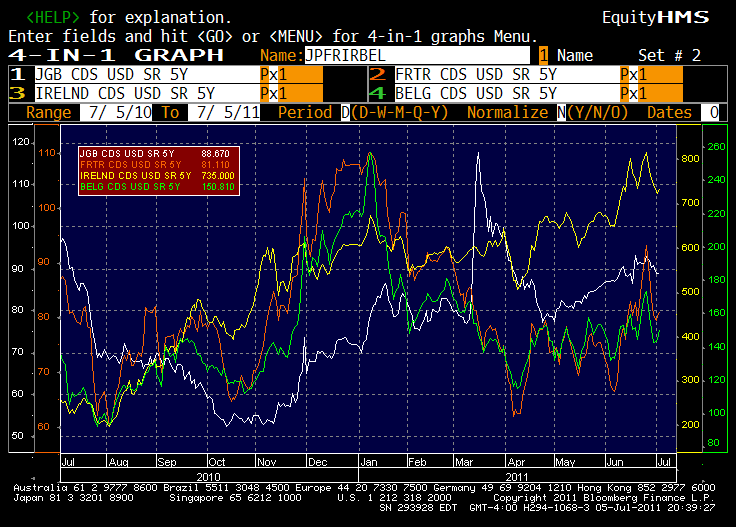 5 year CDS on Ireland, France, Belgium and Japan.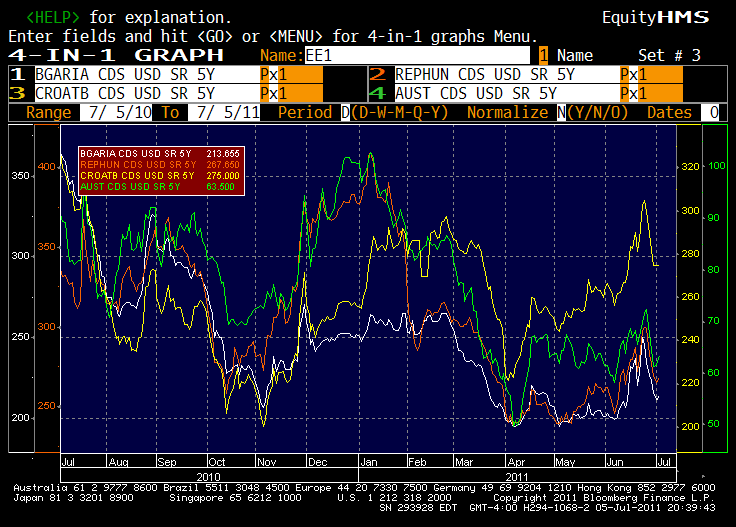 5 year CDS on Bulgaria, Croatia, Hungary and Austria.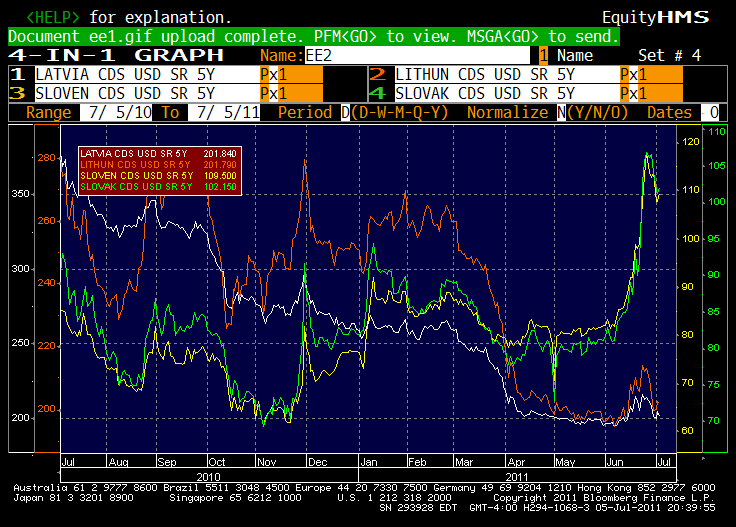 5 year CDS on Latvia, Lithuania, Slovakia and Slovenia.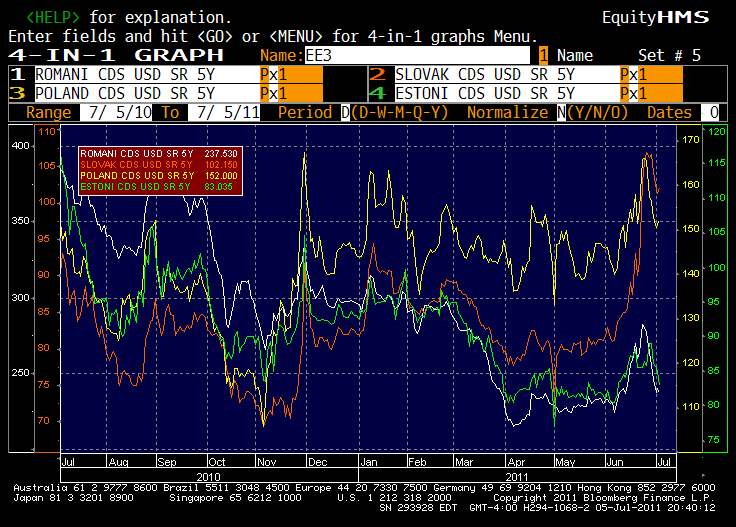 5 year CDS on Romania, Poland, Estonia and Slovakia.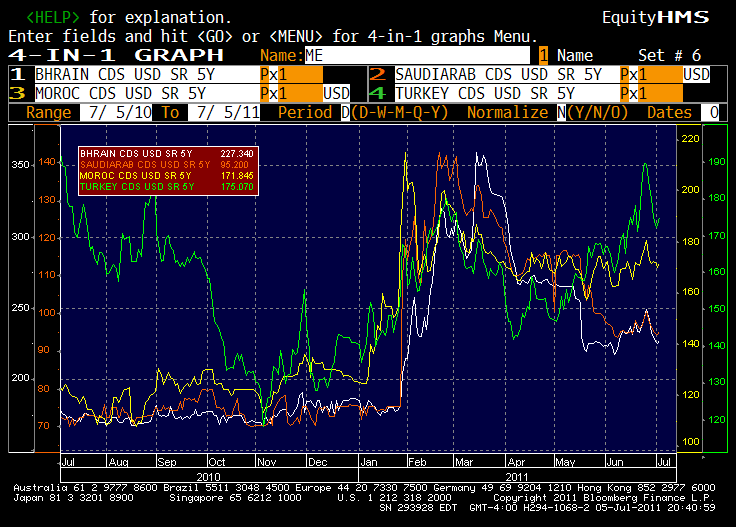 5 year CDS on Saudi Arabia, Bahrain, Morocco and Turkey.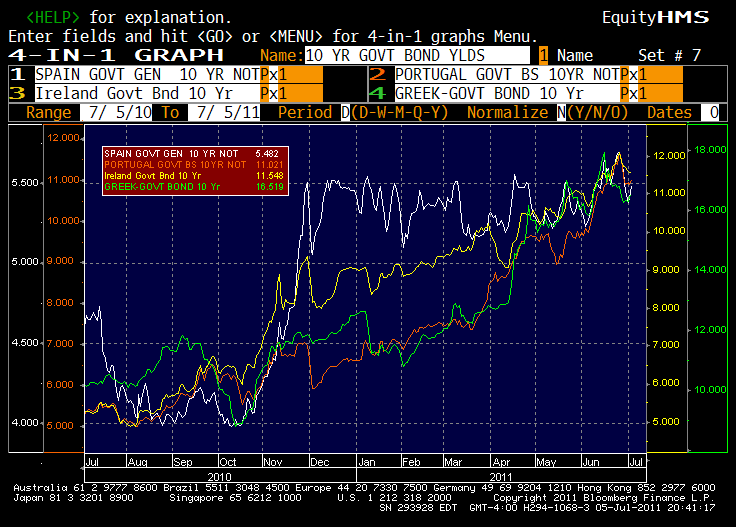 10 year government bond yields of Spain, Portugal Ireland and Greece – also bouncing again. This does not yet show the action of July 6 following the Moody#s downgrade of Portugal.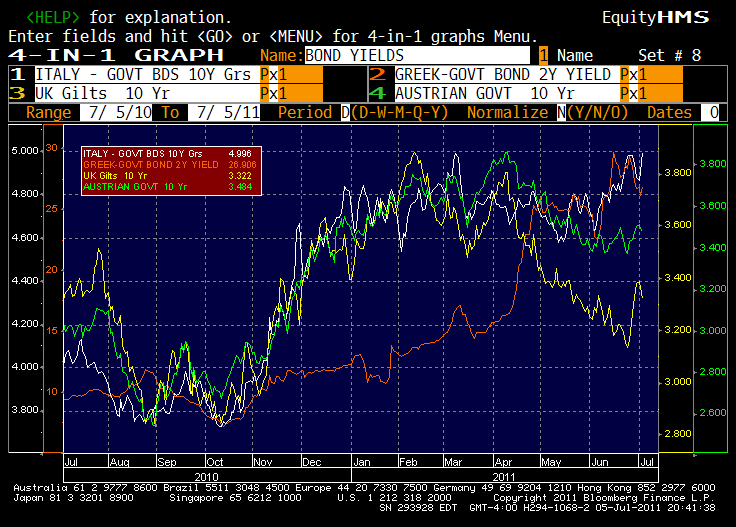 10 year government bond yields of Italy, Austria, UKL (gilts) and the 2 year Greek note yield. The 'safe haven' yields are once again dipping, while the 'risky' yields have resumed their rise.

Charts by Bloomberg