We employ a discounted cash-flow model to arrive at a fair value estimate for every company within our equity coverage universe. In the gaming industry, we think using a discounted cash-flow model is the best tool for valuation, as it captures not only the operating profitability of the firm but the timing of future investments via capital expenditures and acquisitions. We outline below our forecasts and fair value estimate for Churchill Downs (NASDAQ:CHDN).
Churchill Downs, which owns and operates four racecourses--including the legendary home of the Kentucky Derby in Louisville--the Harlow's casino in Mississippi, and Twinspires.com, is in need of some massive changes. The U.S. thoroughbred industry handle has fallen over 29% since 2006, and given the current state of the supply side of the industry (foal crop), we doubt an abrupt change in this downward trajectory is anywhere in the near future. Churchill is handcuffed and now is struggling to sell its thoroughbred racing facilities (all except its namesake), but will likely find few buyers given these ominous industry trends. If it does, it won't get a full price for them. And while its acquisition of Youbet.com provides it with a nice position to grow online gaming (via its TwinSpires.com platform), we expect such growth will largely cannibalize revenue generated from its tracks (as it has been doing on an industry level for some time). Plus, with regulatory hurdles to add slots at racing facilities currently without them (like Arlington Park) it seems like a Hail Mary is necessary to get these facilities to adequate levels of profitability. Betting on an easing regulatory environment is not a safe one for investors.
The firm's diversification strategy has kept it standing so far, but we think continued efforts on this front will transform the company into nothing more than a conglomerate of racecourses and land-based casinos, with diversified online capabilities--little strategic direction but to get away from the thoroughbred industry--its waning core competency. Further, any acquisition of a land-based casino (in Las Vegas) or online poker operations (perhaps internationally) will only further stray it from what it knows best. It's possible Wynn (NASDAQ:WYNN), Las Vegas Sands (NYSE:LVS), or MGM Resorts (NYSE:MGM) may have Vegas assets on the auction block, or perhaps a deal with private equity (as in its latest Harlow's transaction) is certainly possible. Churchill will probably still be shopping until it finds a seller, despite gambling revenue trends on the Vegas strip that have revealed some recent softening.
Undoubtedly, the firm has to change to survive (and we applaud such efforts), but such a transformation will certainly result in significant selection and overpayment risk with respect to future acquisitions. And while the firm's debt load is manageable at this time, we don't think layering on a huge amount of debt to pursue ancillary operations is any way to improve core fundamentals, which we believe is the best way to judge management (we'll also be measuring the economic impact of future acquisitions as they are announced). We expect the firm to engage in a large, transformational acquisition soon, but we don't think it will do well by shareholders--given Churchill Downs' growing need to diversify, any seller would likely have the bargaining power during negotiations, unless they are pursuing subpar assets.
Valuation Summary
Based on our forecasts, we think Churchill Downs' shares are worth less than $30 each. We reveal our valuation summary below - (click charts to expand).

Key Financial Statements
We display below the historicals and our projections for Churchill Downs' business in the years ahead. Importantly, we are not modeling in the large, transformative acquisition we anticipate, but instead, we're giving management the benefit of the doubt that any future acquisitions will be net-neutral in terms of the firm's valuation. Readers should translate the previous statement to mean that this is a best-case scenario, as it relates to deriving the firm's fair value per share. Further, we assume that maintenance capex is well below that of the historical norm, providing an optimistic boost to future free cash flows. We use a weighted average cost of capital assumption of 8.2%, which breaks down to a 10% cost of equity and a 4.1% after-tax cost of debt. During our phase II forecasts (years 6 through 20), we expect earnings before interest expansion of about 3% to 4%, a reasonable organic approach.
Income Statement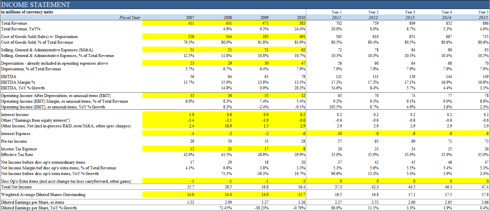 Balance Sheet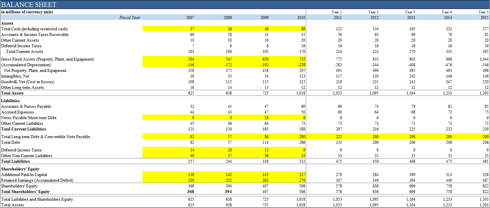 Cash Flow Statement

To close out our assessment of Churchill Downs, we wanted to provide a glimpse into the firm's returns on invested capital. We think return on invested capital is the best measure of a firm's return on operations. Return on equity is not adequate, as firms can improve this measure just by taking on additional debt, while return on assets is inferior, as it may consider a company's cash balance, which would inappropriately depress the metric. In Churchill Downs' case, we think return on invested capital, with goodwill, is the best indicator of operating profitability, as it not only avoids the pitfalls of ROE and ROA, but it also factors in management's trend of just how much it will overpay for future acquisitions (via goodwill). As one can see in the picture below, the firm's return on invested capital (including goodwill) has been weak. This economic profit spread (return on invested capital less the firm's cost of capital) means that Churchill Downs hasn't been creating value for shareholders for some time (and we don't expect this to reverse).

In all, Churchill Downs is in a precarious position, and it must diversify to survive. With its share price currently at a significant premium to its fair value, we think the market is not placing a high enough discount rate on the firm's operations given the uncertainty surrounding its future acquisition program, while building out projections that are way too optimistic for its core business. We are currently evaluating the firm as a candidate to our Best Ideas List, betting on a stock price decline.
Disclosure: I have no positions in any stocks mentioned, and no plans to initiate any positions within the next 72 hours.