Taomee Holding (NYSE:TAOM) operates the largest children's online entertainment website www.61.com in China. The company has a market cap of approximately $380 million and is trading at 13x trailing P/E.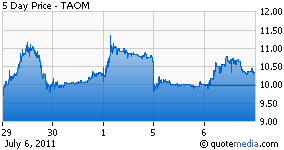 TAOM's target market covers 175 million children in China age 5 years to 15 years. China's "one-child" policy gives parents a strong incentive to make sure their only child is well off. Over the past five years, annual expenditure per child has doubled and is expected to increase by 60% over the next three years, according to Frost & Sullivan.
An estimated 89.6 million children within the target market are internet users and 68% of them prefer the internet as a mean of entertainment. Another 19% say they prefer television. Most importantly, approximately 150 million children, or 84% of the 5-year-old to 15-year-old target market, participate in the virtual world-based online games, which are TAOM's core product offerings.
Going forward, the continued urbanization of Chinese cities, increasing discretionary spending on children, and greater adoption of the internet as a mean of entertainment are likely to drive the industry growth.
TAOM's competitive advantage lies in its brand equity, product offering and competent management.
The company operates the largest children's online entertainment website, with approximately 70% of the market share in terms of revenue. It also has 27 million active users and has created strong brand equity through word of mouth marketing.
TAOM has proven track record of identifying and capitalizing on consumer preference. Four of the top six virtual world online games belong to the TAOM franchise, with two of the four occupying the top two spots. In addition two of the top five bestselling children's books in China last year were based on the TAOM franchise. The ability to offer the right product to consumers and build a strong brand allows TAOM to increase the user stickiness, and this is especially crucial in a overly saturated online gaming market where users' brand loyalty can be capricious.
The strong execution is not possible without the competency of management. TAOM was founded by a group of Tencent (0700.HK) alumni and one of its co-founders, Jason Zeng, who is now the company's Chairman. The company also has a capable CFO, Paul Keung, who is well-known in the capital markets for his coverage of internet stocks while at Oppenheimer and CIBC World Market.
In an interview with Investor's Business Daily, Paul Keung compared TAOM with Disney (NYSE:DIS). While I have deep respect for Mr. Keung, I believe that comparing TAOM with Disney now is a bit too early. Disney, as we all know, has a lot of off-line content such as movies, TV shows, and theme parks, while TAOM generates about 95% of the revenue from its website. However, if TAOM continues its execution in solidifying brand and product loyalty, and diversifies to more off-line content such as books, toys and movies, I believe that TAOM should not be valued at half a percent of Disney as it is now, assuming Disney is valued at $74 billion. (Remember back in 2005 when Baidu (NASDAQ:BIDU) first came public and was valued at 1% of Google (NASDAQ:GOOG)? Now Baidu has a market cap that is 30% of Google.)
As of 1Q11, TAOM generated $12.4 million in revenue - +91% year over year (y/y) - and earned $0.2 per share, which is flat y/y due to increased share dilution. Gross margin is around 84% and net margin is around 73%. The company guided a weak second quarter due to seasonality but I expect the third quarter to be stronger since most kids will have more time to spend on the internet over the summer break.
In 2010, the company earned $0.80 on $36 million in revenue, compare with $0.04 on $7 million in revenue in 2009.
On the balance sheet the company has $54 million cash and no debt.
Disclosure: I have no positions in any stocks mentioned, and no plans to initiate any positions within the next 72 hours.