When it came time to borrow money, few banks were willing to lend at the height of the recession. And, for good reason. Banks were reeling from a seemingly endless stream of defaults. They couldn't trust the quality of the loans they already had, never mind figure out the credit worthiness of new borrowers. But, things change. And, at banks like Zions Bancorp (NASDAQ:ZION), trends are suggesting loan portfolios are ready to head higher again, taking earnings and stock prices with them.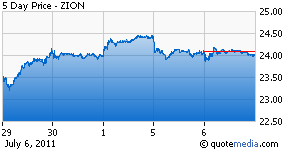 Borrower delinquency rates and charge-offs have steadily improved over the past year. And, fewer bank charge-offs mean less in loss provisions. So, banks like Zions are recapturing money previously set aside, a necessary step for creating the confidence needed to reignite lending.
At Zions, Q1 non-performing loans fell to 4.54% from 4.91% in December. As a result, net charge-offs dropped 44% to $141 million, prompting Zion to reduce its loan loss provision by $112 million. With $60 million still reserved, it's likely we'll see that number fall again when Zion reports later this month.
Zions' $36.5 billion loan portfolio fell in Q1 by $202 million, as construction and development deals kept rolling off. But, the bank cited improving loan demand for commercial, industrial and consumer loans. Ex-out construction and FDIC loans and the bank saw its commercial and industrial loan portfolio increase $400 million last quarter, good for 5% annualized growth. Even with those loans included, the drop was far better than the $800 million decline from Q3 to Q4. And, while Zion still has troublesome construction and development loans on its books, at 8% they represent a much smaller percentage than in 2007, when they accounted for 21.8% of total loans.
While Zions deposit base shrunk 1.4% to $40.6 billion, the bank benefited from the ongoing shift from high interest paying CDs to non-interest bearing savings accounts. Such accounts rose $100 million to $13.7 billion in the quarter. In 2010, non-interest demand deposits grew 20%. The shift in deposit base has become a welcome source of cheap financing for future loans. And, that further supports the willingness to lend.
Zions tier one capital rate also improved to 9.27% in Q1 from 8.95% in Q4, adding additional confidence. And, the bank is earning wider spreads. The net interest margin was 3.76% last quarter, up from 3.49%, which gives it one of the highest ratios among big banks.
The overall improvement added enough confidence for Zion to reinstitute its dividend too, albeit at a token $0.01 quarterly rate. Still, with a shift back to profits last quarter, the company is heading in the right direction for future dividend increases. While last quarter's earnings per share were an anemic $0.08, the street is forecasting the bank to earn $1.78 per share in 2012, up nearly 300% from their $0.45 estimate for 2011.
An increase in loan demand is also supported by stronger-than-national job growth in the states Zions serves. Utah's unemployment rate, for example, was 7.3% in May. Texas and Arizona's unemployment was 7.9% and 8.8%%, respectively. And, rates are falling in troubled California, and Nevada. Overall, the population in its service area has grown more than 20% in the past decade. And, in the same period, jobs have increased 5.1% despite stagnant national growth.
A return to loan growth will go a long way to helping Zions beat analyst estimates next year. So, investors should take notice when the company reports earnings on July 18. If Zion sells off, it may prove the perfect time to be a buyer.