Even though I dislike cars, I tend toward bullishness on the auto industry. Whether it's the buzz over a "zero-emission" electric vehicle (EV) or a smaller car, fuel-efficiency is all the rage these days. As consumers tighten their belts on near-term impulsive indulgences, they'll continue to buy into the notion that making a major purchase - a new fuel-efficient car - will save them over the long-term. And, of course, the well-heeled will rethink the Cadillac Escalade that sits in the garage, amidst an environment of, if nothing else, consistently high and volatile gas prices.
That part of the story, coupled with the automakers' acceptance of ambitious gas mileage standards as an opportunity, makes me optimistic on the car makers. While you could always buy the stocks of the following companies outright, using options gives you a nice way to alter your exposure in any direction you choose.
*All prices quotes are as of late in Wednesday's trading session. All charts come courtesy of FreeStockCharts.com.
Ford (NYSE:F): I've spun the bullish story on F for a while and, thus far, it has not paid off. Though the stock has been slow to react, I view it as an opportunity. Ford makes an excellent candidate for two options strategies, selling puts and buying LEAPS calls.
If you want to go long F, you might be able to get there by selling a put. Pick a strike price you would be comfortable owning F at, fully realizing that if the party you sell the put to exercises his/her option to sell 100 shares of F at the strike price of the contract on or before options expiration day, you'll have to buy them at that price, regardless of how the market values F on a given day.
For instance, you could write (sell) the F August $13 put and collect and keep a premium of $0.23 regardless of what happens. If F breaches $13 between now and August 20, 2011, you might have to buy the stock for $13 a share. Because you collected that $0.23 premium, however, your effective purchase price for the shares drops to $12.77.
To increase your exposure, you could take some of your put-selling premium income and put it toward a long-term bullish bet on F. The January 2013 $12.50 LEAPS calls look reasonably attractive at roughly $3.00 a pop.
Click to enlarge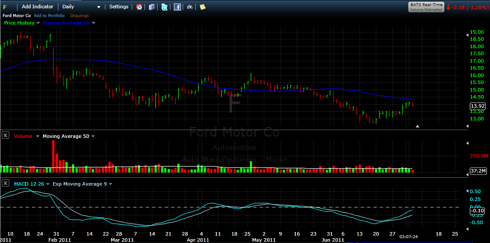 General Motors (NYSE:GM): While I have yet to go bullish on GM, analysts, particularly at Morgan Stanley (NYSE:MS) and the options market have headed in that direction. On July 1st, ahead of its report on June auto sales, Briefing.com noted bullish activity in GM calls:
GM Jul 31 calls are seeing interest ahead of June monthly sales results (auto names are expected to release sales details intraday today). The GM July 31 calls have traded 14.5K contracts vs. open int of 20.6K, pushing implied vol up around 1 points to ~27%
Had you played the GM July $31 calls, you'd be in good shape today from a trade standpoint. Because I do not think GM will breach the $30 level between now and mid-August, I would feel comfortable putting on a bull put credit spread. For instance, you could sell the GM August $30 put for $0.77 and buy the GM August $25 put for $0.08, resulting in a net credit of $0.69. While you cap your max gain at the premium collected, you limit your max loss to the difference between the strike prices minus the credit. You'll need account equity available to cover that much.
Click to enlarge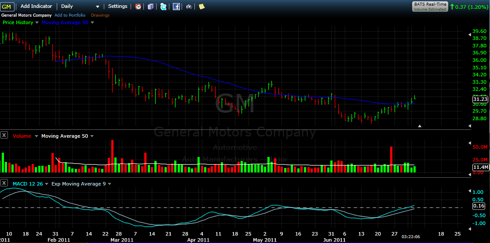 Honda (NYSE:HMC) and Toyoya (NYSE:TM): I see a pretty simple story here that reflects itself on the two stocks' respective charts. Honda and Toyota have both seen their stocks crushed thanks to production issues that were, for all intents and purposes, out of their control. And now, as things begin to return to normal (and we can only hope that trajectory holds), the uptrends both stocks display look sustainable.
Click to enlarge charts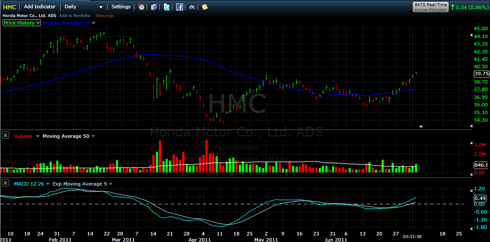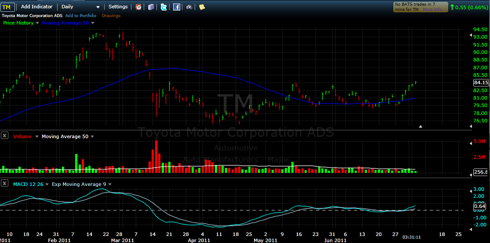 There's no reason to get fancy. Pick the longest-dated expiration you can find (January 2012 for HMC and January 2013 for TM) and buy in-the-money call options. On a dip, I would add to these positions, particularly in the case of TM, where, for now, time decay plays less of a factor. Watch your size, however, in both cases as HMC and TM options are far from heavily-traded with low volume and open interest.
Derivative Plays
Goodyear (NYSE:GT): On June 10th, I argued that a bullish stance on F (and other automakers, for that matter) could lead logically to a bullish play on GT. GT closed at $14.99 on that day. Just before Wednesday's close, it traded for roughly $17.87 per share.
Click to enlarge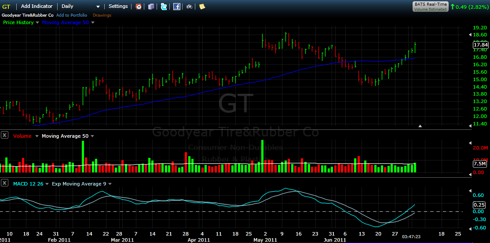 In addition to the relatively straightforward choice of buying GT calls, you can sell puts if you (a) want to generate income and (b) would not mind going long the underlying stock. The August $17 and $16 puts trade for $0.75 and $0.45, respectively. Use the same logic, explained above in relation to F, when considering the strike price and expiration month you'll go with.
Sirius XM (NASDAQ:SIRI). For better or worse, SIRI's fate hinges on that of the auto industry. In my mind, it makes sense to get on that bandwagon while the getting is still good. I put quite a bit of stake into what Seeking Alpha contributor Spencer Obsborne writes. He provides several examples of strong support for the notion that recent auto sales statistics will bode well for Sirius XM's quarterly earnings report come August 3rd, despite Japan-related setbacks.
With that mind, and understanding how SIRI moves ahead of earnings, the recent pullback in the stock concerns me little. SIRI tends to dance with its 50-day moving average ahead of a sustained pop. This is not abnormal.
Click to enlarge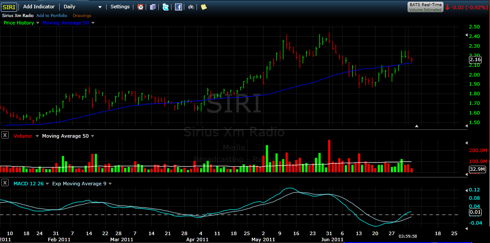 I am still long the SIRI September $2.50 calls at a cost basis of $0.11. I'm not going anywhere for the next week or two, at least. In fact, if I had your money, I would buy more at $0.11. About 625 more contracts traded at or around that price today with open interest at 64,338. Those calls remain one of SIRI's most actively-traded option contracts.
Disclosure: I am long F, SIRI.