Stocks discussed on the Financial Sector Segment of CNBC's Fast Money Half-Time Report TV Program, Wednesday July 6.
Steven Weiss cast an eye to the Financial Select Sector SPDR EFT (NYSEARCA:XLF), which has had a series of lower highs, to conclude what it signifies for the sector and the economy. He said:
In terms of the economy, it's not a great sign. Financials are supposed to be the leaders, not the laggards.
Nonetheless, he likes the regionals:
The worse it gets for regulation with the big guys and these nitpicky regulations, the better for the regionals.
The XLF is trading at $15.41 down $0.08 for a loss of 0.52%,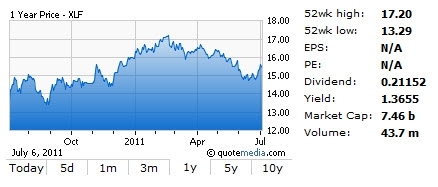 Patty Edwards approves of the regionals as well. She's bullish on BlackRock Kelso Capital (NASDAQ:BKCC) trading at $9.21, up $0.13 for a gain of 1.43%. Edwards held that BKCC is doing well currently and says:
They've got the cash, and if you can't get the bank loans at the lower rate, you're going to come to them for the higher rate.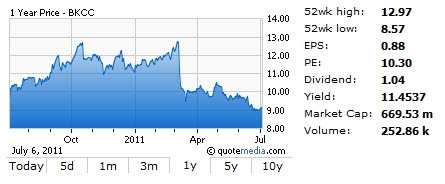 Brian Kelly perceives upside in the financials. He likes SPDR KBW Regional Banking (NYSEARCA:KRE) trading at $25.715, up 0.13, for a profit of 0.51% and Wells Fargo (NYSE:WFC) trading at $28.12, down 0.30, for a loss of 1.06% due to the steep yield curve. Kelly thinks the curve may steepen further. Moreover, he sees eagerness to loan and loan demand growing.
As long as they meet, the banks should make an awful lot of money.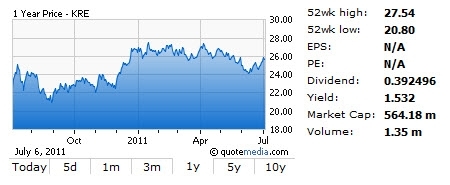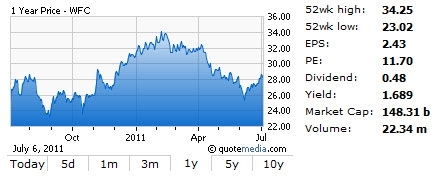 Pete Najarian is cautious not to delve too deeply into financials at this point. Nevertheless, he stated:
People are looking for a little bounce out of Citigroup (NYSE:C) Wednesday and perhaps into the weekend because of the weekly options that expire Friday.
Citigroup is currently trading at $42.01 down $0.56 for a loss of 1.32%).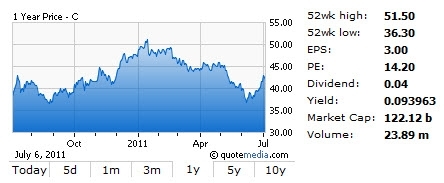 Joe Terranova is skeptical of the recent credit surge and stated:
There are those that will be given credit and those (who qualified in 2007) that will not be provided further credit for years to come.
Click Fast Money team member names below for more helpful information from each of the CNBC Fast Money Traders.
Joe Terranova / Jon Najarian / Pete Najarian / Guy Adami / Tim Seymour / Brian Kelly / Patty Edwards / Steven Grasso
Disclosure: I have no positions in any stocks mentioned, and no plans to initiate any positions within the next 72 hours.