We have written a number of articles analyzing some of the largest mortgage REITs over various interest rate environments, including Annaly Capital (NYSE:NLY) (here), MFA Financial (NYSE:MFA) (here) and Anworth Mortgage Asset Corp. (NYSE:ANH) (here).
In general, we think that investors who believe that interest rates will remain low should have some exposure to mortgage REITs. However, most investors fear that higher interest rates are imminent and are worried about the impact of rising rates on their REIT position (which is one of the largest risks associated with mortgage REITs).
Note: With all the headwinds currently facing the economy, we believe that interest rates will remain low for the foreseeable future (next 12-24 months).
That said, investors who are concerned about near term rate hikes should consider investing in REITs that focus on adjustable/floating rate MBS, which are typically exposed to less interest rate risk than their fixed rate-focused peers.
A Mortgage REIT for Investors Concerned About Rising Interest Rates
Founded in 2007, Hatteras Financial (NYSE:HTS) invests exclusively in adjustable-rate agency MBS and focuses on the short end of the yield curve. HTS funds purchases of agency MBS on a leveraged basis. The company's current leverage is 6.1x, which is at the lower end of their historical range of 5.0x-12.0x.
Adjustable-rate mortgages have an initial interest rate that is fixed for a period of time after which it is reset periodically, often on a monthly basis. This focus on adjustable rate mortgages somewhat mitigates a portion of the interest rate risk associated with investments in mortgage REITs.
As with most agency focused mortgage REITs, HTS seeks to manage interest rate risk while minimizing exposure to credit risk. HTS typically maintains a weighted average term to the next interest rate reset date of between 44 and 61 months, with a historical weighted average term to maturity of between 33 and 93 days (hedged by interest rate swap agreements whose weighted average remaining term to maturity has ranged from 28 to 34 months).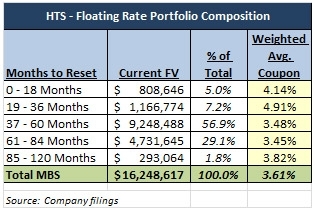 Even though the company does not have a long operating history, HTS's management team has delivered shareholders decent returns over the past few years.
click to enlarge images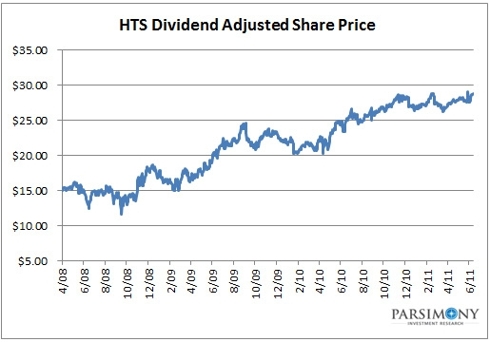 In addition, the company has also maintained a relatively stable dividend yield and price to book value since 2008, averaging 15.4% and 1.15x, respectively.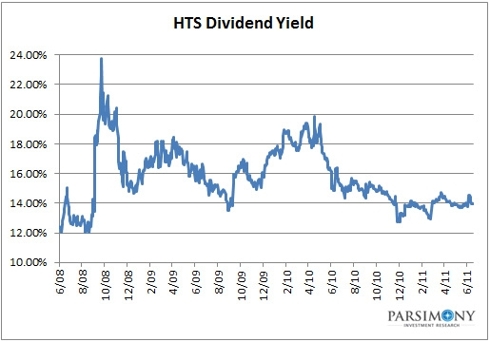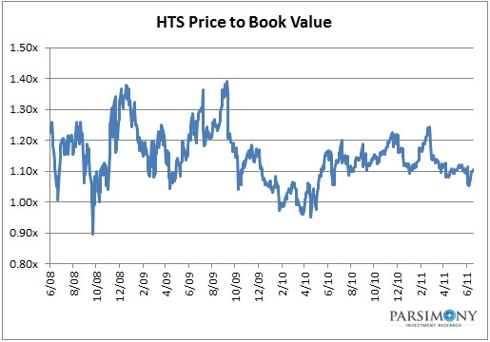 Conclusion
We believe that investors concerned about rising interest rates should consider HTS, but they should remain aware that the company has a short operating history.
As discussed above, we aren't too concerned about any meaningful near term rate hikes. As such, MFA and NLY remain our two main REIT holdings due to their strong management teams and proven ability to manage their portfolios in any interest rate environment. However, we also have a small position in American Capital Agency Corp. (NASDAQ:AGNC).
We continue to believe that the best strategy for investing in this space is to own a portfolio of mortgage REITs to diversify your risk. That said, the following REITs are currently on our watchlist (in addition to HTS) and we are following them very closely: Chimera Investment Corp. (NYSE:CIM), Anworth Mortgage Asset Corp. (ANH), and Capstead Mortgage Corp (NYSE:CMO).