Most of the time investors prefer high-quality, low-risk plays when they commit their cash. Sometimes, though, there's a good reason for taking a stab at big returns on high volatility, less predictable stocks.
Sanmina-SCI Corporation (NASDAQ:SANM) appears to fall into that category right now. The company provides contract manufacturing, testing and assembly for the electronics industry. 2011 looks on track to provide the best EPS since the tech heydays of 1996 – 2001. Earnings predictability is very low as is the stock's price stability. Value Line notes these metrics fall into the 10th percentile (with 100th being best) so all estimates need to be taken as possibilities only. Beta is very high.
Since the beginning of 2010, SANM has rarely been below $10. It hit peaks of $20.30 and $17.32 in 2010 and 2011 respectively. It closed Wednesday at just $9.87 /share.
click to enlarge image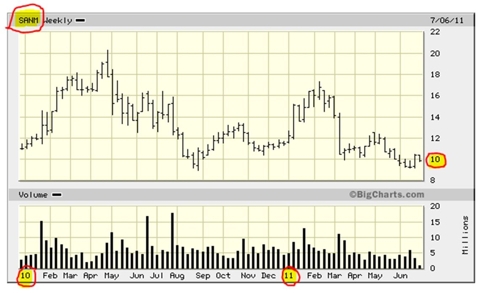 Click to enlarge
SANM now trades at about 7.2 times the lowest estimate I could find for this FY and 5.9x the Zacks estimate for FY 2012. FYs end in September of the same year. Unless things get substantially worse than expected these shares look very cheap. They sell near 1x tangible book value and at an extraordinarily low price/sales.
Here's a great looking combination play out to January 20, 2012 that doesn't even require the stock to move up.
| | | |
| --- | --- | --- |
| | Cash Outlay | Cash Inflow |
| Buy 1000 SANM for $9.87 /share | $9,870 | |
| Sell 10 Jan. 2012 $9.00 calls at $1.90 /share | | $1,900 |
| Sell 10 Jan. 2012 $9.00 puts at $1.00 /share | | $1,000 |
| Net Cash Out-of-Pocket | $6,970 | |
If SANM simply closes at $9 or better on Jan. 20, 2012:
The calls will be exercised and the puts will expire
You'll be left with no shares and $9,000 in cash
$9,000 - $6,970 = $2,030 in net profit
$2,030 / $6,970 = 29.1% cash-on-cash achieved in less than 5.5 months on shares that:
Go up
Remain unchanged
Decline by no more than 8.8%
If SANM closes below $9 on Jan. 20, 2012:
The calls will expire and the puts will be exercised
You'll be forced to buy another 1000 SANM
You'll need to lay out an additional $9,000 in cash
Your final position will be 2000 SANM
The total outlay would be $6,970 + $9,000 = $15,970 and your average cost per share would be just $7.99. That's lower than the absolute worst price in all of 2010 and 2011.
Disclosure: I have no positions in any stocks mentioned, but may initiate a long position in SANM over the next 72 hours.