Mortgage Real Estate Investment Trusts (MREITs) offer income investors an understandable business model to receive high-yield dividend income. MREITs borrow at a low interest rate and lend the proceeds at a higher interest rate.
The yield difference is the net profit. MREITs do leverage or magnify the returns by using the Government Sponsored Entity (GSE) securities as pledged collateral. The collateral is used to accumulate additional yield spread gains. The companies use various derivatives to reduce their total portfolio risk.
Anworth Mortgage Asset Corporation (NYSE:ANH)
Anworth Mortgage Asset Corporation is primarily an agency-MREIT. The company invests in GSE MBS. The GSE's include Fannie Mae (OTCQB:FNMA), Freddie Mac (OTCQB:FMCC), Ginnie Mae. The following table shows a 1st quarter 10-Q non-agency MBS of 3,990,000. This is a minor amount compared to the aggregate agency MBS.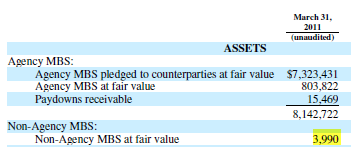 The company has equity ownership in strong-hands. As of March 31st, 2011, institutions own 55.82% of shares outstanding, and mutual funds own 25.07% of shares outstanding, as of March 31st, 2011. The book value per share was $6.92. The stock is currently paying quarterly distributions of 25-cents. An annual $1.00 per share dividend equates to a 12.9% dividend yield based upon a current $7.72 stock price.
ANH did increase their use of leverage from 6.8x-leverage rate on December 31st, 2010, to 7.1x-leverage rate as of March 31st, 2011. ANH does have outstanding preferred shares, ANH-PA and ANH-PB. Investors should note their existence within the total ANH capital structure.
ANH's management team is experienced and accomplished. Lloyd McAdams has been ANH's Chairman of the Board, President and Chief Executive Officer since the company's establishment in 1997.
[Click all images to enlarge]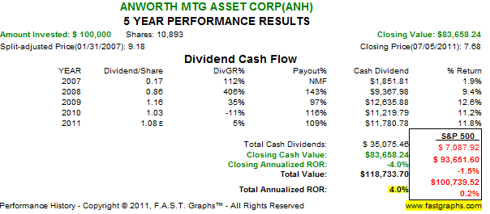 Capstead Mortgage Corp. (NYSE:CMO)
Capstead was formed in 1985, thus possessing one of the longer MREIT trading histories. Andrew F. Jacobs has been CMO's President & CEO since July 2003. He has worked in other executive CMO positions since 1988. The capital structure currently has preferred A (pdf) and preferred B (pdf) shares.
CMO's book value per share was $12.15 on March 31st, 2011. The MREIT focuses exclusively, per 10-Q page 5, on agency backed MBS. CMO has a team focus to reduce risk and maximize return after risks have been addressed first. It will be interesting to note if the company expands its leverage, or whether the current 7.91x is near the peak.
CMO, on June 14th, announced their quarterly dividend is 48-cents. Based upon a current CMO stock price of $13.46, the current dividend yield is 14.26%. This month will provide further credence to the ongoing book value improvement. The stock has a solid dividend yield and a management clearly focused upon minimizing typical MREIT risks.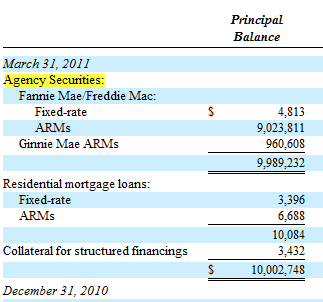 CMO, as displayed on page 5, intentionally reduces portfolio risk via ownership of "....agency-Adjustable Rate Mortgage securities, financed primarily with 30-90 day "repo" borrowings, augmented with two-year interest rate swap agreements for hedging purposes." In addition, the company is well positioned, per page 5, to minimize pre-payment risk via relatively short-term RMBS duration lengths.

CMO has clearly outperformed the SP500 for the past 5-years. CMO's 5-year total annual rate-of-return is 21.9% vs. a .2% for the SP500 during the same time frame. This 5-year window includes the turbulent 2008-2009 markets. CMO has proven to be a successful way to invest during a decreasing interest rate environment in agency MBS.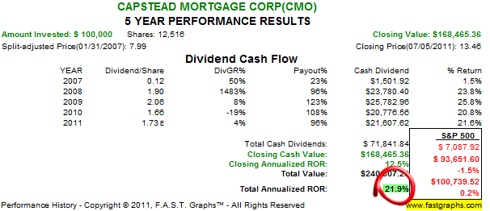 MFA Financial, Inc. (NYSE:MFA)
MFA Financial is a prominent participant in the MREIT financial space. MFA, in clear terms, states the company invests in agency-MBS and non-agency MBS. MFA began operations on April 10th, 1998.
Stewart Zimmerman, started with MFA in 1997, is the company's CEO and is the Chairman of the Board of Directors. Management has worked for over 10-years together as a team.
On June 30th, MFA announced a quarterly dividend of 25-cents. Assuming an annual $1.00 dividend, the annual yield equates to 12.09% based upon a $8.27 stock price.
MFA, per page 1 of the 10-Q, has approximately $3,201,840,000 invested in non-agency MBS. Assuming this investment results in positive net returns versus net write downs, the company should continue to prosper. Management has made a cognizant decision to invest in non-GSE backed MBS.

Approximately 70% of MFA outstanding common shares are held by institutional and mutual fund owners. MFA, per page 42 of the March 31st 10-Q, has a GAAP leverage multiple of 2.9x. This is up from 2.8x for the period ending December 31st, 2010.
The company has significantly outperformed the SP500 during the course of a 5-year period. MFA's 9.5% total annual rate-of-return beats the SP500's .2% return over the same time frame. MFA has benefited by the existence of low interest rates, and a positive lending vs. borrowing relationship.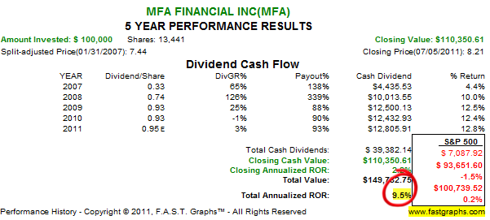 Disclosure: I have no positions in any stocks mentioned, but may initiate a long position in ANH, CMO, MFA over the next 72 hours.