Looking for a good social media and internet investment outside the US?
Check out Naspers (OTCPK:NPSNY). This South African company was founded almost 100 years ago as a publishing company, but now owns a wide variety of assets around the world, many of them promising social networking plays in emerging markets. The company's assets include stakes in some of the world's leading media companies. Here are some highlights from the company's fact sheet (pdf).
Tencent – a 34% interest in Hong Kong-listed Tencent, China's largest and most used internet services portal.
Allegro – a 97% holding in the leading e-commerce business in Central and Eastern Europe.
Mail.ru Group – a 29% stake in the leading internet company in Russian-speaking markets.
BuscaPé – a 95% stake in BuscaPé, a leading e-commerce platform in Latin America and the dominant comparison-shopping platform in Brazil.
And according to South Africa's BusinessDay, Naspers "inherited" a small stake in Facebook, Zynga, and Groupon:
Meloy Horn, Naspers head of investor relations, said it had an "inherited" indirect 0,7% stake in Facebook, a 0,4% indirect stake in gaming company Zynga, and a 1,5% indirect stake in Groupon through its Digital Sky Technologies stake. "It's a nice-to-have, but it's not the area we plan to focus on. Our focus will continue to be on media in emerging markets," she said.
Those other emerging market media opportunities include a 34% stake in Tencent, the Chinese internet portal, and seems to be a major contributor to revenue and earnings – at least according to Naspers' revenue and EBITDA data (in South African rand) for the year ending March 31, 2011:
Understanding this entire company isn't easy, but a look at Naspers' structure shows worldwide participation in some of the emerging markets' most prominent internet, media, and publishing companies. If you use the internet outside the US, you'll probably recognize some of these names.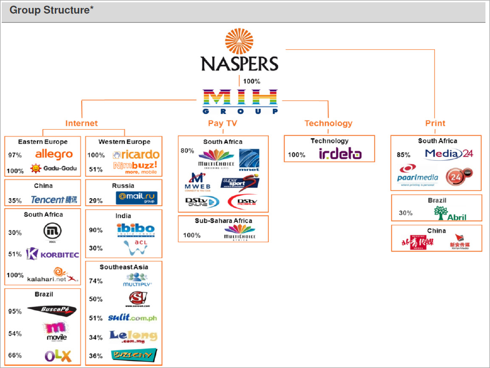 This chart shows the stock's performance over the past few years via the securities that trade in the US under the symbol NPSNY.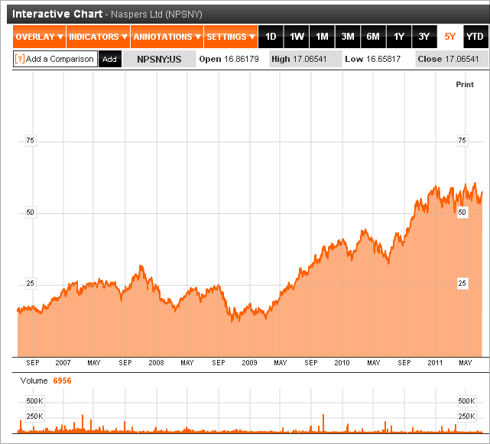 And this is one internet company that actually pays a dividend. True, it yields less than 1%, but at least that's something. And if it makes any difference to you, according to Bloomberg: Goldman Sachs rated the stock a 'buy" last month:
Goldman Sachs analysts, including Alexander Balakhnin, put a price estimate of 528 rand on the company, which has television and Internet interests in Africa, Brazil, Russia and China. "We believe investors are underestimating the value of Naspers' Internet and pay-TV assets," the analysts wrote in the note dated today.
There's a lot more information on the company's investor relations site, if you want to take a deeper look inside this fascinating company. If you don't want to invest directly though the shares traded in the United States, the company makes up about 7.7% of the iShares South Africa Index Fund (NYSEARCA:EZA).
Disclosure: I am long EZA.