According to Briefing.com, Amazon.com (NASDAQ:AMZN) announces earnings after the bell on Tuesday, July 26th (click to enlarge images):

While I have been bullish on AMZN for a while, I last suggested a specific idea in a Seeking Alpha article from May 13th:
As of Thursday's close, the AMZN January 2013 $220 LEAPS call option trades for roughly $30.00. if you think AMZN will approach, reach, or surpass the contract's current breakeven point of $250 as we head into the second half of 2012, this play makes all the sense in the world.
The AMZN January 2013 $220 LEAPS call option closed yesterday's session at $35.00. After a pullback in May, Amazon set itself on a torrid pace, hitting its 52-week high of $214.45 on Tuesday, and closing up $1.00 to close at $214.19 on Wednesday.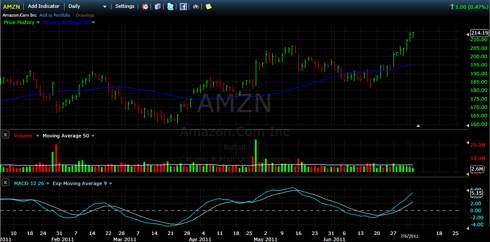 (Chart courtesy of FreeStockCharts.com)
If you're long AMZN now, via the stock or LEAPS options, it's a pretty easy call -- hang tight. I highly doubt anything the company reports in its Q2 report will spook investors enough so that AMZN's recent gains completely disappear. If you're not long, the question of whether or not you should go long gets a bit trickier.
Before attempting to answer that question, I'll go over a few things I'll be looking for on the call.
First, if Amazon confirms that it will indeed release a tablet in time for the holidays, you can expect the stock to rocket, even if the announcement accompanies other not-so-good news. It will be interesting to see if Amazon addresses reports that component suppliers will not be able to meet demand for its tablet needs because of production commitments for Apple's (NASDAQ:AAPL) iPad. I consume these reports with skepticism. Undoubtedly, Apple carries a big stick, but suppliers are likely bending over backwards to serve Amazon, considering it apparently plans on selling four million tablets in 2011 alone.
Second, and also on the Apple front, Amazon might shine more light on how it's positioning itself against iTunes and Google's (NASDAQ:GOOG) Music Manager service, which should soon exit the beta phase. While I still contend that Amazon does not want to and realizes it cannot compete against Apple on the music or tablet fronts, it has no problem playing ankle biter, particularly if that approach (e.g., scorching deals) drives more people to its e-commerce core.
I'm not concerned with capital expenditures or the state sales tax issue. I am comfortable with what Amazon CFO Thomas Szkutak had to say about both on the company's Q1 conference call. And, as the chart that follows Szkutak's comments shows, Amazon has a strong history of generating ROI.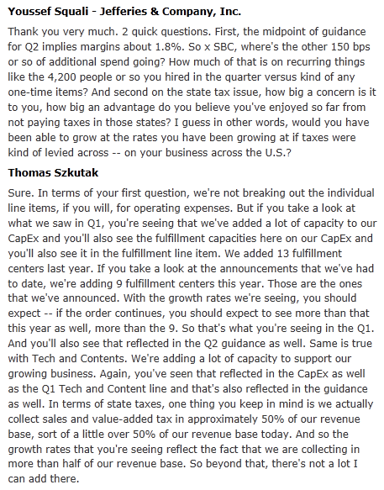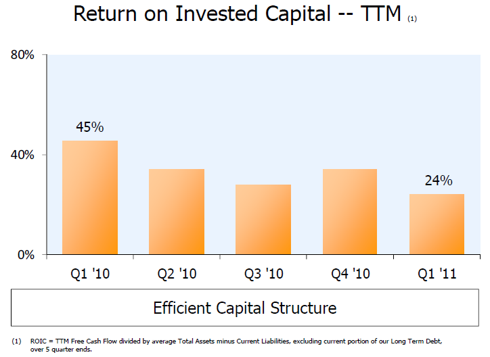 At day's end, the tablet ends up being the end all and be all of Amazon's call, assuming we do not see a surprise earnings miss. While there's no guarantee Amazon makes the announcement, I would be somewhat shocked if it did not at least drop hints towards the release. CEO Jeff Bezos already did this much back in May. In some fashion, I expect Amazon to acknowledge that its tablet has indeed been the worst kept secret in tech all year. This will drive the stock to the upside. I don't think you can say the impact of a tablet has been priced in.
Not only will the tablet help Amazon do what it does best -- generate revenue thanks to its excellent synergy -- it will bring a new, meaningful revenue stream into the fold. Let's uses the midpoint of the rumored $350 to $450 price tag for the forthcoming tablets (Amazon apparently has two on tap). At $400 a pop, four million tablets sold amounts to $1,600,000,000. Cut the number sold to a more conservative two million and you still get revenue of $800,000,000. The very real possibility of another billion-dollar revenue stream for Amazon stops at nothing short of astonishing. Investors slap high P/E ratios on companies they know can keep pull a billion dollar revenue line out from behind the CEO's ear at the drop of a gadget.
I often like to strangle potentially volatile stocks ahead of earnings reports. The potential for tablet confirmation offsets any worries I might otherwise have about the stock tanking after the earnings release. With that mind, I would feel most comfortable (a) adding to an already profitable long position in AMZN or (b) using a bull call spread to provide myself with at least a little bit of a hedge.
Consider the following AMZN August call option quotes, courtesy of Yahoo! Finance, as of Wednesday's close.

You'll have to pick strikes you're okay with, but I am comfortable capping myself with the $230 strike, which I can sell for roughly $4.30 and buying the $215 call for about $10.00, resulting in a net debit of $5.70. Of course, you risk leaving some money on the table with this play, but it makes me feel relatively comfortable from a risk standpoint.
Disclosure: I have no positions in any stocks mentioned, and no plans to initiate any positions within the next 72 hours.