It is time again for quarterly earnings for the market starting on Monday, July 11. The market has a lot to digest from Q2, as there were a number of factors that could weigh on markets as well as create opportunities for other companies. Q2 began to show some slowdown in the macroeconomic, and this earnings season will show the microeconomic setting in the USA and internationally.
The Oxen Group believes that the best way to approach this quarter as well as all other quarters, is to look for opportunities that combine both high growth levels with undervaluation, and a history of positive results.
Our approach to determine the best investments for quarterly earnings is to combine both a growth assessment ranking score with a value ranking score along with historical results. Each score assesses each company's fundamental value in growth, and as a value investment given a number of indicators and ratios.
We believe that it is important to combine both because some companies looking at amazing quarterly growth are heavily overvalued or have already priced in their earnings. On the other hand, many undervalued companies are undervalued because they lack the growth capabilities to have significant impacts on their valuation.
The key to this quarter for us was to look at companies that may have significant Japanese exposure since we cannot determine how the situation there will influence future guidance and Q2 earnings. Further, we wanted to avoid a lot of companies that would have exposure to significant amounts of commodity price increases as well as exposure to currency problems.
Our top three industries for this quarter are Chemicals, Independent Oil & Gas, and Utilities. These three industries have the best growth to value capabilities as well as these three industries will not be as adversely affected by the Japanese situation and higher commodity prices.
The following report will report on our Top Four Picks for Q1, Top Five Large-Cap Picks, Top Five Mid-Cap Picks, Top Five Small-Cap Picks, and more.
It is important to remember that these picks are ideas about stocks performance into earnings and as they appear at the present. Many of these picks will perform well before their earnings selections, and these ideas are not earnings trades. Rather, these are companies that can perform well during earnings season as a whole.
Top 4 Picks for Earnings Season
1. Dow Chemical (DOW)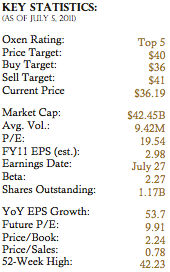 Dow Chemical is our top pick for this earnings season. We like Dow because of its strong historical performance around earnings season combined with a YOY EPS growth of 53.7 that gives the stock a nice raise of 0.30. This rise in EPS drops P/E to 16.88. To maintain a 19-20 P/E ratio would mean a rise in price to $42.
The chemical sector is very strong with a lot of solid organic growth in both earnings and revenue. The company is supposed to see an 8.5% growth in sales as well.
The company has a great amount of value with a slim future P/E ratio at just below 10 and only trading at 0.78x sales. This is a company that has the potential for a lot of gains. Historically, they have performed quite well into earnings reports and decently out of them. We are looking for a consistent rise over the next few weeks from Dow with downside risk limited.
US manufacturing has slowed a bit this year in growth, but manufacturing levels are still strong, and DOW should continue to deliver solid growth. The company just delivered a dividend at the end of June that also allowed the stock to give up some valuation, and that short-term drop is a great buying opportunity. The company is improving margins, consistently beat earnings, and perform well during earnings season. We see a lot of potential for safe growth here for DOW.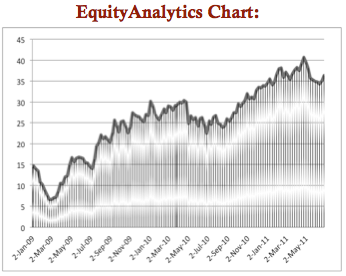 2. CF Industries (NYSE:CF)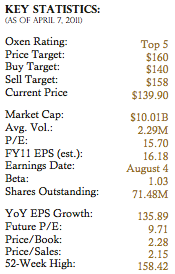 CF Industries is a top-pick from the agriculture sector that could do quite well in this earnings season given strong EPS and revenue growth that give a lot of value to the stock. With 136% growth in EPS, the company's price has to jump significantly to maintain its very average 15-16 P/E ratio.

With EPS jumping around 2.40 from 2.48, the price of CF needs to increase to $180 to maintain the same P/E ratio. That is a pretty significant increase from the current price, and we believe the market is significantly discounting CF.

CF is a company that is also looking at over 30% rise in revenue, and while they have not consistently beaten earnings, they have for the past two quarters and have performed well into their earnings reports.

CF is one of David Tepper's top picks, and we see it as significantly undervalued for the type of performance that is likely during this earnings season. Downside risk seems minimal with upside potential quite significant.

Average analyst estimates for CF range at 160 – 200. The agriculture industry did not perform as well as we had hoped in Q1, but with fewer companies showing such significant YoY growth, CF may be a place that growth and value investors alike will look for premium.

3. CGI Group (NYSE:GIB)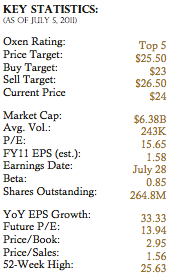 CGI operates in the constantly growing Internet services and IT sector of the economy. They are a company that offers solid growth QoQ and YoY as well as operate with fairly low to middle valuations with its P/B at 2.95 and just 1.5x sales.

What attracts us most to GIB is that it is a stock that has done very well with increases into earnings, and it has very limited drawbacks at any time. During pullbacks, it maintains, and during rallies, it increases slightly.

With the volatile marketplace we are in right now, a company that offers consistent growth with more ahead is something of which we are attracted. Further, the 0.09 increase in EPS will require a move of the stock price to at least $25.50 to maintain similar P/E ratios. While this is only a 6% gain from current prices, the stock was recently upgraded and dropped on no news today, creating a buying opportunity.

The company's drawback is it has limited numbers of shares, and the company needs a bit more pullback to really create significant opportunities. At the current price, we expect more gains.

The company has great technical as well. They have strong support levels with an upward moving price channel as well as all three major moving averages sitting below it. The company will have significant issues dropping below 23.00.

4. Ametek Inc. (NYSE:AME)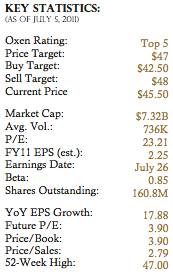 Ametek is one of the top performers we see in the ability to grow sales with a nearly 25% estimated increase in sales along with an 18% growth in EPS. The company's value is not as good as others, but in order to maintain similar levels, the company would need to increase its price to $48.
The company has consistently beat earnings, and it has been a consistent performer – rising into earnings and doing well out of them as well.
We believe that AME has the ability to continue on its current winning streak that has been filled with a lot of gains and very few considerable drawbacks. What probably attracts us most to AME is that the company has had a recent drop due to an acquisition that is a short-term draw and not long-term.
Additionally, historical appreciation in weeks prior to earnings is a big factor in our picks. AME has been one of the top performers during earnings. With another season of growth on the way for the company, we can expect more of the same.
Technically, AME is very sound with a great support below it and a strong upward price channel that has not been broken in quite some time. AME is another mid-cap beacon of consistency, which is definitely the theme that we like, heading into what could be a very volatile and inconsistent earnings season.
Top 5 Large-Cap Picks
[Click to enlarge]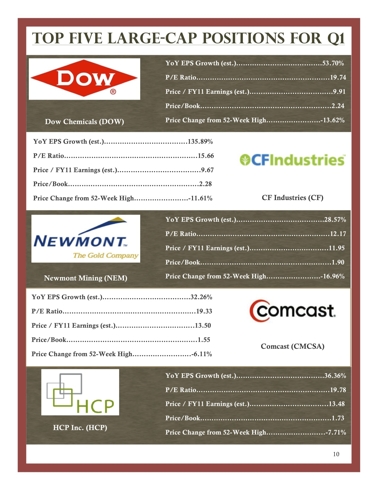 Click to enlarge

Disclosure: I am long DOW, CF.