In this article, we will provide you with financial fundamental analysis of application software companies on U.S. stock exchanges. For each company, we have provided price targets, buy/sell/hold ratings, buy/sell ranges and theses. Additionally, using a multitude of financial analytical ratios and comparisons, we have given each company a score on growth, profitability, financial health, value and management indices to compare each company and see where companies excel and where they have weaknesses.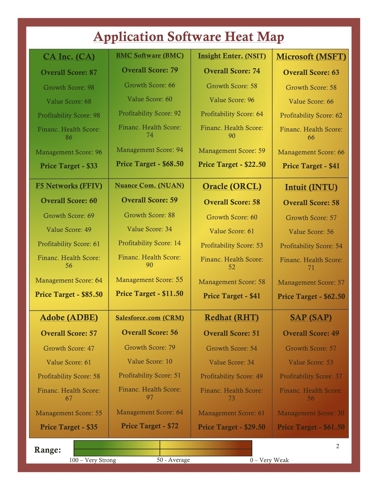 Company Profiles
1. Adobe Systems (NASDAQ:ADBE)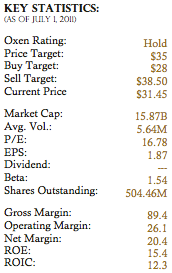 Adobe Systems scores low on Oxen Group EquityAnalytics. The company scores decently on Financial Health and Value, but they do not score very well in Growth, Profitability, or Management.
The issue for Adobe is that the company functions in a slower growth model than some of its competitors, given the company's narrower product line. The company has a very narrow moat, if at all, with Apple continuing to develop its Final Cut Studio line.
We see Adobe with one of the weakest growth capabilities among its competitors. The company has done well to develop its enterprise line up, and while Flash appears to be losing some market share to other open sources, Adobe significantly dominates the space.
Problems arise for ADBE in various financial categories. The company is seeing increasing levels of net debt…over 300% in the past five years. The company saw over 80% declines in its equity to debt ratio.
The company does operate pretty strong margins that have not come down as of yet, and if they can maintain good margins and steady growth…they stay a solid Hold as we have them rated. A larger decline in ADBE, and the stock can start to look like a decent value play.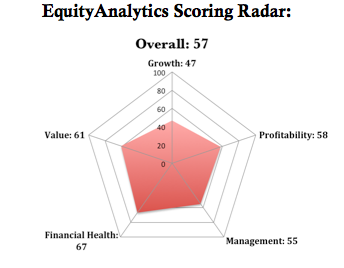 2. BMC Software (NASDAQ:BMC)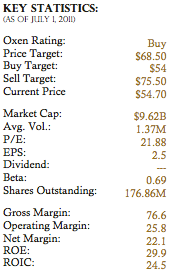 BMC Software has built a solid business around the information technology industry with software that allows enterprises to better manage and streamline IT, as well as mainframe software that provides data and solutions on this front. What we like best about BMC is they are poised to prosper from cloud computing, but they have a great combination of growth prospects and still have value.
The company is one of our top Buy picks, as they are rated 2nd in EquityAnalytics scoring behind top-notch profitability and management scores as well as a high Financial Health score.
The company ranks well with Profitability scores due to significant 5-year growth levels in its operating margin, net margin, ROA, ROE, and ROIC are above 200%.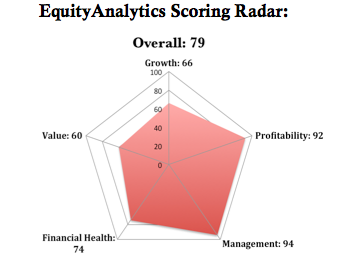 3. CA Inc. (NASDAQ:CA)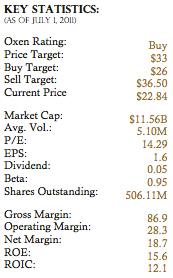 CA Inc. is our top scoring Application Software company and has a solid Buy rating. The company scores outstandingly in every category except Value where it still scores well. What makes CA so attractive is that they have top-notch financials, generate solid cash flow, have great management, and will be a part of the cloud network.
The company does not own a major economic moat, but neither do many companies in the software business. So, we want to look for those companies that have a history of great margins, cash flow, and can continue higher.
CA has completely recovered from the tarnish of its early 2000s, and it has lots of prospects moving forward. The company's IT Supply Chain is an intriguing cloud computing system that should be a cash cow for the company.
The company operates with the best growth score due to an amazing five years of recovery with over 500% growth in its free cash flow, 460%+ growth in net income per employee, and 500%+ growth in operating income. They have grown margins at alarming rates and management has doubled revenue growth in the past five years over SG&A.
The company has dropped net debt in the past year and past five years. They have grown equity/debt and working capital, and the company is in amazing financial shape. The company's IT Supply Chain is an intriguing cloud computing system that should be a cash cow for the company.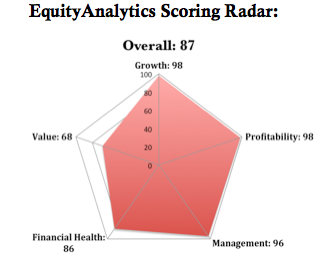 4. Salesforce.com (NYSE:CRM)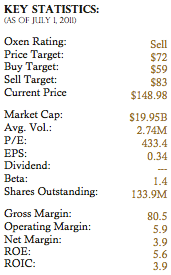 Salesforce.com is one of the momentum stocks in the market that is way ahead of itself. The company has a P/E ratio above 400. Their forward P/E ratio estimated by us is over 90, and the company has a lot of weak metrics surrounding their financials.
The company trades at 16x book value, and while they have tons of potential…we believe that the company should see 475% growth in operating income in the next five years that still puts the company a low-70s company.
One concerning thing for the company is their cash flow and the growth rates of operating expenses. The company has seen its operating expenses continue to increase and operating margins have been sliced in the TTM. The company has razor thin margins that are not increasing …still.
The company has seen its 5-year ROE and ROIC rates drop, which is a recipe for disaster. The company is also adding a lot of debt. This can be positive for growth in the future, but we would be cautious due to the fact that the company continues to struggle with profits.
They definitely have a top spot in building customer relationship management software, but the company is so overvalued that they have no investing value at this time, and we foresee a steep decline in the future.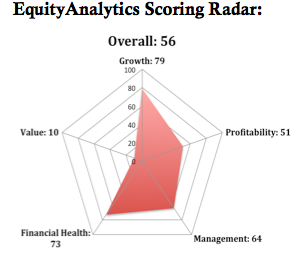 5. F5 Networks (NASDAQ:FFIV)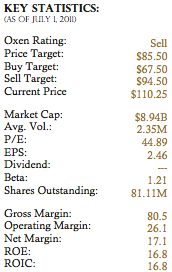 F5 Networks is much like Salesforce.com. The company has tons of potential, but that the market has already grabbed potential. This one is not nearly as bad as Salesforce.com, but the stock is still currently overvalued.
The company has done a great job of stealing market share from Cisco (NASDAQ:CSCO) in the past few years in network traffic management. The company's unique product line has allowed it to develop into a solid tech company, but they do face small amounts of competition. That should change.
We foresee around 150% growth in operating income in the next few years, but we believe that at this time the market is expecting around 200%. Given that the company only saw 123% growth in the past five years and have increasing competition as well as a reinvigorated CSCO, we believe increasing on that rate will be difficult.
The company has good margins, but they are pretty stagnant. Even with growth in them, we see overvaluation as well. The company would be a decent holding to have in a major drop, but until that, they are heavily overvalued. They are a momentum stock that has gotten away from fundamentals. The 25 forward P/E is not too drastic, but a move to 20 seems appropriate, which would put the price of the stock at around $80.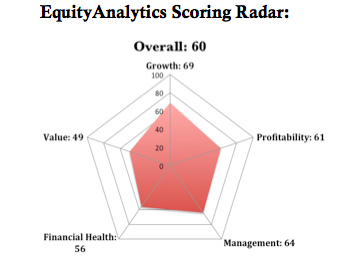 6. Intuit Inc. (NASDAQ:INTU)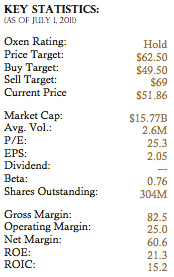 Intuit (INTU), the maker of tax and finance software, is rated as a Hold currently. The company has done well in the past maintaining a loyal customer base given that the company has constant threats for its relatively simplistic models for accounting and personal finance.
Lately, the company has been moving to a free platform for its customers that will then allow them to upgrade to a paid-subscription for more premium services. It has not seemed to hit its margins thus far, but the company does face risks in this arena.
Overall, Intuit is a relatively safe holding. They have limited growth prospects past the continuous growth of taxpayers. They have good finances with strong margins. The company ranks best in financial health. The company has a healthy current ratio just below 2, and they have decreased over the past year.
Unless we see a major development from INTU, the company is a stock that has potential on a significant drop for value. It is a growth stock, however. The company, additionally, continues to face competition. They will need to maintain their loyal customer base to continue to grow at current rates.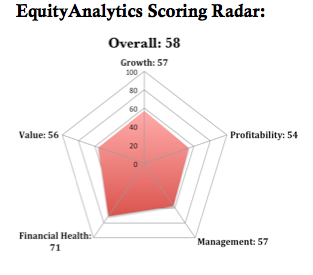 7. Microsoft (NASDAQ:MSFT)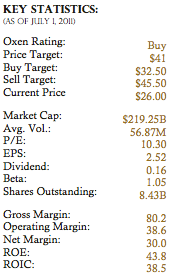 Fundamentally, Microsoft stock is very cheap. Given the market, MSFT is one of the most unloved stocks out there. The company is worth at least $40 given even the most conservative of estimates out there, and yet, it is stuck below $30.
What we like about MSFT is that they are a very balanced company that has many economic moats. They are late to the game on some developments, but their mantra is to arrive late and carve their own niche. All in all, it has worked.
The company is relatively cheap trading at just 3x sales and 4x book with a P/E at 10. The company continues to grow its margins, which are at their best levels since 2003, and they seem like they can move higher.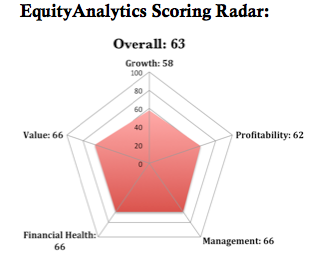 Its 8.4B outstanding shares hurt the company, and the stock market seems to refuse to move higher unless a major shift at the top of the company takes place.
The question now for the company is what is the future. They missed the party in tablets and have few in-roads in the mobile phone. Their adaption of Cloud and web-based applications threatens Windows. The cloud could be huge for MSFT. They are seeing strong results from Bing, and their Xbox and media sector is now becoming quite profitable. We like MSFT, and we believe in a comeback.
8. Insight Enterprises (NASDAQ:NSIT)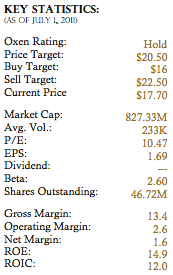 Insight Enterprises (NSIT) works as a hardware and software reseller. The company also operates a British Internet service for companies. The company has very strong scores in Value and Financial Health, and it looks like a solid Buy on any pullback below $16.
The company trades at a very low value at only 0.17x sales. The company, though, operates with razor thin margins as a reseller. That most likely will not change, and you need to be a buyer on lower prices.
We believe NSIT has around 40% growth in operating income in the next five years, but be careful with this stock as they have a definite lack of economic moat. Tech resale is becoming a large business, and the company's ability to create a moat may mean dropping margins…not improving them.
What we do like about the company is that they are well off with financial health. One of the keys to this business is the cash conversion cycle, and the 76% drop is great for the company's efficiency. It allows it to keep those margins as high as possible. Debt is also dropping.
Overall, we would need to see a significant drop in the company's price as well as increasing margins before we would want to be a player in this company.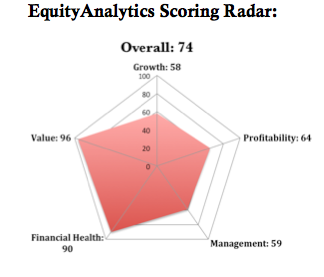 9. Nuance Communications (NASDAQ:NUAN)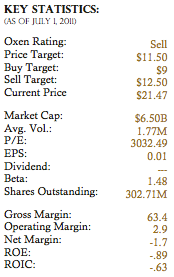 Nuance Communications (NUAN) is a company that we see as very overvalued and probably one of the best sell candidates in Application Software. The company works in speech solutions for healthcare companies as well as speech technologies for a number of technology companies.
The company is in dire straits. They are barely profitable, and they operate at an over 3000 P/E. The forward P/E is better at 15, but we are worried about the profitability of the company.
The company barely is cracking a profit in operating margin currently, and it has never been able to make much more than 6% in operating margin. At the end of its full fiscal year, the company it was negative in its ROE and ROIC.
We have to worry about this company's ability to make money, and its fair value appears near $10. They most likely will see around a 90%-100% increase in operating margin in the next five years, but even with that growth, the stock is still overvalued.
The company has over 300M outstanding shares, which really hurts its equity value. Share buybacks, increasing margins, and drop in share price are the only thing that would attract us to this company.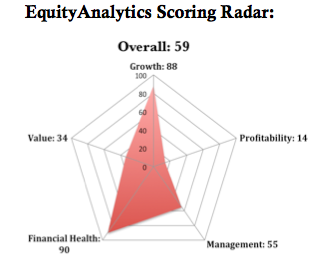 10. Oracle (NASDAQ:ORCL)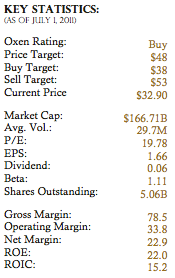 Oracle Corp. (ORCL) is one of the best data storage companies out there that is beginning on a new ascent in the cloud computing network that will be a large part of the company's future revenue. We believe of all cloud-computing companies, Oracle has the best chance to leverage this opportunity into strong sales.
The company has a successful enterprise lineup already that they can develop as they continue to advance their data storage offerings.
The company operates at decent scores in every category, but they have strong profitability that appears ready to continue higher. We believe margins will continue higher to about 36% in the next several years and will see operating income grow 90%to 100% in the next five years.
Oracle is relatively cheap right now as well. The company is only trading at 4x book value with a P/E at just above 19. The company seems to have leveraged the Sun Microsystems deal well.
A growth of 20% in EPS in the next year would take the EPS to 2, and that would drop the P/E to 16. To maintain current P/E, the company would see its price rise to nearly $40. We believe, though, that the company's margins will continue to grow, and that its P/E ratio could be higher. Oracle is a great holding your portfolio.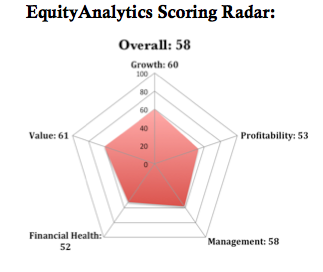 Disclosure: I am long ORCL, CA.